photo source: dinneratthezoo.com
Healthy Slow Cooker Recipes
Cook, freeze and just reheat! Enjoy this list of 20 healthy slow cooker recipes!
Slow cooker meals are super easy to prepare. Make ahead and freeze for later!
Healthy Living Starts Here
Why Should You Use A Slow Cooker To Eat Healthy
If you are keen to eat healthy, a slow cooker is one of the best appliances you should own.
Easiest way to cook dried beans
Healthiest way to cook meat
Turn it on, get on with your day & return to a healthy meal
Slow Cooker Tips
Only use the slow cooker on a countertop or flat, safe surface.
Cut clean up time in half with 

Slow Cooker Liners

.
Use a programmable slow cooker to control cook time.
Open the lid as little as possible while cooking.
Not wise to place frozen food directly into the slow cooker.
Soak dried beans overnight and then boil for 10 minutes.
Place hard vegetables, like carrots and potatoes at the bottom of the slow cooker where they will have more moisture and cook swiftly.
Trim fat from meat before slow cooking.

Brown meats on the stovetop first to build flavour.

Lean meat (chicken breasts) can get tough when heated for long periods of time. However, fattier cuts like shanks, shoulder or short ribs are ideal to be cooked slow and low.
Meat with skin on it will become tough.
Add milk, yogurt or cheese near the end of cook time.
Seafood cooks quickly, should not be used with a slow cooker.
Cooked beans and tender vegetables should go in near end of cook time.
Add fresh herbs at the end of cook time to keep it fresh and flavourful.
Do not put the hot slow-cooked meal directly into the fridge, let it cool down first.
Types Of Meals
Stews
Soups
Chilis
Chicken thighs
Mashed potatoes
Lasagna
Corn chowder
Beef tips
BBQ wings
Steak
Fajitas
Beef ragu
Meatloaf
Pork Chops
Hamburgers
Meatballs
Vegetable casserole
Rice & beans
Pasta
Mac & cheese
Desserts
Common Ingredients
Pork
Pot roast
Ground beef
Ribs
Chicken
Lamb
Sausage
Turkey
Potatoes
Dietary Type
Keto
Paleo
Low carb
Gluten free
Vegetarian
Vegan
Slow cooked meals are perfect for:
Kids
Two or more individuals
A crowd i.e. party
Holidays
A quick dinner
Best Slow Cookers On Amazon
Instant Pot
Instant Pot Multi-Use Pressure Cooker
Crock-Pot
Is It Safe To Leave A Slow Cooker On All Day?
Just follow the instructions. Enjoy the recipes below!
Mexican Chicken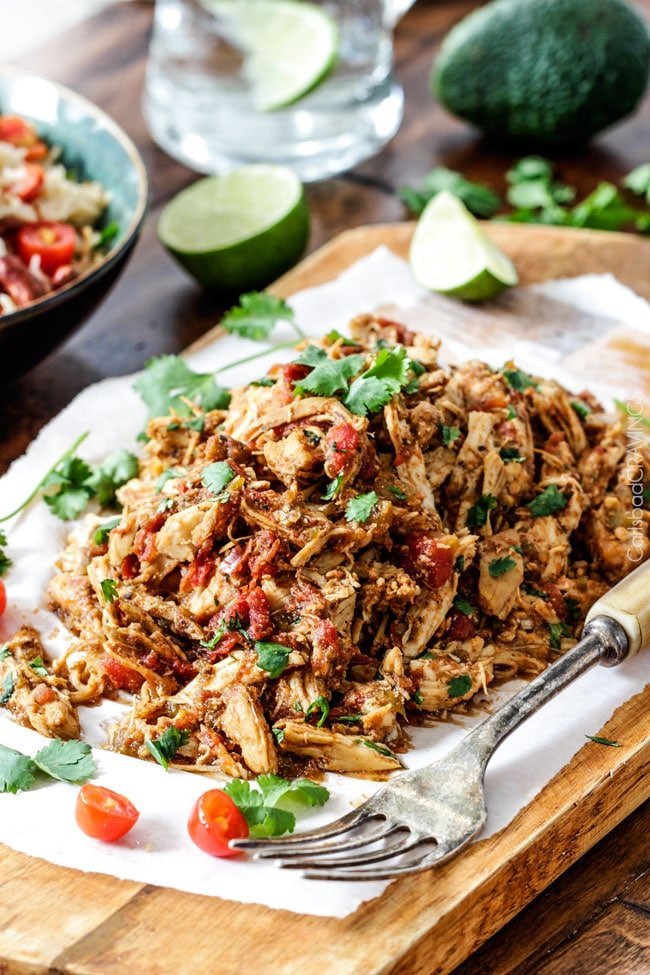 This amazing dish can be used for tacos, burritos, nachos, soups and salads. It is simmered with spices, salsa and green chilies! Get the recipe.
Beef Bourguignon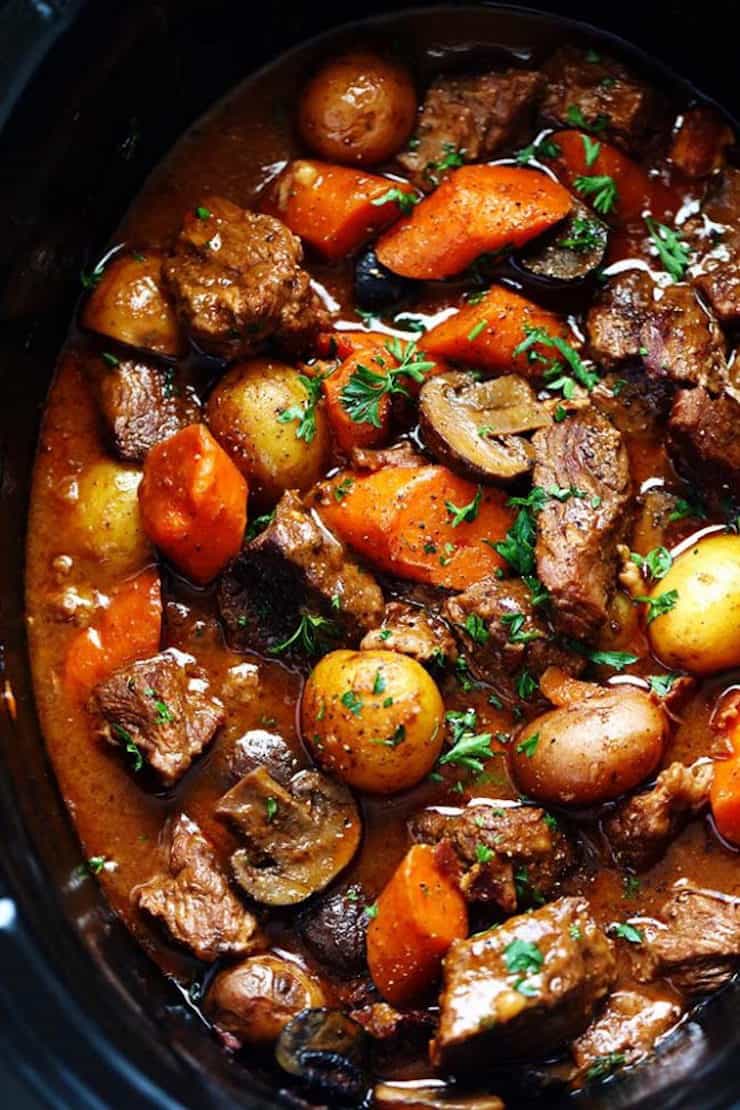 Slow cooker beef bourguignon recipe consist of a tender melt in your mouth beef. The vegetables are slow cooked to perfection in a rich sauce. Get the recipe.
Buffalo Chicken Stuffed Sweet Potato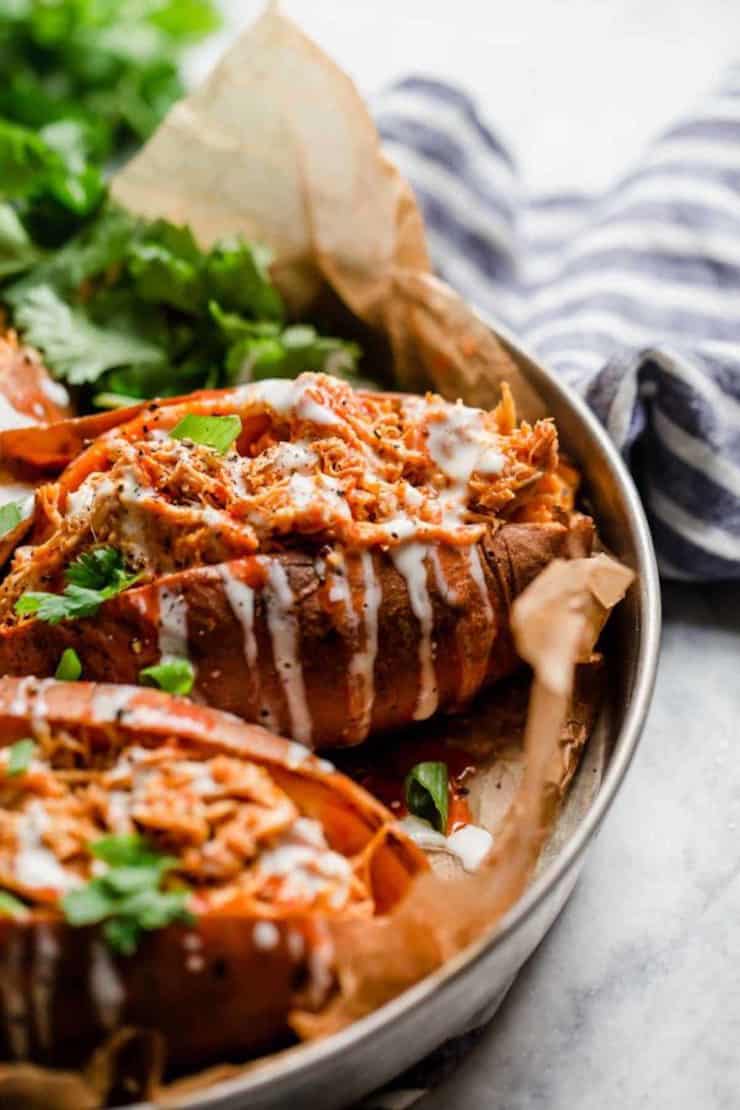 The mix of heat from the Sriracha with coolness from ranch dressing creates an insanely delicious meal. Get the recipe.
Parmesan Garlic Herb Chicken And Potatoes
The potatoes are cooked to perfection in garlic, parmesan, and fresh herbs, and the chicken is absolutely juicy. Get the recipe.
Classic Pot Roast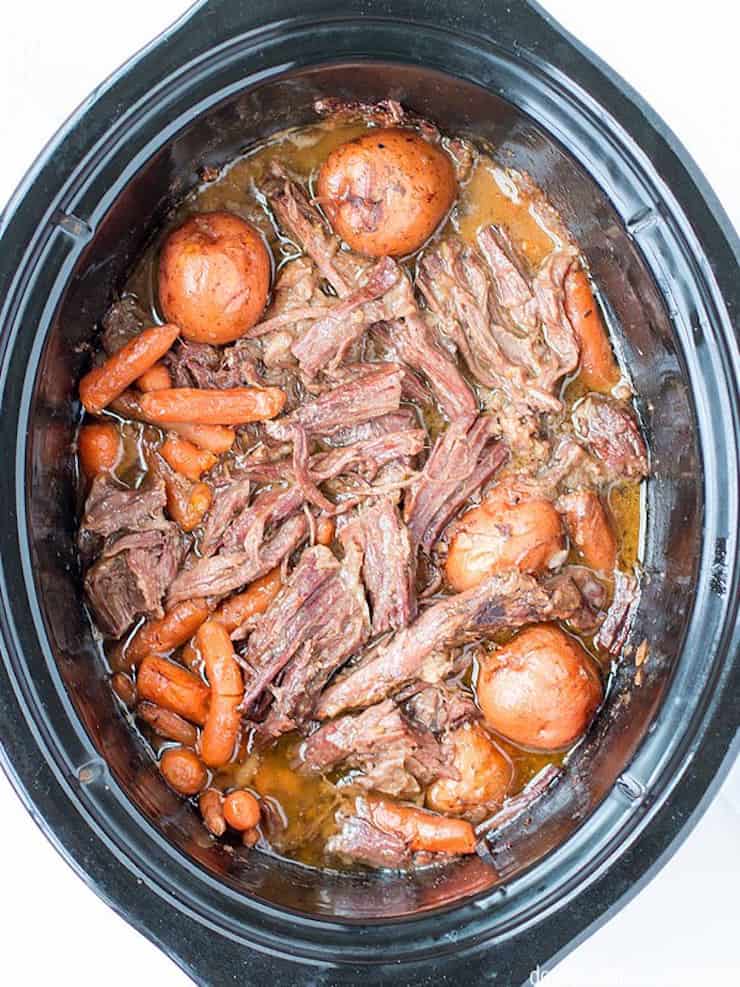 This classic slow cooker pot roast is a healthy meal that comes together very quickly. Get the recipe.
Chicken Cacciatore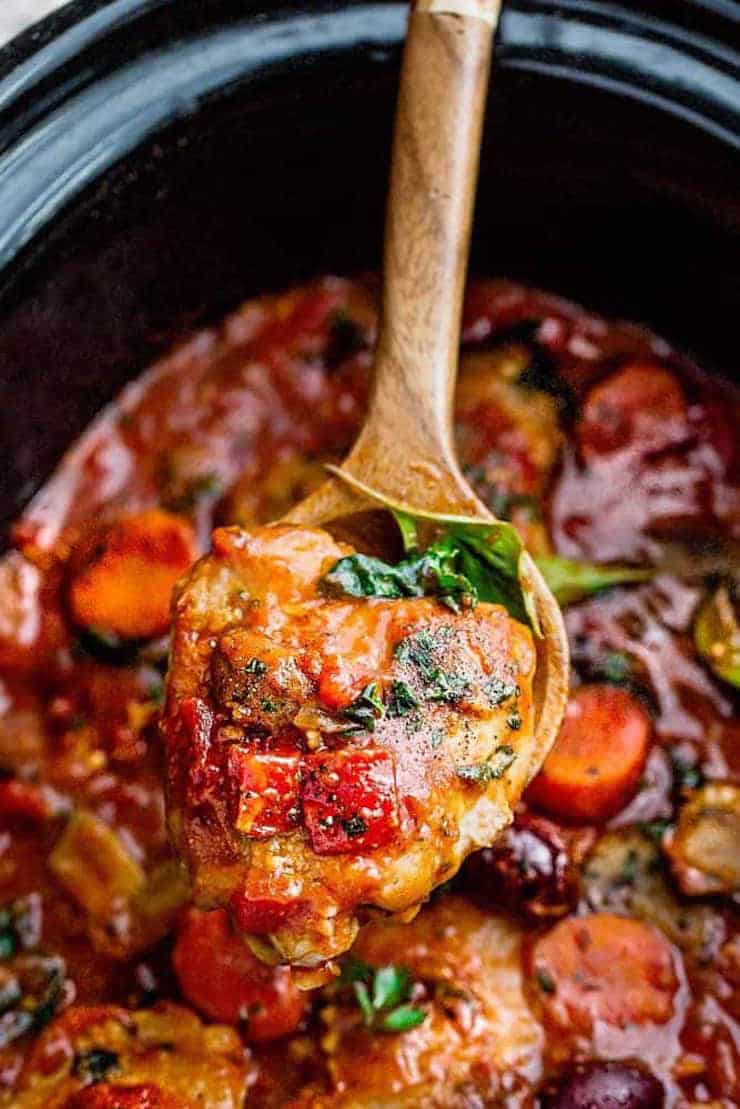 This is an easy meal loaded with chicken, tomatoes, bell peppers, kale, carrots and sliced mushrooms. Get the recipe.
Beef Stew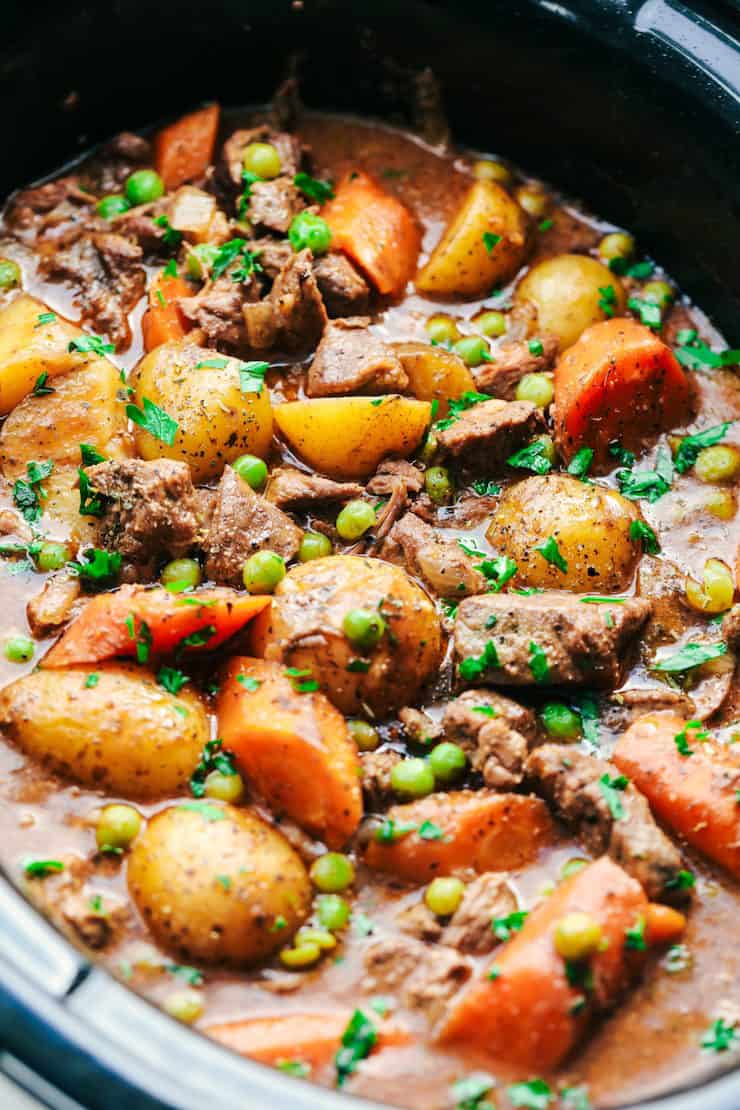 You will love this rich stew filled with beef, potatoes, carrots, onions, and peas. It has the most amazing flavour! Get the recipe.
Enchilada Quinoa Bake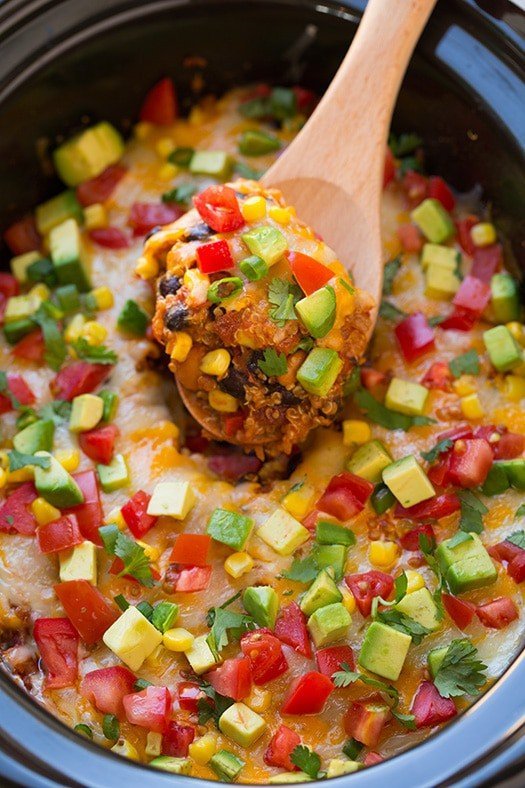 This is a filling meal that is so tasty! Get the recipe.
Steak Fajitas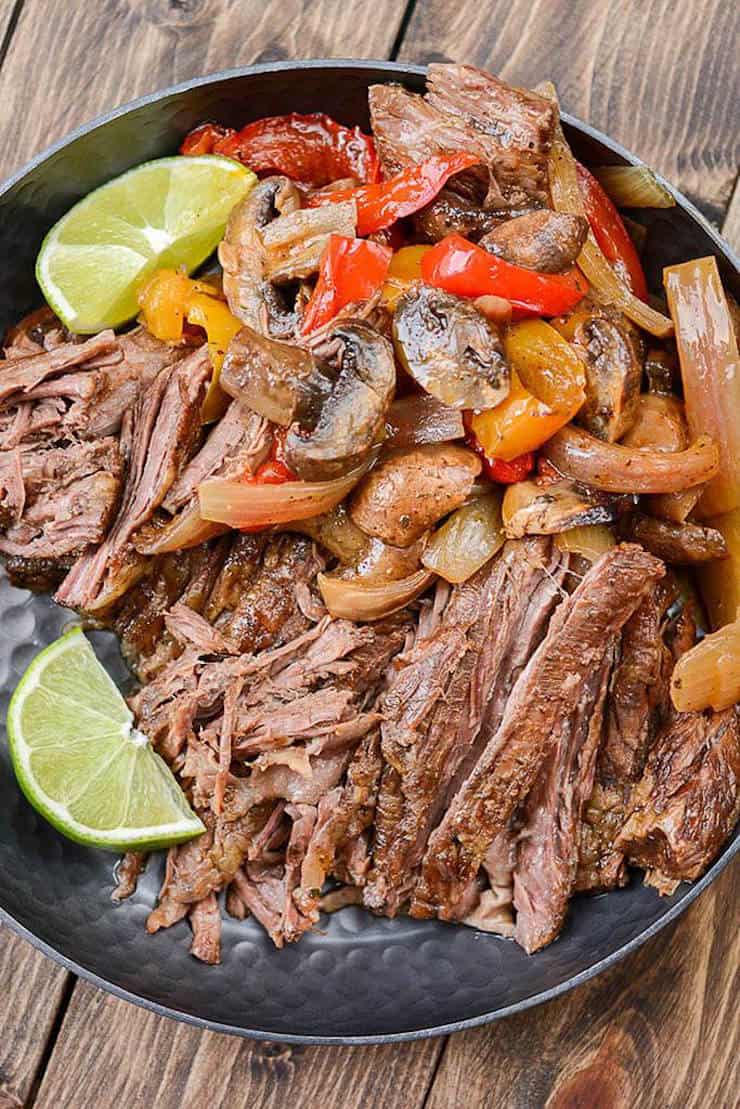 These Fajitas will become a favourite in no time. Get the recipe.
Skinny Kung Pao Chicken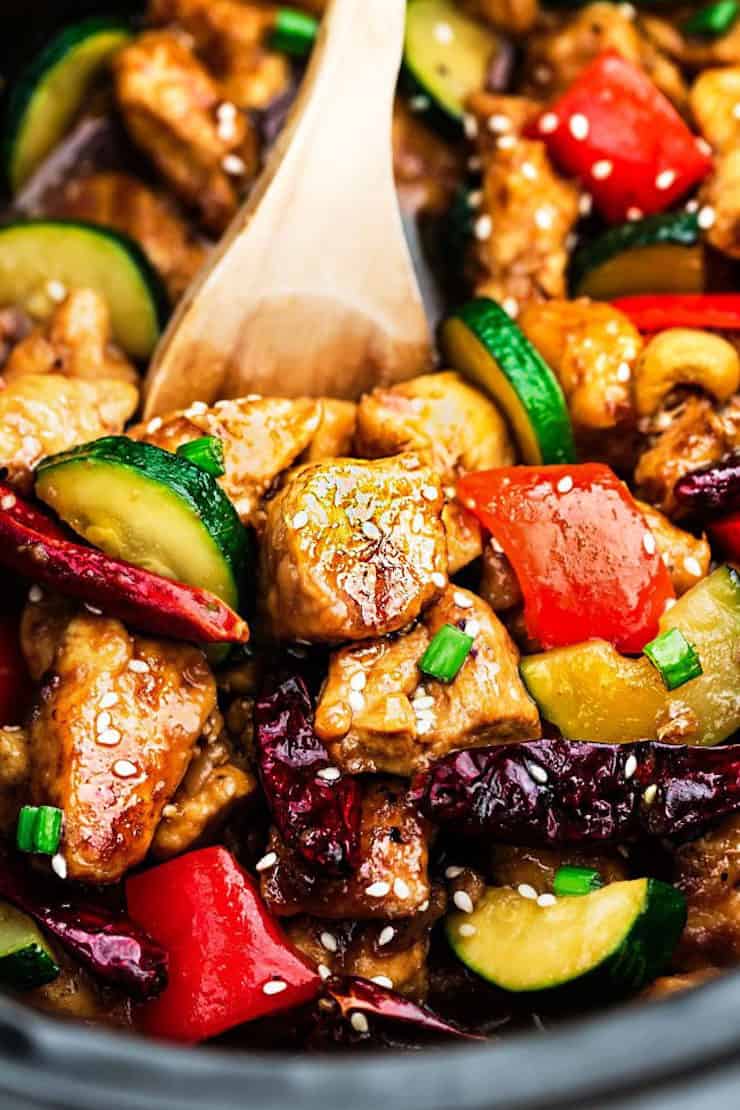 Skinny slow cooker kung pao chicken, consists of a sweet and spicy sauce. It includes crunchy cashews and tender vegetables. Skip the takeout! Get the recipe.
Easy Chicken Tortilla Soup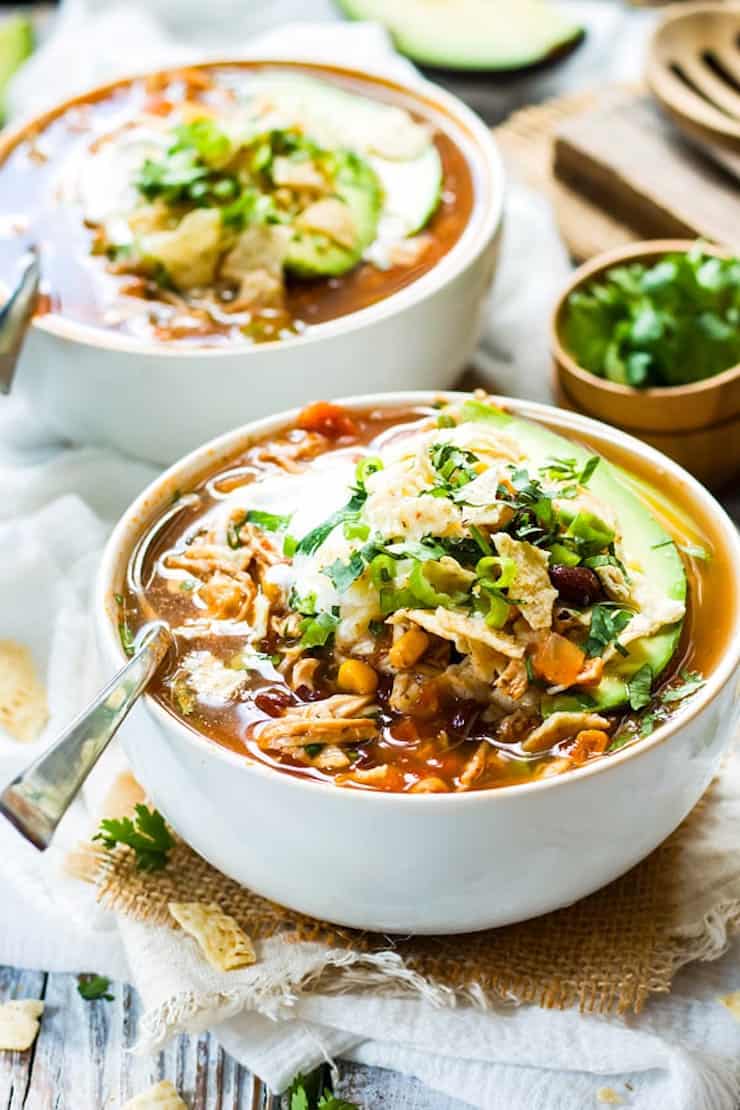 Slow cooker chicken tortilla soup is a healthy and gluten free. The recipe can be thrown together easily! Get the recipe.
Barbacoa Beef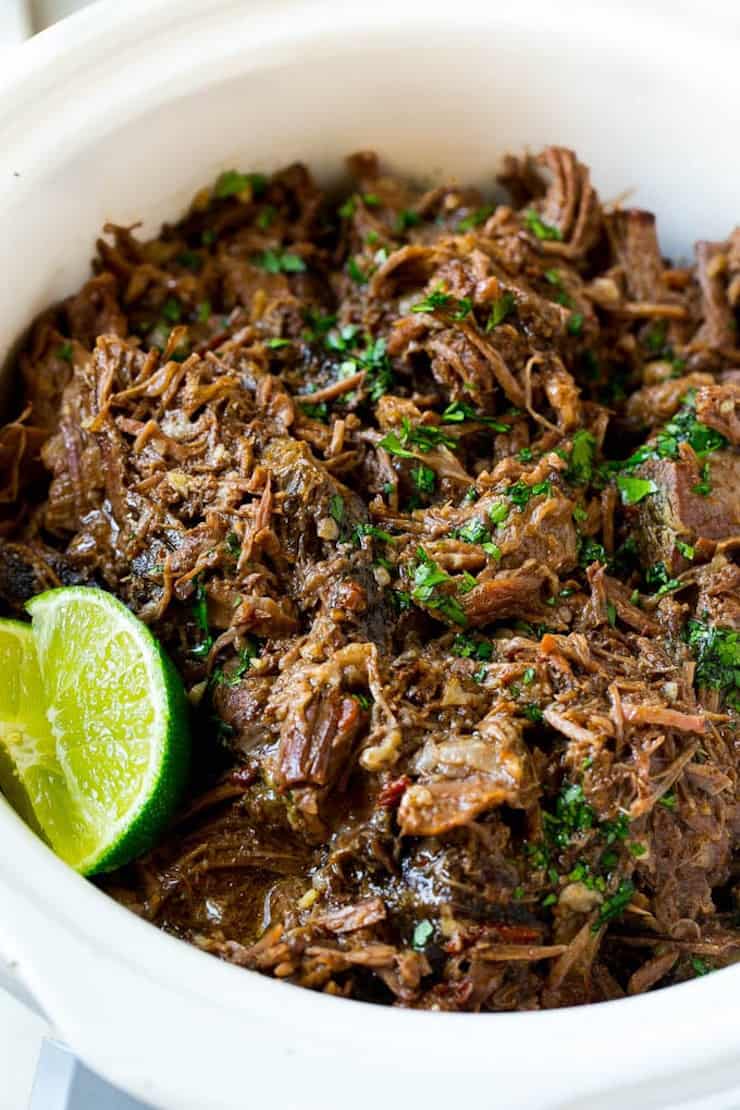 This dish is the perfect filling for tacos, burritos, enchiladas and more! Get the recipe.
Salisbury Steak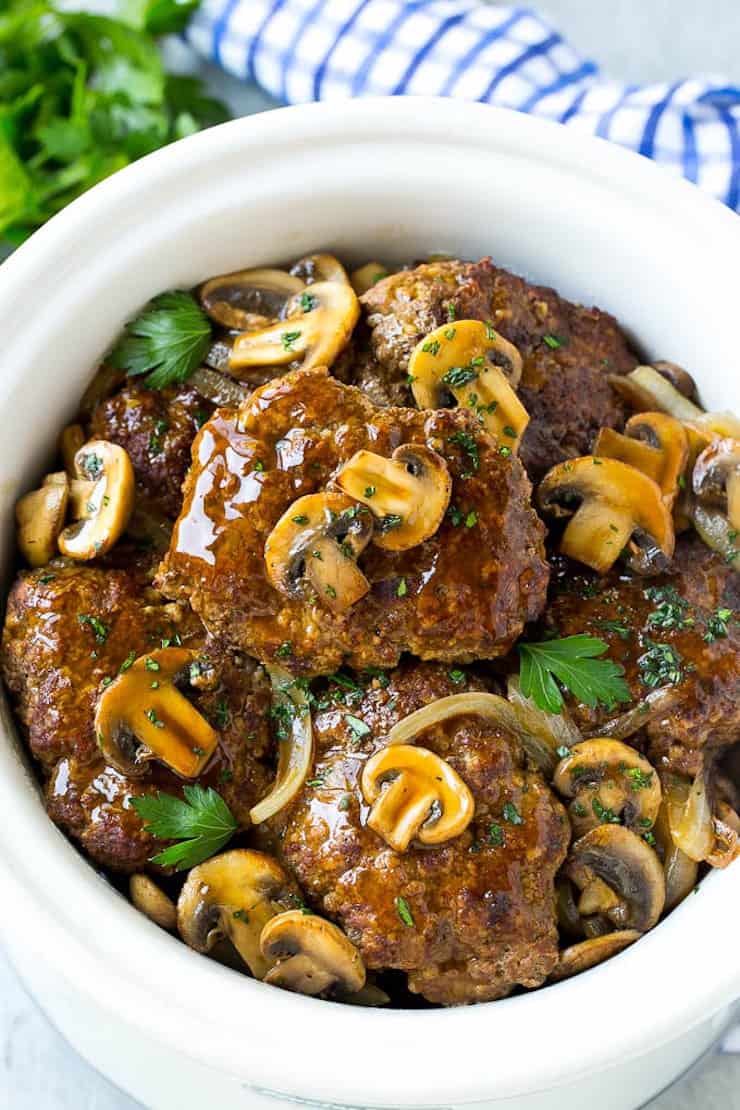 This recipe is made with tender beef patties topped with mushroom gravy. Its the classic comfort food! Get the recipe.
Greek Lamb Shanks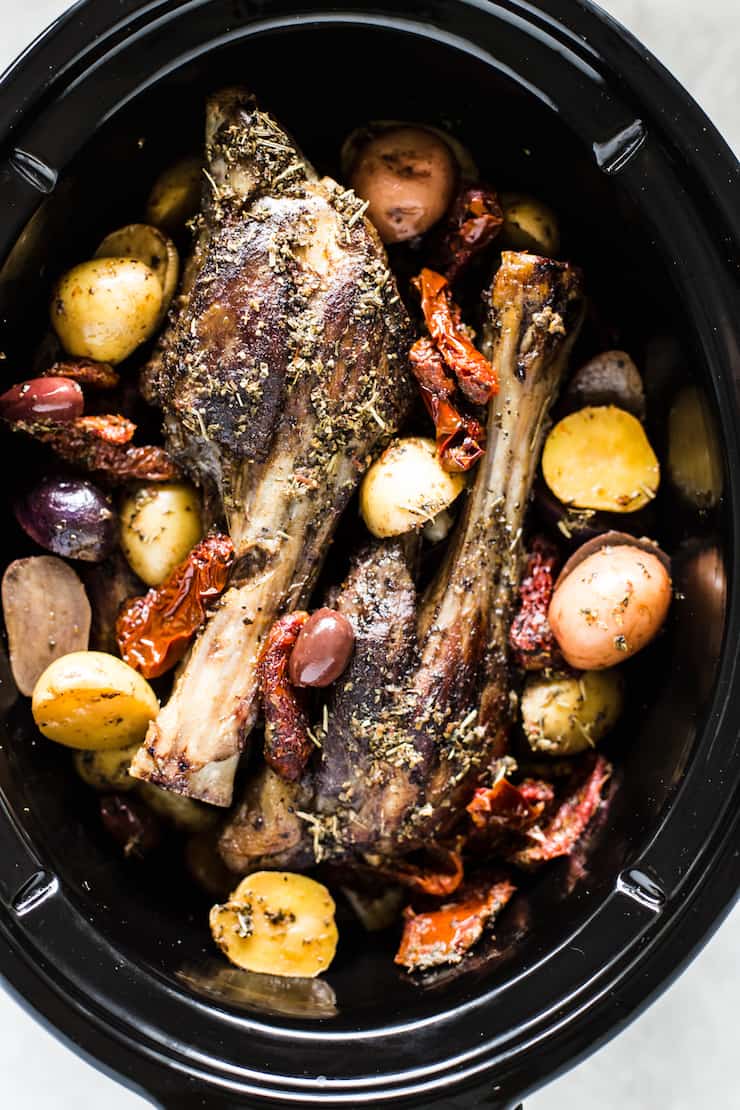 The recipe consist of lamb shanks, potatoes, sun-dried tomatoes, and kalamata olives. All ingredients are cooked to perfection in delicious greek spices! Get the recipe.
Beef And Broccoli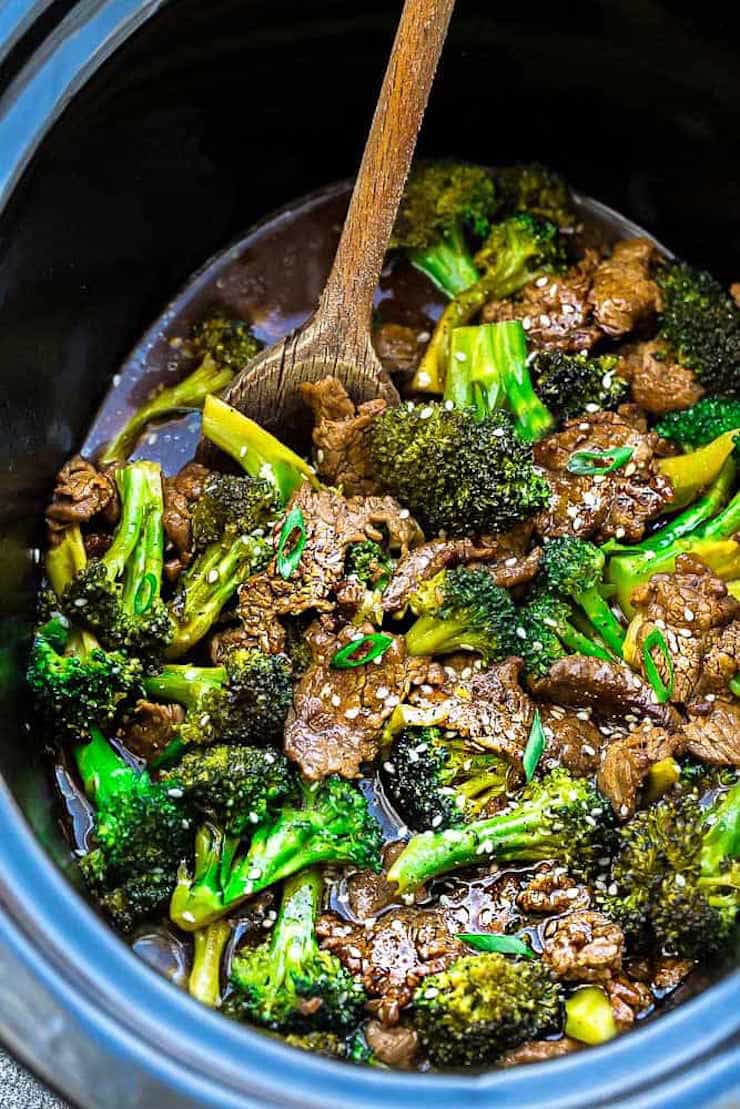 An easy Chinese takeout favourite made in a rich and savoury sauce! Get the recipe.
Honey Buffalo Meatballs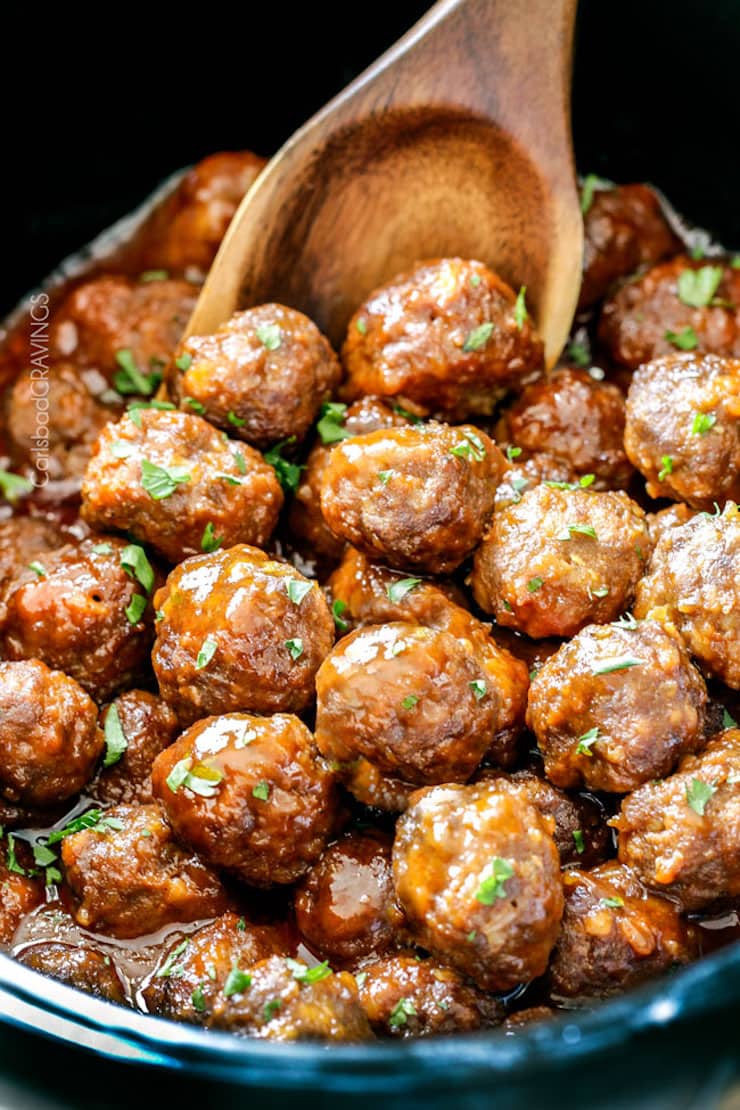 These meatballs are simmered in the most amazing sweet sauce. Your guests will simply love this meal! Get the recipe.
Barbecue Ribs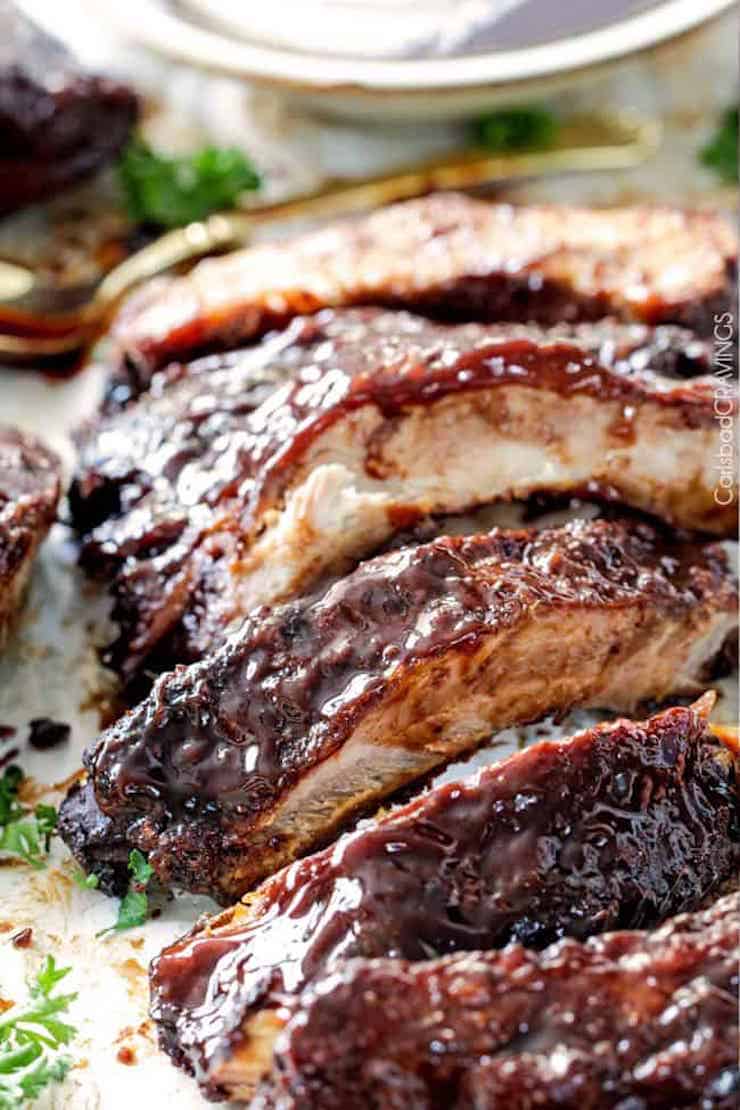 With the best homemade barbecue sauce, these ribs are supper easy to make! Get the recipe.
Beef Stroganoff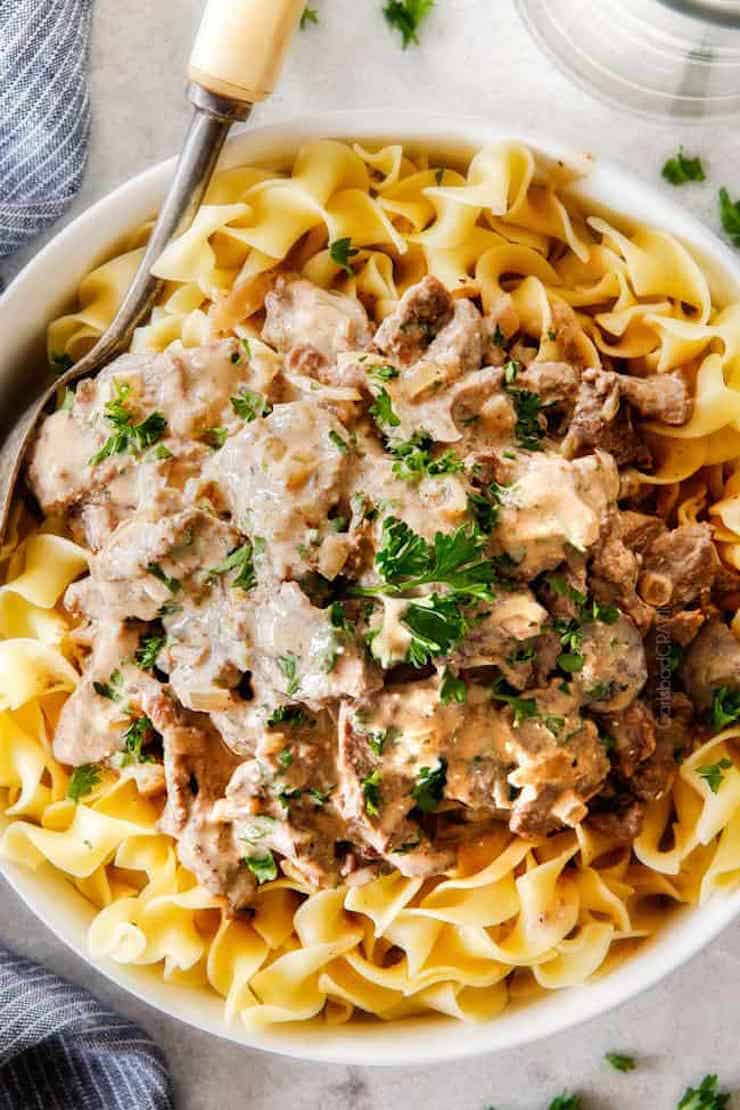 This recipe will soon become a favourite. The sauce is simply delicious! Get the recipe.
Honey Balsamic Beef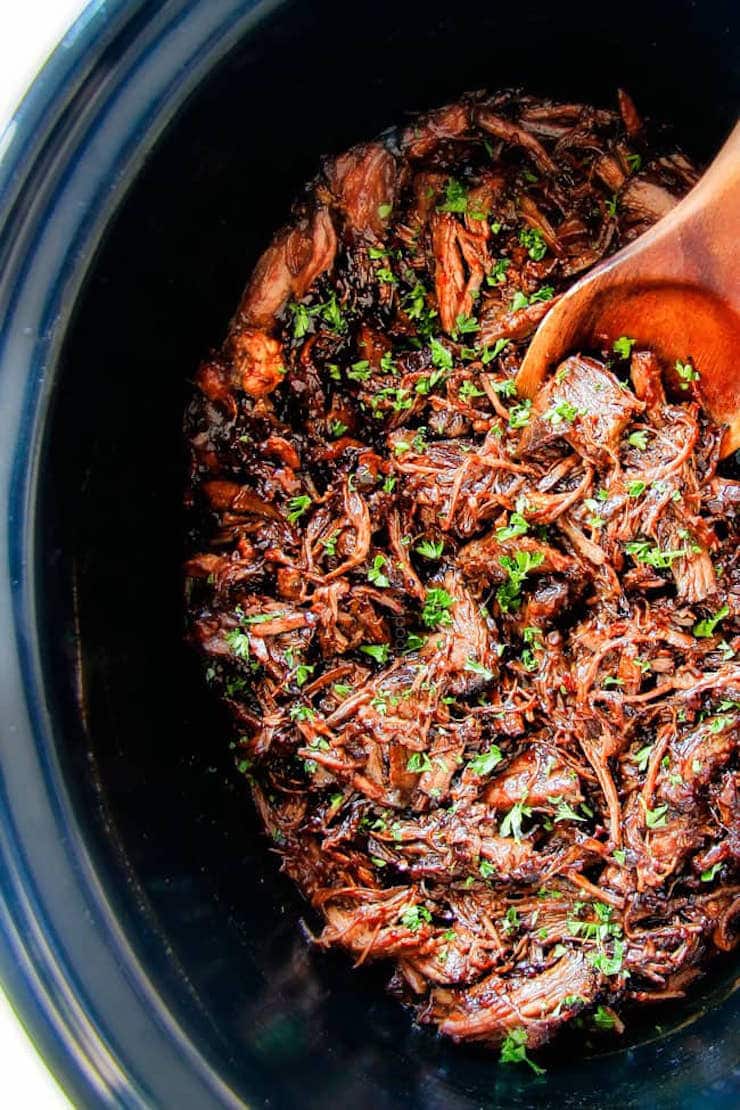 This dish is packed with flavour and smothered in the most delectable honey balsamic sauce. You will be back at the table for seconds! Get the recipe.
Mongolian Beef
This crock pot recipe tastes just like a meal you would get at a Chinese restaurant! Get the recipe
Access our complete list of healthy recipes!