photo source: carlsbadcravings.com
Salmon Recipes
Healthy salmon recipes that are so easy to make. Flaky, tender, moist and delicious, you will simply love these recipes for weeknight dinners!
From crispy, spicy, creamy or steamed these meals can be prepared for guests to show off your your gourmet, fine dining skills!
Healthy Living Starts Here
What Is A Good Side Dish With Salmon
Grilled or steamed vegetables
Roasted, mash or fried potatoes
Grains, noodles, beans and rice
International Cuisine Using Salmon
Benefits
Weight loss
Quick to prepare
Great for leftovers
Minimal cleanup
Popular Ingredients
Brown sugar
Balsamic vinegar
Lemon
Orange
Maple syrup
Honey
Teriyaki
Mustard
Soy sauce
Parmesan
Mango
Garlic
Lime
Quinoa
Asparagus
Cilantro
Broccoli
Pineapple
Avocado
Pesto
Sweet potato
Greek yogurt
Spinach
Pasta
Butter
Garlic
Dijon
Dill
Rice
Dietary Type
Paleo
Low carb
Gluten free
Dairy free
Method Of Preparation For Salmon Recipes
Roasting
Breaded
Steamed
Broiled
Stovetop
Grilled
Poached
Pan seared
Stuffed
Pan fried
Glazed
Equipment
Skillet
Slow cooker
Instant pot
Air fryer
Piece Of Salmon Calories
100 grams is equivalent to 208 calories.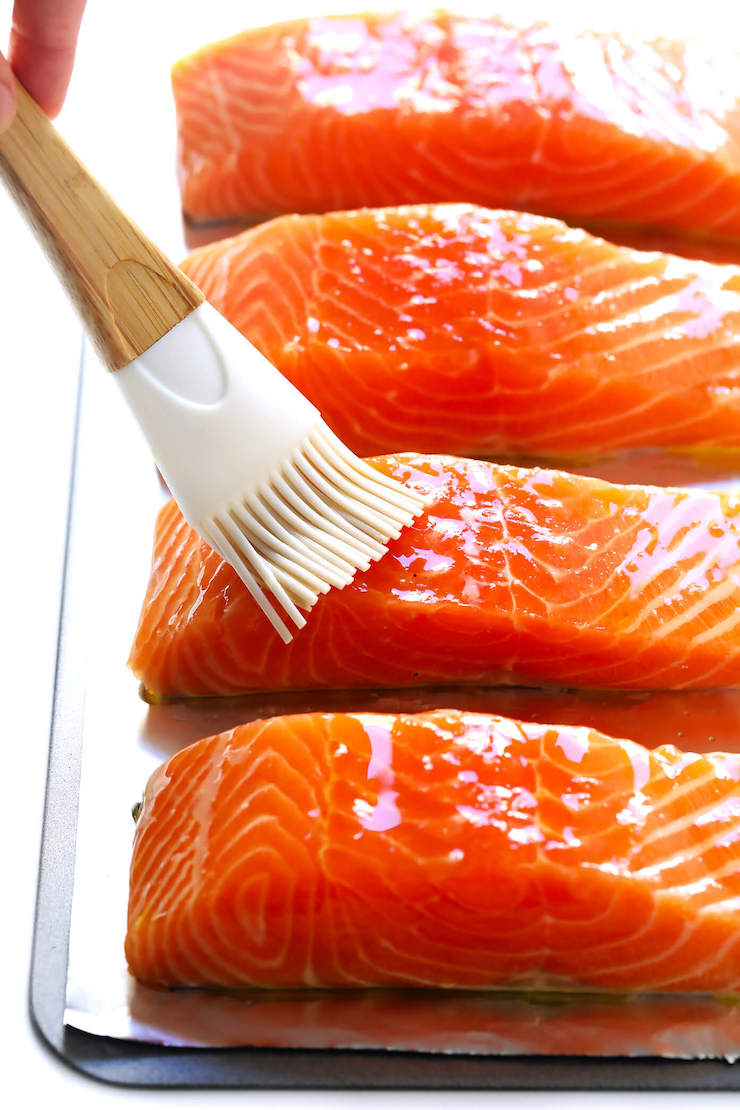 photo source: Gimme Some Oven
Health Benefit Of Salmon
Salmon has earned its reputation as a super food based largely on its omega-3 fatty acid content.
The widely studied benefits of omega-3 fatty acids are well documented.
Salmon health benefits involve improved control of the body's inflammatory processes, better overall cell function, improved transfer of information between the body's cells, and better brain function.
Intake of fish rich in omega 3's also has a positive impact on cardiovascular health, joints, eyes, cancer, skin and hair.
Is It Ok To Eat Salmon Every Day
Yes. Salmon is packed wit omega 3.
Wild Salmon Vs Farm Salmon
Purchase wild salmon not farmed. Why?
Wild caught fresh salmon are typically considered to be the healthiest salmon.
Farmed salmon is higher in contaminants and flame retardants, says David Carpenter, MD, Director for the institute for Health and the Environment at the University of Albany.
HEUA is publisher of a major study in the Journal of Science on contamination in fish.
The biggest concern with farmed salmon is organic pollutants like PCBs and antibiotics.
When salmon raised in pens are fed soy, the result is the nutritional value takes a steep dive.
What Is The Healthiest Way To Prepare Salmon
Poaching guarantees moist, tender flesh. This cooking method is ideal for salmon fillets and can be successfully used to poach salmon steaks in a large saucepan.
Should Salmon Be Rinsed Before Cooking
Yes. Run cold water over the fillet just before cooking, then pat the fish dry with a paper towel.
Bake, Broil Or Grill Salmon
Baking time may vary slightly due to thickness of fish. Feel for the thickest part of the filet to make sure your fish is cooked through.
The salmon can also be wrapped in foil and cooked on the grill for about the same amount of time based on the thickness of the salmon.
Carefully open and pull back the foil so that the top of the fish is completely exposed.
Continue cooking for 3-4 minutes, or until the top of the salmon and the garlic are slightly golden and the fish is cooked through.
Other option is broil the salmon in the oven for 2-3 minutes by opening the foil.
Why Wrap Salmon In Foil When Baking
To keep the salmon moist.
How Do You Bake Salmon So It's Not Dry
Preheat oven then place a large piece of aluminum foil on a baking sheet and brush with olive oil.
Place salmon in the middle of the foil, skin-side down.
Fold up the edges of the foil over the salmon to create a packet, making sure to seal the edges.
Bake in the preheated oven until fish flakes easily with a fork, about 20 minutes.
Standard Cooking Times
15 minutes
20 minutes
30 minutes
How Can You Tell When Salmon Is Done Cooking
By taking a sharp knife to peek into the thickest part, after 6 to 8 minutes of cooking, to check for doneness.
If the salmon is beginning to flake, it is done.
How Do You Not Overcook Salmon
Regardless of the cooking method used always start by cooking the salmon skin side down.
This method works to protect the more delicate flesh from overcooking. 
What Flavours Go Best With Salmon
Sesame
Olive oil
Salt and pepper
Melted butter
Minced garlic
Black pepper
Rosemary
Tarragon
Lemongrass
Chipolte powder
Lemon pepper
Lemon juice
Sea salt
Paprika
Mustard
Thyme
Cumin
Chives
Horseradish
Ginger
Garlic
Basil
Dill
Specific Types Of Flavours
Salty with soy sauce, braggs, capers, miso or olives.
Sweet with maple syrup, honey, brown sugar, orange juice or zest.
Sharp flavour with onion, shallot, ginger, horseradish, garlic or sesame.
Sour with fresh lemon, fresh lime or vinegar.
Creamy with butter, cream cheese, yogurt or crème fraîche.
Types Of Recipes
Baked salmon recipes
Roasted salmon recipes
Smoked salmon recipes
Garlic salmon recipes
Easy salmon recipes
Grilled salmon recipes
How Do You Cook & Serve Salmon
Add some olive oil to  roasting pan and add the salmon with the skin side up.
After about 5 minutes of roasting, remove the skin, season with salt and pepper, and return to the oven to finish cooking.
You can serve your cooked salmon with lemon slices or any roasted veggie with rice.
What Veggies Go Best With Salmon
Roasted or diced carrots
Roasted sweet potatoes
Marinated white beans
Brussel sprouts
Cabbage slaw
Broad beans
Zucchini
Asparagus
Bell peppers
Runner beans
French beans
Eggplant
Bok choy
Asparagus
Broccoli
Fennel
Leeks
Peas
Salmon Dish Ideas
Salmon bakes
Baked salmon
Toss into a salad
Place in a sandwich
Toss in pasta
Make into a burger
Grill or cook the entire fish
Before you get to the list of salmon meals you may also access a list of other dinner recipes.
Other Dinner Recipes
15 Simple Healthy Salmon Recipes
See list below.
Blackened Salmon In Creamy Cajun Sauce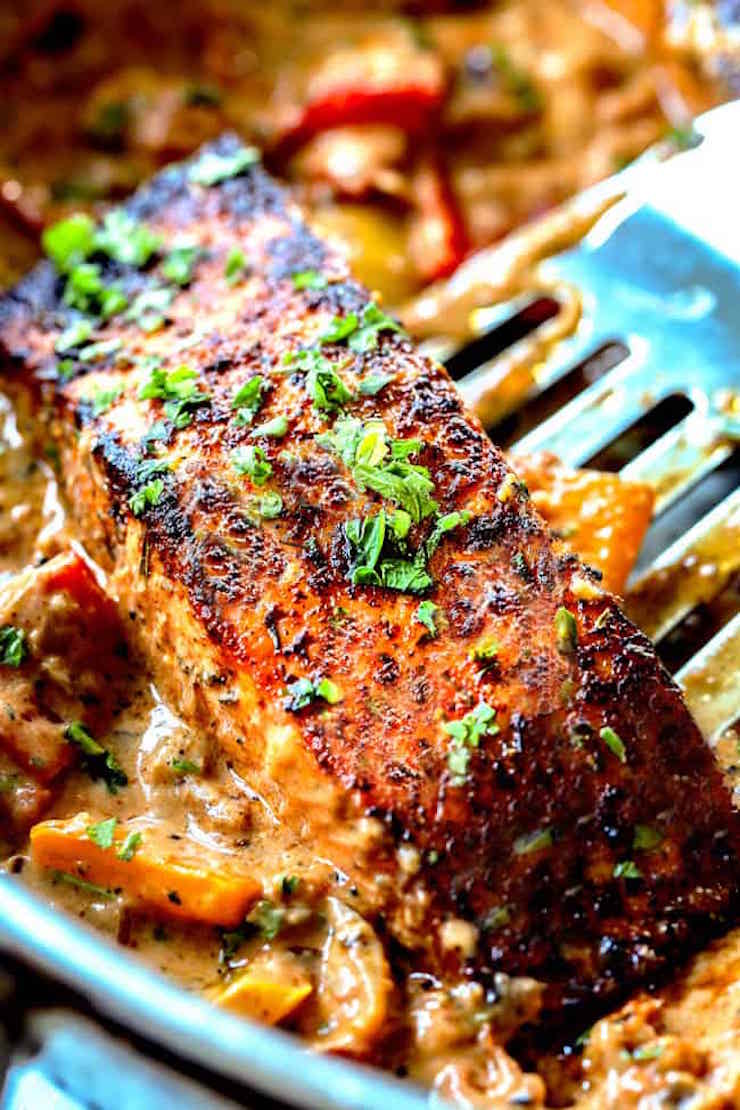 Read full details on: Carlsbad Cravings
Garlic Butter Baked Salmon In Foil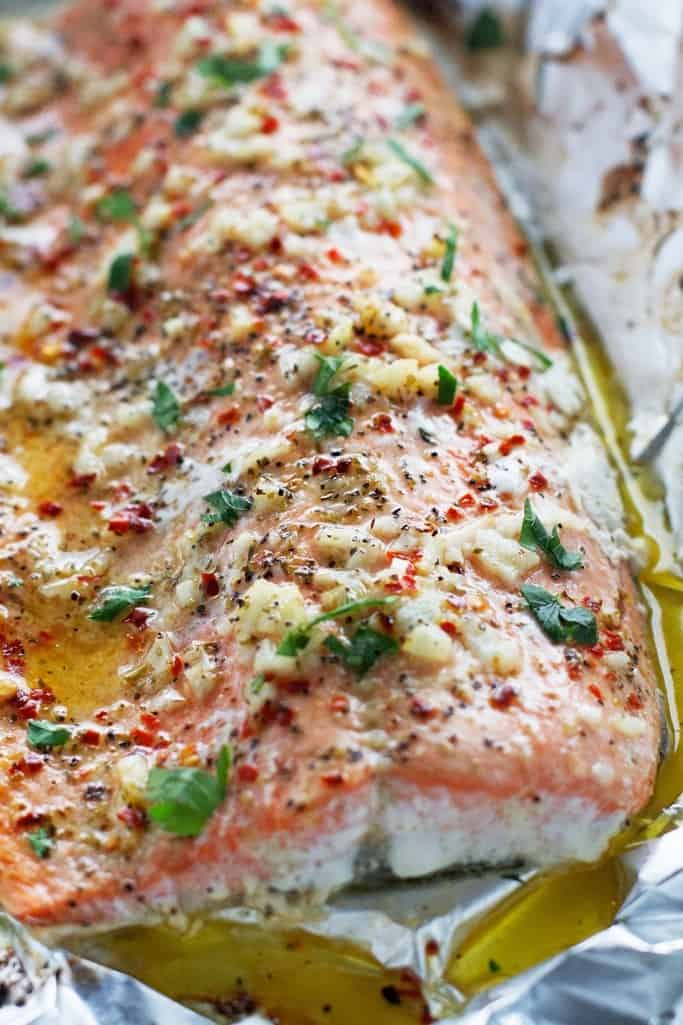 Read full details on: Little Spice Jar
Honey Mustard Salmon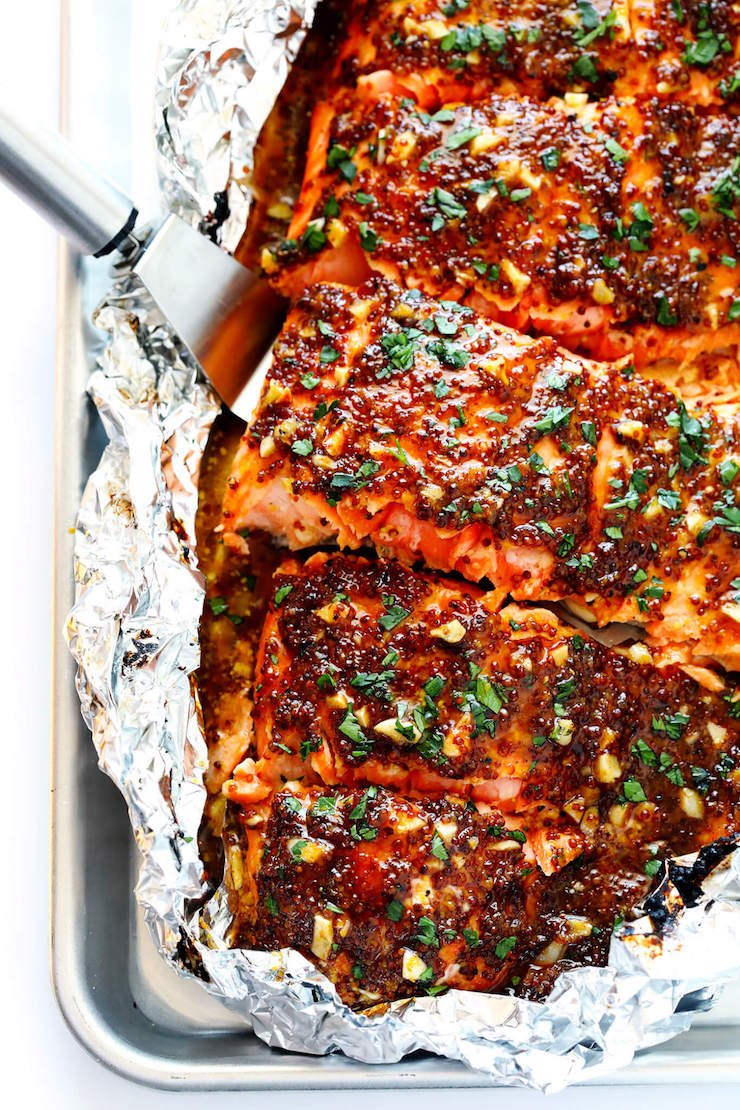 Read full details on: Gimme Some Oven
Curried Salmon Burger Lettuce Wraps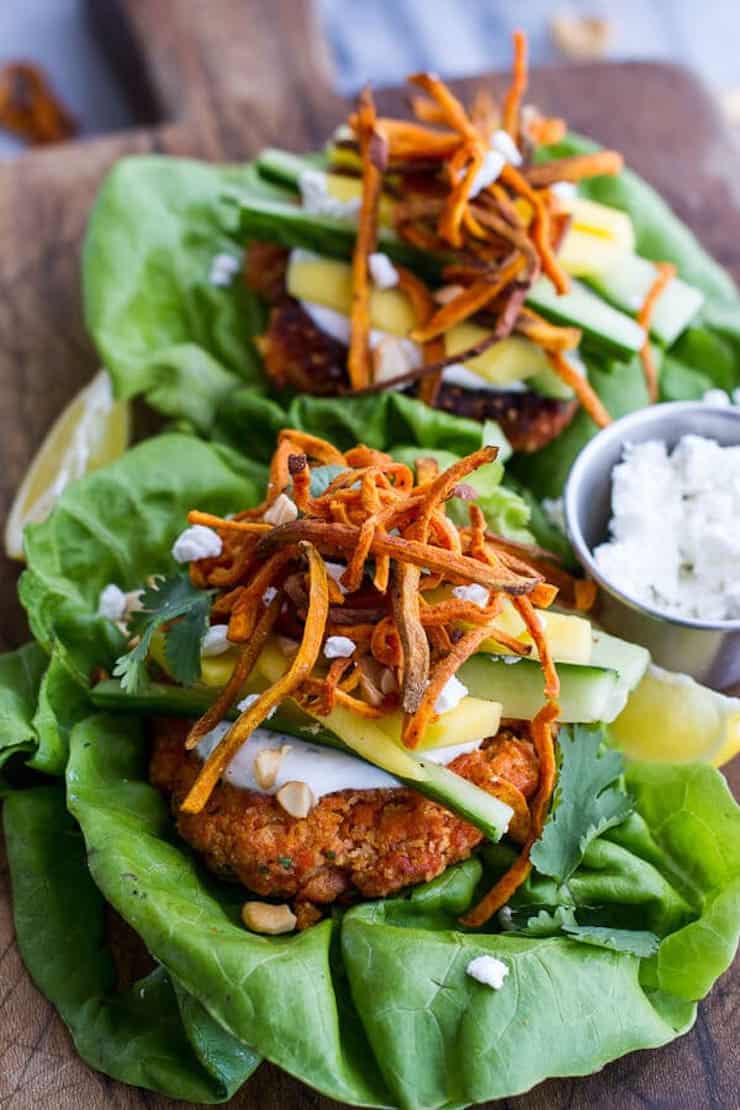 Read full details on: Half Baked Harvest
Mediterranean Salmon Salad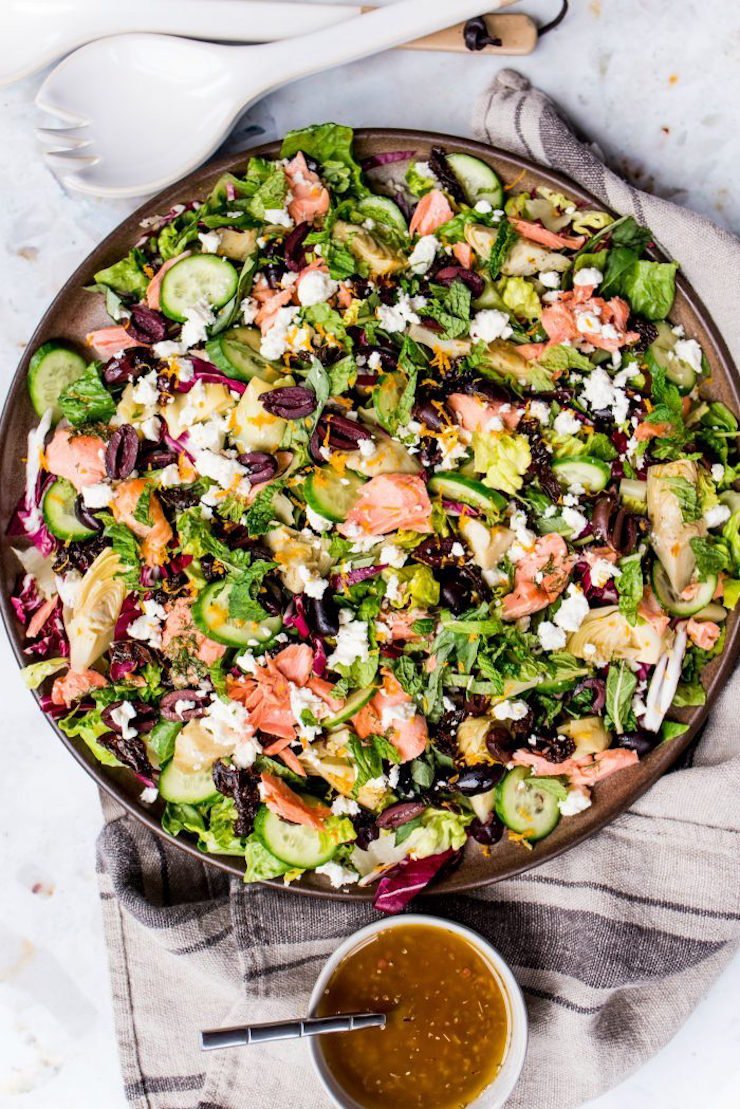 Read full details on: Reluctant Entertainer
Salmon with Mango Salsa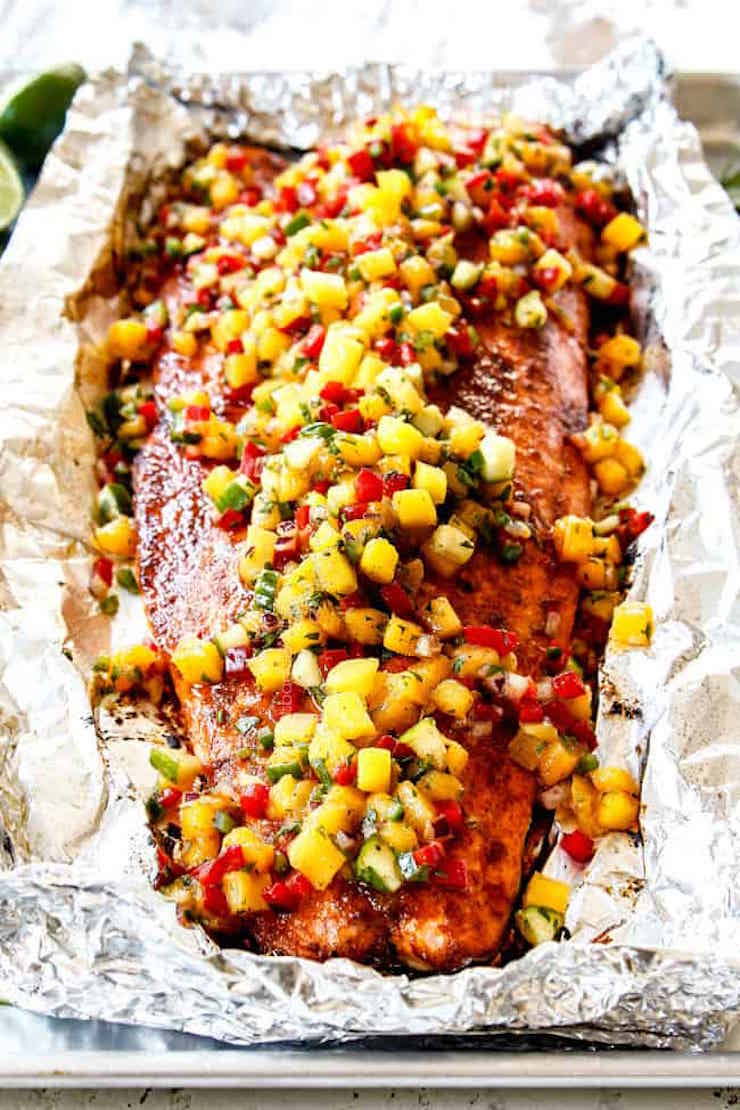 Read full details on: Carlsbad Cravings
Salmon Taco With Avocado Salsa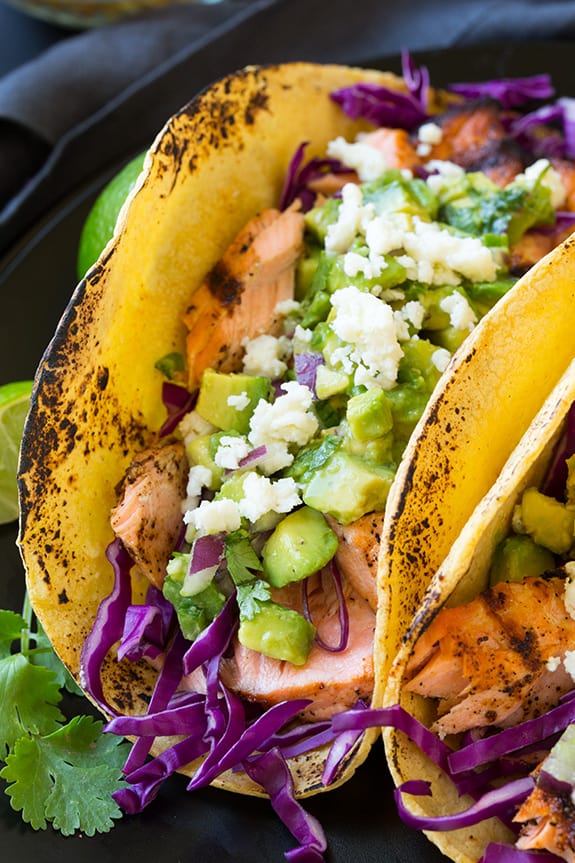 Read full details on: Cooking Classy
Asian Sesame Salad with Sriracha Salmon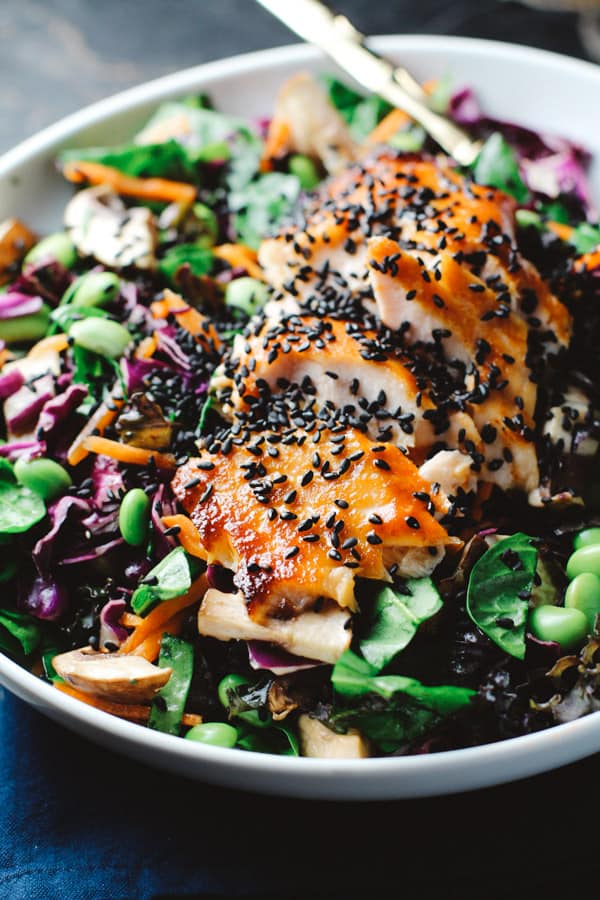 Read full details on: Freshly Zested
Sheet Pan Asian Chimichurri Salmon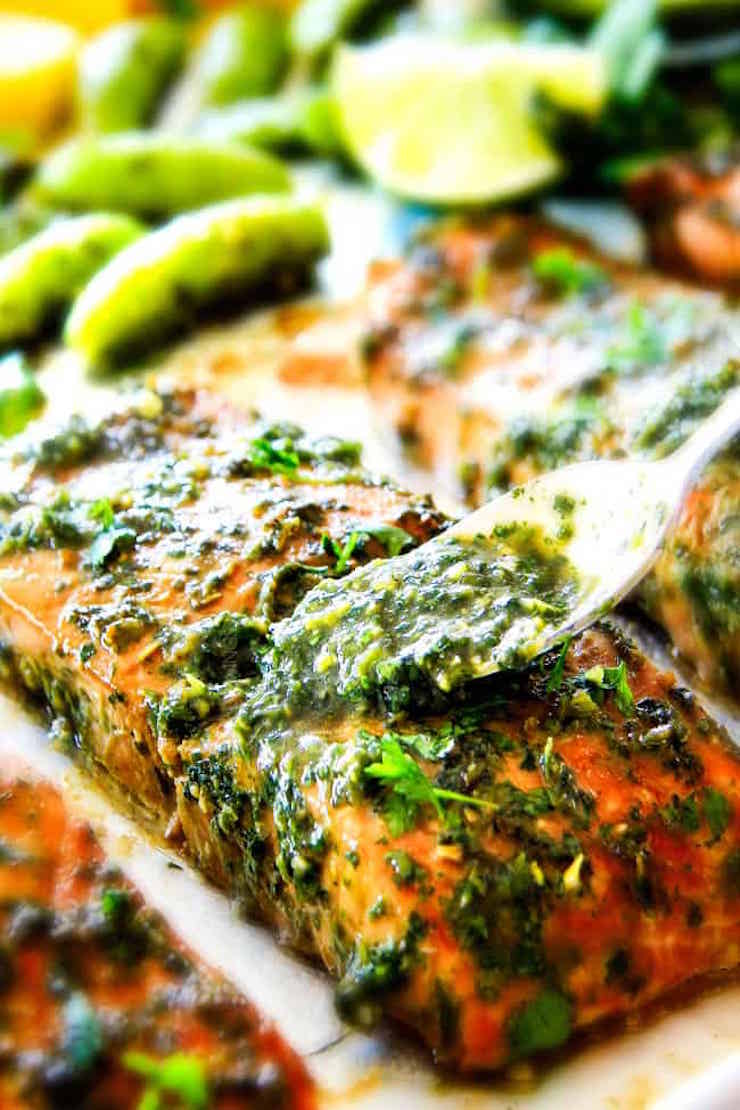 Read full details on: Carlsbad Cravings
Creamy Bowtie Pasta With Salmon And Asparagus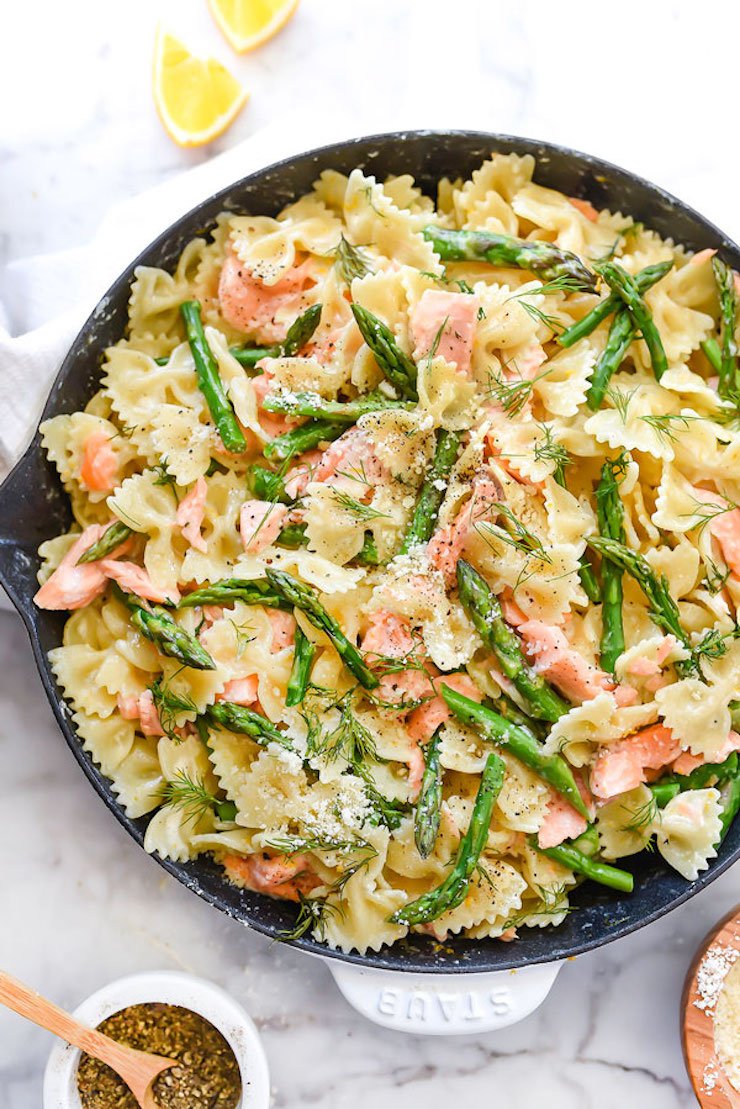 Read full details on: Foodie Crush
Clean Eating Baked Thai Salmon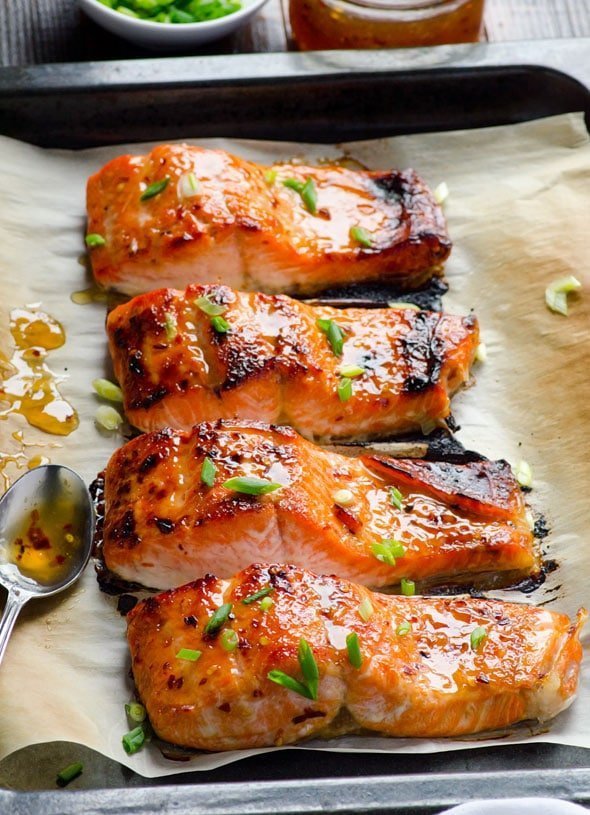 Read full details on: ifoodreal
Sheet Pan Salmon Primavera
Read full details on: The View From Great Island
Chili Lime Salmon Tacos With Mango Salsa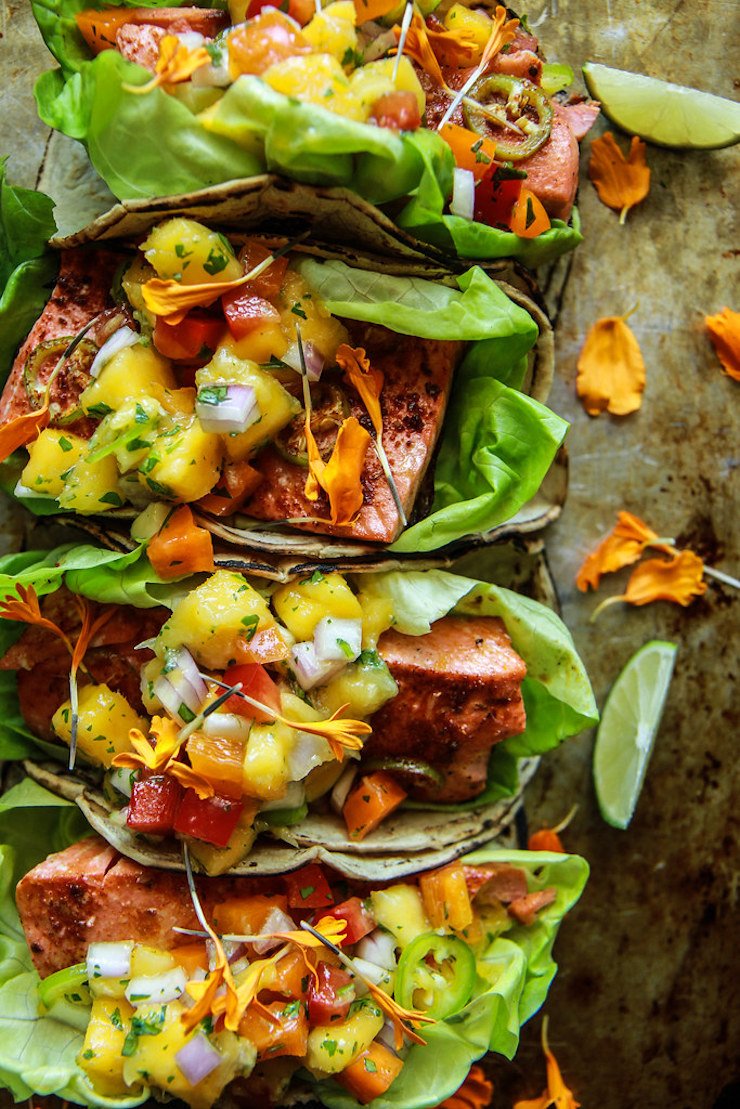 Read full details on: Heather Christo
Coconut Rice Salmon Bowl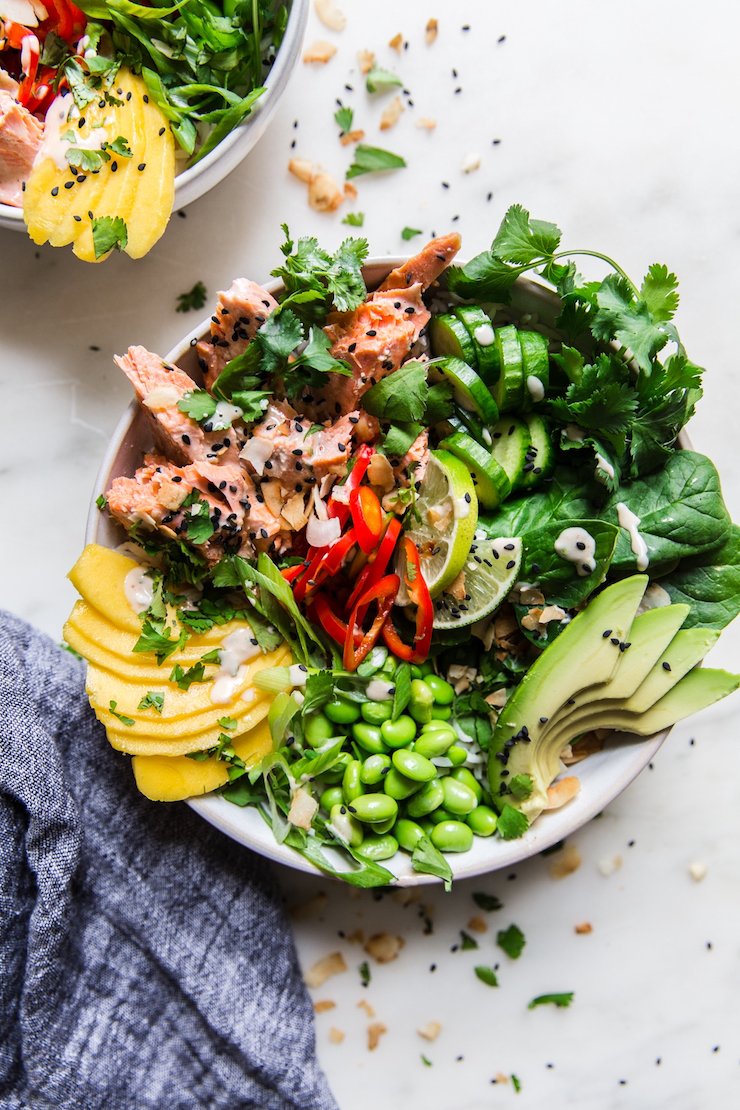 Read full details on: The Modern Proper
Sweet and Tangy Asian BBQ Salmon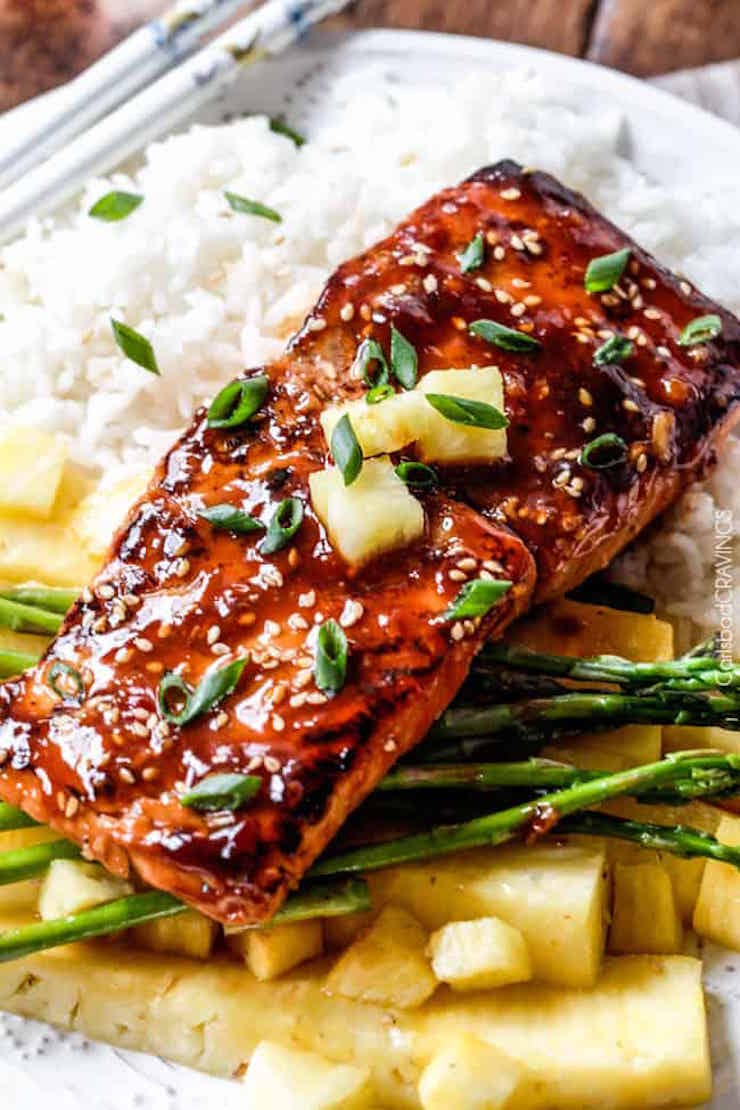 Read full details on: Carlsbad Cravings
Access our complete list of healthy recipes!