photo source: ifoodreal.com
Cauliflower Breadsticks
Cauliflower Breadsticks is a light easy to prepare healthy recipe that is highly popular.
Full of flavour, for those who can't have gluten, featuring 2 bloggers this recipe creates a delicious breadstick out of cauliflower along with other ingredients dipped in warm marinara sauce.
Healthy Living Starts Here
Health Benefit Of Cauliflower
Cauliflower deserves a regular rotation in your diet as it contains an impressive array of nutrients, including minerals, vitamins, antioxidants, and other phytochemicals.
Cauliflower health benefits includes that it fights cancer, boost heart and brain health, it's anti-inflammatory, improves digestion and supports detoxification.
Tips To Make Cauliflower Breadsticks
Dairy Free Option:
You can make the cauliflower breadsticks without adding cheese on top.
For the dough you will need a binding agent. Instead of using dairy for the dough try dairy free cheese instead, such as Daiya. Or add an extra egg or two.
Use the entire cauliflower for the recipe. If you use frozen cauliflower you will need 4 cups of cauliflower for the recipe.
You can use whole egg versus egg white.
Egg Free Option:
If you are allergic to egg, you may substitute 1TB cornstarch with 2TB water for the egg white, keep in mind that you need enough for it to be equivalent to 1/4 cup egg whites.
You can make the crust a day or two ahead. Keep the crust intact without cutting it into pieces. Wrap the crust in plastic and poke a few tiny holes for air circulation.
When your ready to bake, top the crust with cheese and bake right before serving.
Use parchment paper versus wax paper. The breadsticks will stick to wax paper. Also apply olive oil spray to the parchment paper.
You may consume the breadsticks warm or cold. Enjoy!
2 Featured Recipes
Recipe Category
Vegetarian, Paleo, Keto And Gluten Free
Read full details on: ifoodreal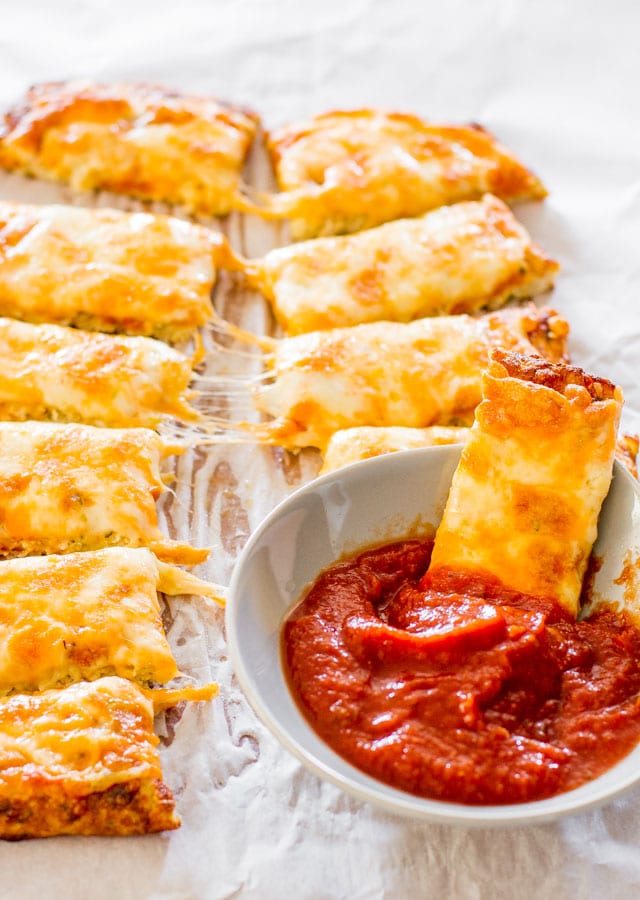 Details on: Jo Cooks
Vegan Resource
Access our other vegan content as well for your convenience.
Keto Resource
Please see below our growing Keto resource.
7 Day Keto Meal Plan + Cheat Sheet
Want More Recipes?
Access our complete list of healthy recipes!