Green Smoothie
Healthy living repertoire is knowing how to make the perfect green smoothie.
This easy to follow formula provides a fool-proof method to create the perfect smoothie, no matter what your preference.
The key to making it healthy is to strike the right balance of vegetables, fruit, protein and fat, says Miranda Hammer, a registered dietitian and natural foods chef based in New York. "The smoothie is a really great way to get in those key foods," Hammer says. When you make this type of smoothie, "you have the foundation for a healthy breakfast or snack." Source: Time.com
Not only is it delicious and healthy, it is also quick to prepare and clean up after.
Smoothies are an easy way to nourish your body with vitamins, minerals, fiber and protein that are otherwise hard to eat in large quantities.
Apart from being super healthy it will leave you full and content.
With a smoothie, simply throw fruits and veggies in the blender along with superfoods such as coconut oil or flaxseed, and have a healthy snack or meal replacement that even kids will think is a treat.
19 Green Smoothie Health Benefits
Rich in antioxidants
High in chlorophyll
Detox the liver
Weight loss, burns excess fat
Enhanced nutrient absorption
Improves digestion
Promotes healthy gut
Boost your immune system
Promotes healthy bones
Creates beautiful skin, nails and hair
Combats unhealthy cravings
Helps your heart
Fights diabetes
Builds enzymes
Protects against toxins
Protects eyesight
Great source of fiber
Boost energy
Anti aging
Source: HuffPost and Well+Good
6 Green Smoothie Tips
Before you get to the infographic and instructions lets go over a few tips.
All you need is a blender and some of the ingredients listed below.
Use a good quality blender, you will never have to worry about chunks of fruit not blended.
Frozen fruit will give your smoothies a thick consistency. Do not water it down with ice.
Include banana to 'camouflage' the taste of the vegetables.
Chop up bananas and store them in the freezer for easy prep.
Add protein to stabilize blood sugar levels. It also makes the smoothie more filling.
The easiest way to clean a blender is by rinsing it out, then fill it with hot water and a little dish soap, and then simply let the blender do the hard work.
Lets get started!
Green Smoothie Ingredients (Print Infographic Below!)
Here is a step by step guideline to make the perfect green smoothie and you may print the infographic below after reviewing the instructions!
1.5 to 2 Cups Of Liquid Base
To avoid chunks in your smoothie you will want to blend your leafy greens and liquid base first when using a regular blender. Don't feel obligated to stick to one liquid, you can interchange or combine coconut water, juice, and your favourite milk substitute for a new, delicious flavour every day of the week!
Note: If you have a high powered blender such as a ninja, or vitamix you will not need to blend liquids and greens first.
2 Cups Of Leafy Greens
Our green smoothies follow the 60/40 formula: 60% fruits to 40% leafy greens.
Leafy greens provide great nutritional value to your green smoothie they are loaded with phytonutrients, protein, vitamins, minerals and antioxidants.
3 Cups Of Ripe Fresh And/Or Frozen Fruit
Ripe fruit gives green smoothies the perfect amount of sweetness, but other natural sweeteners can be added if you prefer.
Ditch the ice by using frozen fruits.
Add Your Favourite Superfood
Don't be afraid to get fancy with your ingredients. We love adding at least one, superfood such as raw cacao powder to boost our daily nutritional intake.
Try experimenting with a few superfoods each week, you may be surprised by how much you love them.
Coconut oil
Coconut butter
Nut butter
Chia seeds
Hemp seeds
Hemp protein
Acai powder
Flax oil
Flax seeds
Raw cacao
Fresh ginger
Rolled oats
Aloe vera
We LOVE green smoothies as natural energy boosters, natural weight loss, disease-fighting option and the healthiest fast food!
Simply toss your favourite mix in your vitamix or blendtec and start blending! Enjoy!
Print PDF Below
Download PDF

Green Smoothie Recipes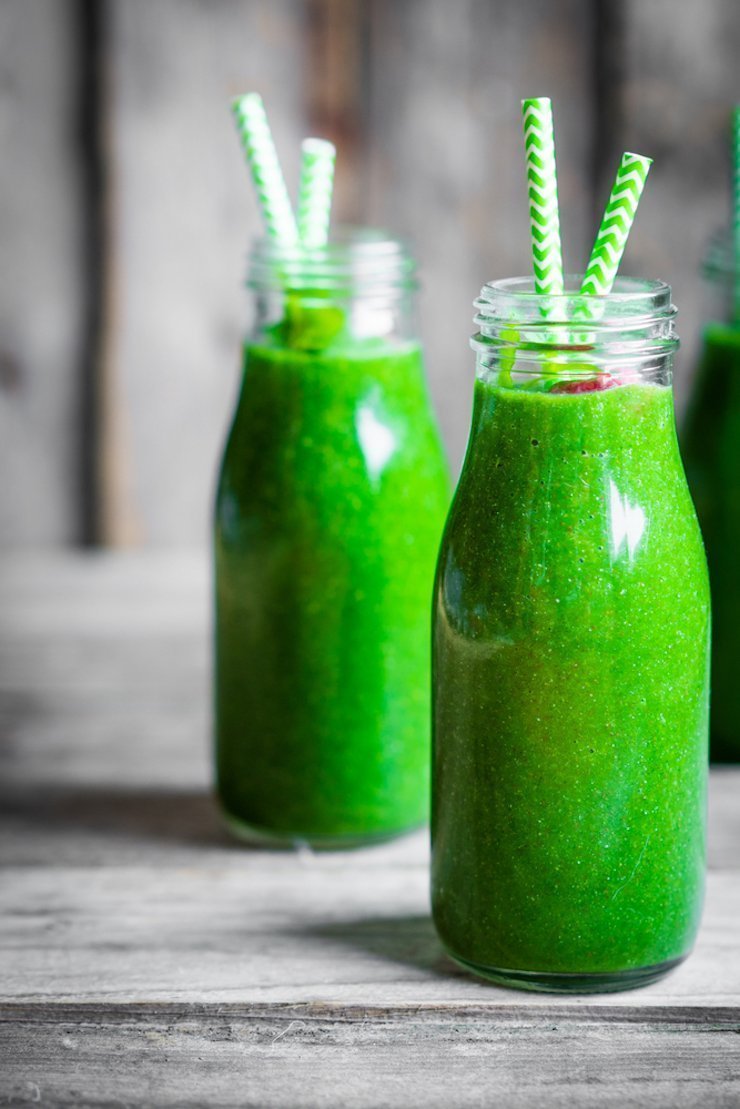 21 Absolutely Delicious Healthy Green Smoothie Recipes
Kitchen Tools To Make Your Green Smoothie
Ninja Smoothie Blender
Vitamix Smoothie Blender
Blendtec Smoothie Blender
Nutribullet Smoothie Blender
Seedless Smoothie Press
Strainer
Glass Bottle
Mix Powder
Lids And Straws With Smoothie Cups
Straw