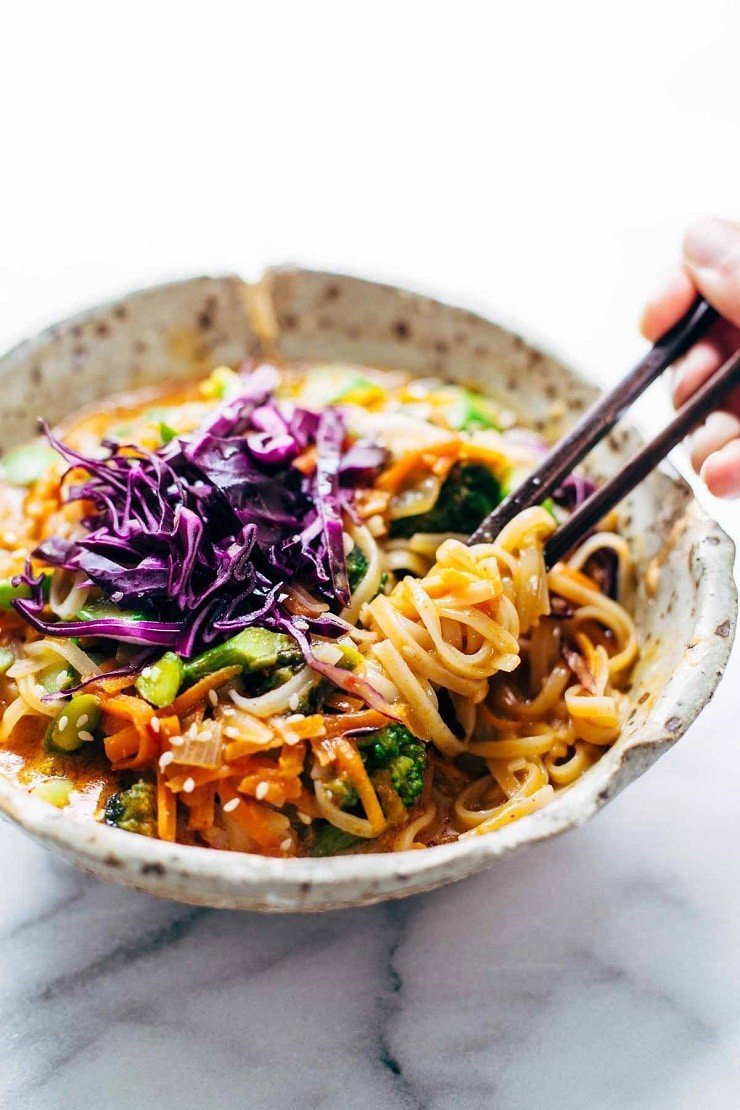 Bangkok Coconut Curry Noodle Bowl
Less than 30 minutes to prepare the Bangkok Coconut Curry Noodle Bowl with a variety of colourful vegetables with brown rice noodles this is a healthy meal you will sure to enjoy.
Health Benefit Of Coconut
Coconut, has tons of health benefits. It contains fatty acids with powerful medicinal properties. Coconut burns body fat especially abdominal fat, kills harmful microorganisms, reduces hunger, reduces seizures, improves blood cholesterol, boost brain function and more.
Health Benefit Of Purple Cabbage
Purple cabbage, more commonly known as red cabbage, a health promoting antioxidant, is a good source of essential vitamins such as riboflavin, pantothenic acid, and thiamin.
The health benefits of purple cabbage include that its great for the waistline, good source of folates, it improves immune function, aids bone health, combats chronic disease, promotes healthy gut, It's a low-calorie food made up mostly of water and provides you with vitamins C, A and K.
It is common to see purple cabbage in salads, coleslaw, braised dishes and pickled treats. Purple cabbage is a wonderful addition to the Bangkok Coconut Curry Noodle Bowl recipe.
Recipe Category
Vegan, Vegetarian And Gluten Free
Ingredients
For the Coconut Curry Sauce:
1 tablespoon oil
2 shallots
1 tablespoon fresh ginger, minced
2 tablespoons red curry paste
1 14-ounce can coconut milk
½ cup reduced sodium chicken or veggie broth (optional – see preparation for notes)
3 tablespoons sugar
1 tablespoon sambal oelek hot chili paste
2 tablespoons fish sauce
2 tablespoons soy sauce
For the Bowls:
4 ounces thai kitchen rice noodles
1 tablespoon oil
half an onion, chopped
1 cup chopped broccoli florets
1 cup shredded carrots
1 cup chopped asparagus
1 cup shredded purple cabbage
sesame seeds for topping
limes for serving
a handful of fresh basil for serving
Preparation
Read full details on: Pinch Of Yum and image courtesy of Pinch Of Yum