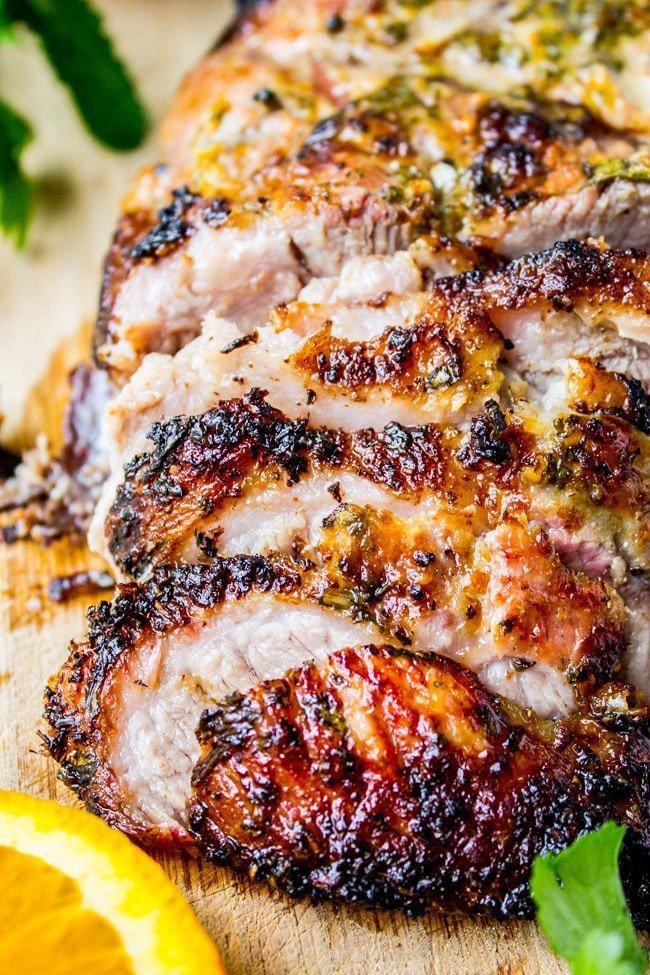 Cuban Mojo Marinated Pork
Cuban Mojo Marinated Pork a traditional dish, is very popular in Cuba. Basic ingredients include sour orange juice, fresh garlic, and salt with a variety of herbs. You can use fresh mojo criollo as a marinade for pork, chicken, beef, fish or turkey or as a condiment to serve with your favourite meat dish.
You will love this recipe it is tender, with tons of flavour. The marinade is absolutely delicious!
Health Benefit Of Pork Meat
Pork has many health benefits, loaded with a variety of vitamins and minerals, its known as a high quality meat protein. When cooked properly pork can become an excellent component of a healthy diet.
Zinc present in pork boosts the immune system and improves body resistance against numerous diseases.
Pork a good source of protein and amino acids is vital for people interested in building muscle.
Hign in vitamin B1 and B6, pork is excellent for skin, eyes, nervous system, bones and mental performance. Vitamin B6 also helps in metabolism of fats, proteins and carbohydrates.
The presence of vitamin Riboflavin helps in maintaining skin and health problems. It repairs damaged tissues and extracts energy from food.
Pork helps in producing red blood cells in the body, it enhances production of energy and iron from meat is easily absorbed by the body.
Cooking Tips For Cuban Mojo Marinated Pork
Make sure you roast the pork versus using a crockpot.
If you cook using a slow cooker, don't expect to get that crusty exterior on the pork.
You may substitute the cilantro for parsley.
You can even try this recipe with roasted chicken.
Save some of the Cuban Mojo Marinated Pork to make Cuban Sandwiches. All you need is leftover Mojo Marinated Pork, 100% whole grain bread, swiss cheese, slice of ham, dijon mustard and melted butter for the bread. Its one of the BEST SANDWICHES my family has ever tried!
Recipe Category
Gluten Free And Paleo
Ingredients
3/4 cup extra-virgin olive oil
1 tablespoon orange zest
3/4 cup fresh orange juice
1/2 cup fresh lime juice
1 cup cilantro, finely chopped
1/4 cup lightly packed mint leaves, finely chopped
8 garlic cloves, minced
1 tablespoon minced oregano (2 teaspoons dried oregano)
2 teaspoons ground cumin
Kosher salt and pepper
3 and 1/2 pounds boneless pork shoulder, in one piece
Preparation
Read full details on: The Food Charlatan and image courtesy of The Food Charlatan