photo source: themodernproper.com
Best Shepherd's Pie Recipes
I have compiled a list of simple, easy, shepherd's pie recipes with calories as low as 400! In fact, traditional recipes have more than 1,000 calories and 60 grams of fat per serving.
Where Is Shepherd's Pie From
United Kingdom.
Traditional Ingredients
Potatoes
Butter
Onions
Vegetables
Ground beef
Beef broth
Worcestershire sauce
Salt, pepper, and other seasonings of choice
How Does Gordon Ramsay Make Classic Shepherd's Pie
How To Make Shepherd Pie Healthier
To make the pie healthier make adjustments with the topping.
Healthy Toppings For The Mash
For the mashed potato swap out butter for semi-skimmed milk.
Swap out white potato for sweet potatoes or cauliflower.
Create a mash with half sweet potato and half white potato.
Combine potato, cauliflower and swede.
Use half polenta with half sweet potato.
Can I Peel Potatoes Ahead Of Time For Mashed Potatoes
Peel the potatoes and keep them submerged in a bowl of water in the fridge.
The potatoes can be whole or cut up, for hours or overnight before boiling.
How Far Ahead Can I Make Mashed Potatoes
Boil, peel and mash the potatoes with salt and milk up to two days ahead.
To make them taste freshly mashed, before serving, reheat the mash, adding butter at the last minute.
Can I Freeze Mashed Potato
Yes. Create and place scoops of mashed potato on a parchment lined baking sheet and freeze until solid.
Then place the frozen mashed potato in a freezer safe bag, squeezing out as much air as possible.
What Goes Well With Shepherd Pie
Roasted veggies with garlic
Mushy peas
Buttered cabbage
Thyme carrots
Roasted eggplant
Brussel sprouts
Butternut squash
Steamed broccoli
Soft leeks
Green beans
Soda bread
Cauliflower
Dinner rolls
Broad bean
Baked bean
Parsnips
Tiny shallots
Roasted beets
Salads
What Salad Goes Well With Shepherd's Pie
How Do You Keep The Mash From Sinking In Shepherd's Pie
Let the beef filling cool before adding the mashed potato, to stop the mashed potato from sinking.
How Do I Thicken Shepherd's Pie
To thicken the sauce, stir in flour and water into the meat and cook for a couple of minutes.
How Do I Thicken Shepherds Pie Without Flour
Instead of using flour, mix cornstarch with 2 TBS of cold water and stir into the filling. This will thicken the sauce.
If required add a little more cornstarch depending on the amount of liquid in your pan. Once thickened, turn off the heat.
Can You Freeze The Pie Before Baking
Yes. After baking, let the pie cool to room temperature. Then cover it tightly with foil.
It can remain in the freezer for up to 2 months.
How Do You Reheat Frozen Shepherd's Pie In The Oven
Reheat the shepherd's pie covered with the foil for 1 hour in a 350ºF oven.
Can I Reheat Shepherd's Pie In The Microwave
Yes. Just be careful that the shepherd's pie could end up soggy and lose it's crispy texture.
Is It Ok To Leave A Pie Out Overnight
No. After baking, refrigerate the pie once it is cool enough to handle. Only leave the pie out for 2 hours or less.
Can You Put Hot Shepherd's Pie In The Fridge
Yes. Place the leftover hot pie into the fridge quickly. Do not let the pie sit out at room temperature for longer than two hours before you reheat them.
How Long Will Shepherd's Pie Last In The Fridge
3 to 5 days.
Before you get to the list of salmon meals you may also access a list of other dinner recipes.
Other Dinner Recipes
Dietary Types Featured
Paleo
Low carb
Vegetarian
Vegan
See below 14 of the best shepherd's pie recipes!
Healthy One-Pot Skillet Shepherds Pie
Vegetarian dish.
Read full details on: Jen Elizabeth's Journals
Shepherd's Pie With Ground Beef
Read full details on: Chelsea's Messy Apron
Lentil Shepherd's Pie With Sweet Potato
Read full details on: Cupful Of Kale
Healthy Shepherd's Pie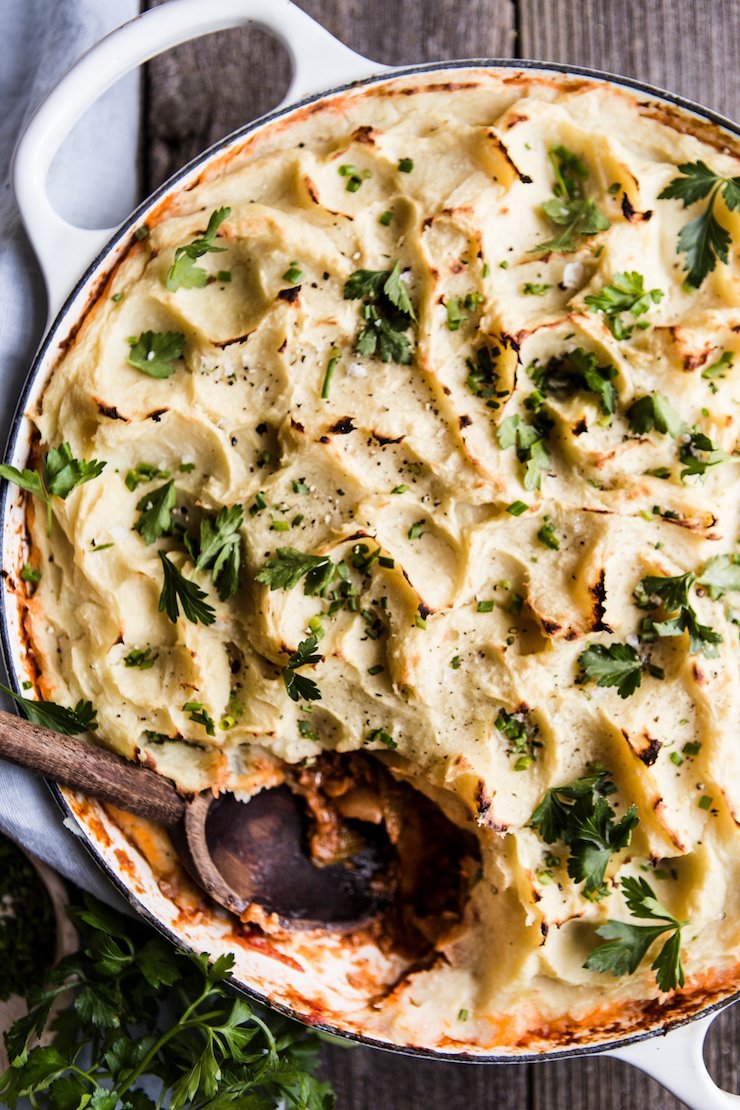 This recipe is dairy, grain, legume, and sugar free and absolutely delicious!
Read full details on: The Modern Proper
Vegetarian Cottage Pie
Packed with lentils, mushrooms, veggies and herbs. Vegan and gluten free!
Read full details on: Vanilla And Bean
Cauliflower Mash & Ground Turkey Shepherd's Pie
Substituting turkey for beef and cauliflower instead of potatoes reduces calories dramatically!
Read full details on: Aberdeen's Kitchen
Twice Baked Lentil Shepherd's Pie Potatoes
Vegan dish.
Read full details on: Making Thyme For Health
Shepherd's Pie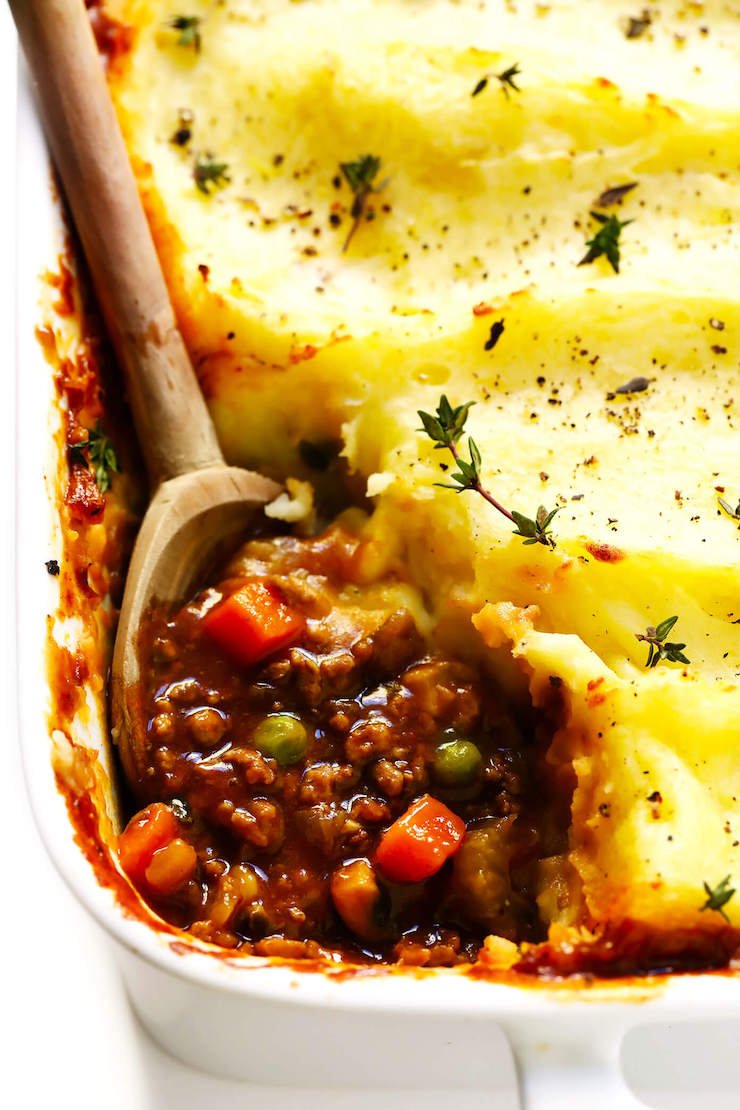 This recipe can be made with beef, lamb or chicken and also includes a vegetarian option!
Read full details on: Gimme Some Oven
Vegetarian Shepherd's Pie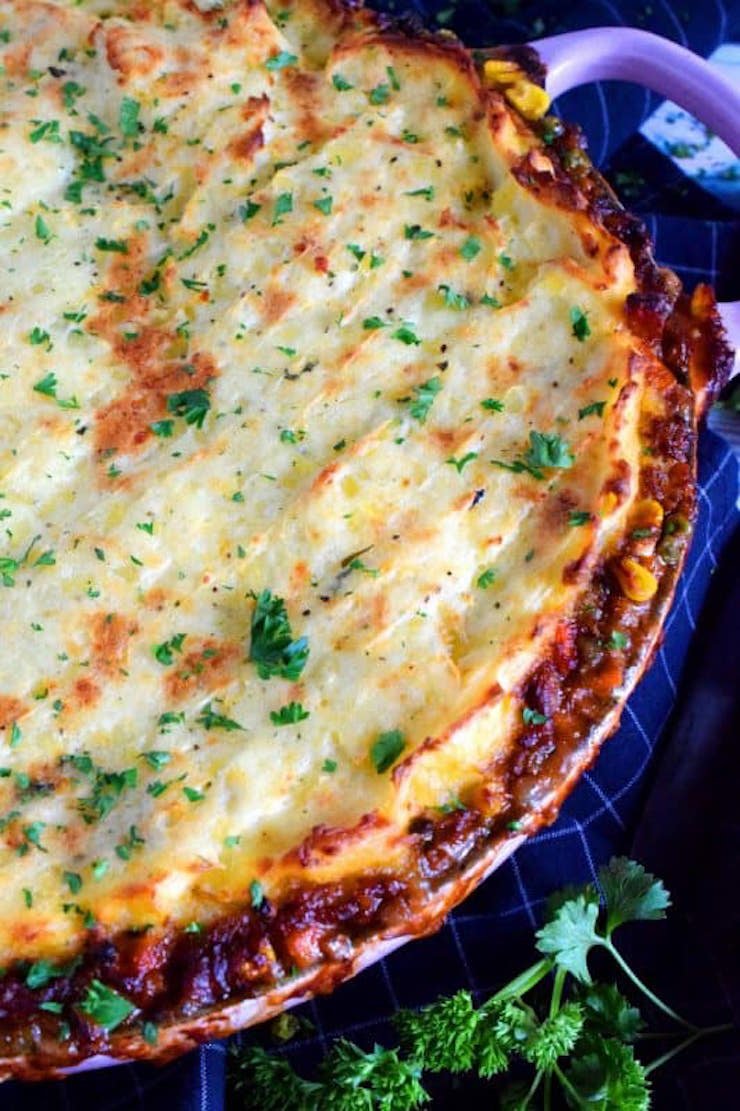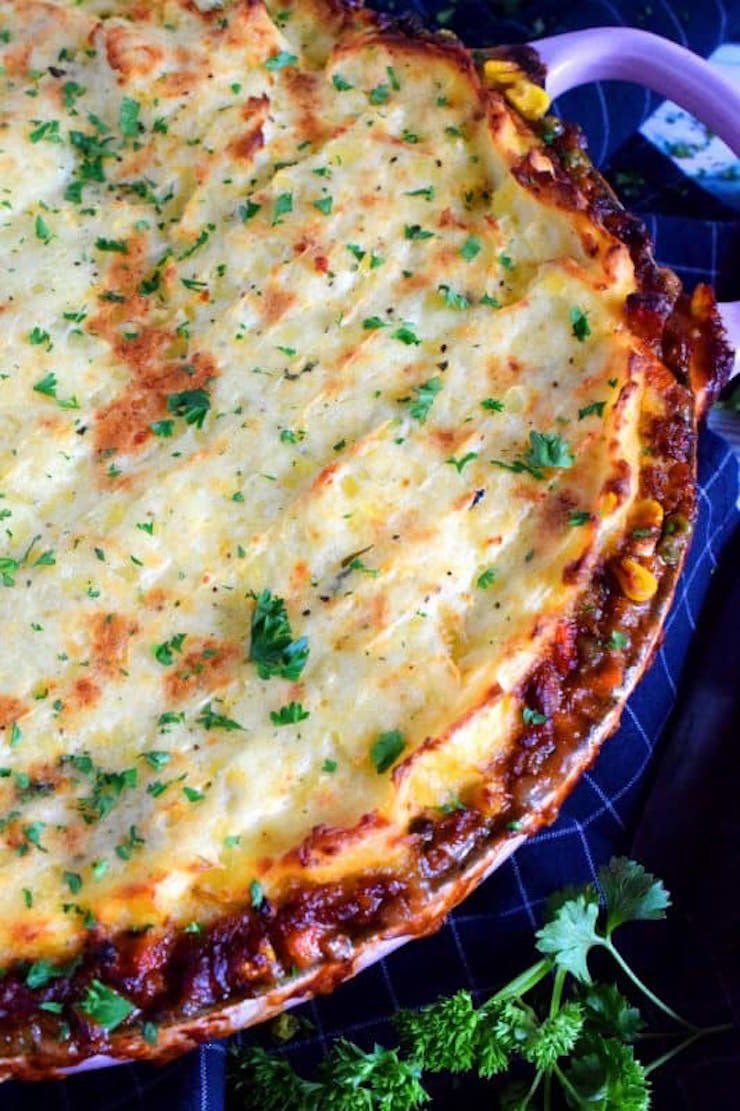 Read full details on: Lord Byron's Kitchen
Skillet Shepherd's Pie With Ground Beef
Read full details on: Jo Cooks
Cauliflower Shepherd's Pie
Read full details on: ifoodreal
Paleo Shepherd's Pie
Read full details on: Paleo Rubbing Momma
Shepherds Pie with Boneless Short Ribs
Read full details on: Carlsbad Cravings
Skillet Sweet Potato Shepherds Pie
Read full details on: The Recipe Critic
Want Additional Recipes?
Access our complete list of healthy recipes!