photo source: foodiecrush.com
Healthy Quinoa Salads
I have compiled a list of 21 quinoa salads that are fresh and delicious. These healthy salads, that fit the gluten free diet lifestyle are also great for meal prep.
Allergy friendly gluten free options along with vegan, vegetarian, paleo and keto options for you to enjoy.
These salads can be consumed cold or warm with roasted vegetables or eaten at Spring, Summer, Fall or Winter.
Why Eat Quinoa?
Quinoa is one of the world's most popular health foods that is very healthy and most nutritious food on the planet. Its non-GMO and usually organically grown.
Quinoa which is gluten free, is high in protein and one of the few plant foods that contain all nine essential amino acids.
It has more protein than most grains, and due to its high protein content, it can help to increase metabolism and reduce appetite significantly.
It has been proven that quinoa has tons of nutritious food. Quinoa high in antioxidants, is loaded with minerals such as iron and magnesium,
Quinoa also contains large amounts of flavonoids, including quercetin and kaempferol. These are potent plant antioxidants with numerous health benefits.
One study that looked at 4 varieties of quinoa found the fiber content ranged from 10 to 16 grams of fiber for every 100 grams.
It also has a low glycemic index rate which is excellent to control blood sugar levels.
Is Quinoa Good For Weight Loss & Belly Fat
Experts and health practitioners often recommend including quinoa in weight loss diets in place of high-carb grains as it does aid weight loss.
Eating grains like quinoa will help to boost your metabolism, and burn belly fat faster.
Source: Glamour Magazine
Is Quinoa Healthier Than Rice
A cup of quinoa provides 5 grams more fiber and double the amount of protein than white rice.
How To Make A Quinoa Salad
How To Cook Quinoa On The Stove
Rinse 1 cup of uncooked quinoa in a mesh strainer until water runs clear, drain and transfer to a medium pot. Add 2 cups water and sea salt and bring to a boil.
Reduce heat to low, cover and simmer until quinoa is tender and most of the liquid has been absorbed, It should take about 15 to 20 minutes.
Once cooked remove the pot off the heat and let it sit for for 5 minutes, then uncover and fluff with a fork.
How To Cook Quinoa In A Rice Cooker
Rinse 1 cup of

quinoa 

Pour the quinoa and add 2 cups of water into the rice cooker
Add 1/2 tsp of sea salt and turn on the rice cooker
Cooking time is about 30 minutes
Once it's done, wait 5 minutes, then fluff it with a fork
Let's take a look at typical ingredients for the salads.
Other Typical Ingredients
Pomegranate
Balsamic Dressing
Vinaigrette Dressing
Edamame
Asparagus
Butternut Squash
Pumpkin
Cranberries
Black beans
Chickpeas
Cucumber
Lettuce
Tomato
Salmon
Shrimp
Arugula
Sweet Potato
Goat Cheese
Broccoli
Cilantro
Spinach
Chicken
Avocado
Lemon
Beets
Corn
Lime
Tuna
Feta
Kale
Curry
Mango
Apple
Popular Types Of Quinoa Salads
Mediterranean
Moroccan
Asian
Greek
Italian
Mexican
How To Create Meals Out Of Quinoa
There are so many ways to use quinoa. It can be added to salads, soups, stews, porridge and more.
Please see below a list of popular lunch recipes for your convenience and 21 ways to use quinoa in recipes. 
21 Easy Quinoa Salad Recipes
Scroll down to the end of the article to access all recipes!
Quinoa Tabbouleh Salad With Chickpeas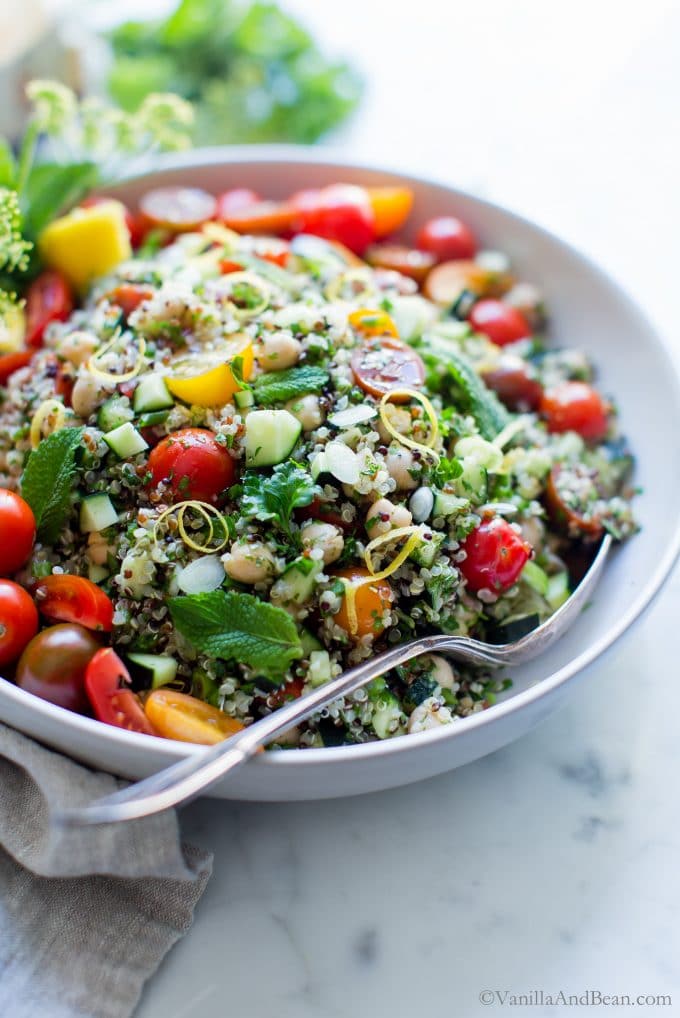 Roasted Butternut Squash Salad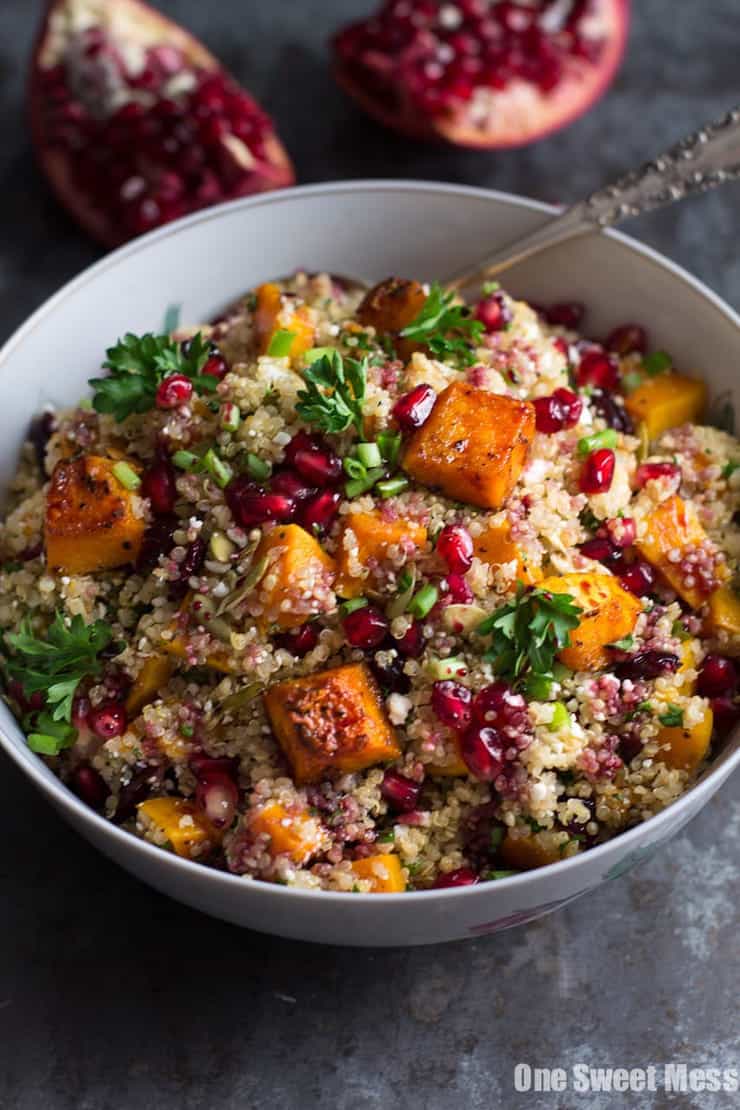 Quinoa Salad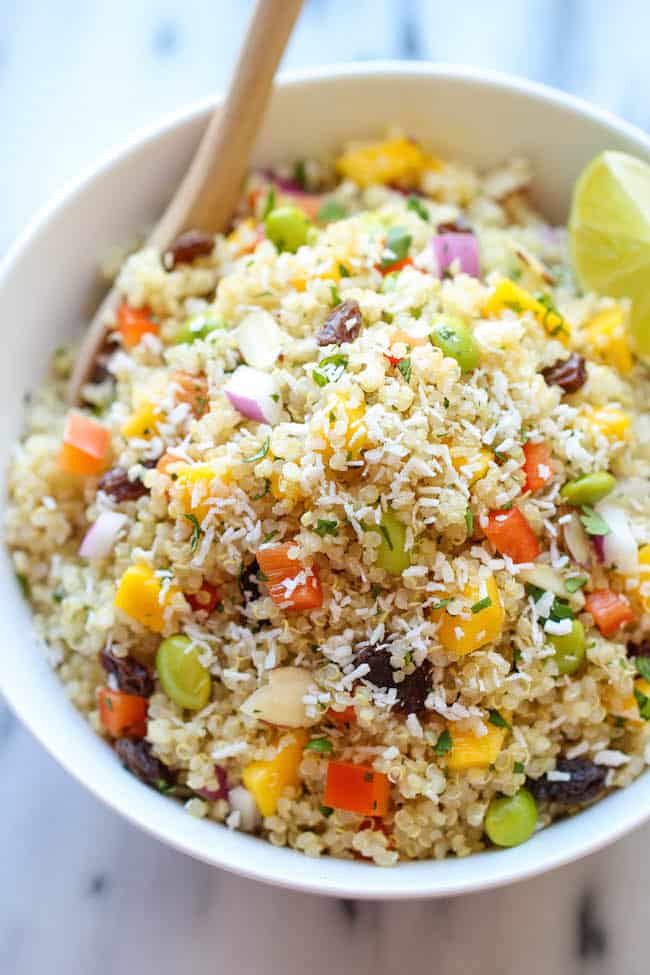 Quinoa And Kale Salad With Red Grapes Walnuts And Lemon Honey Dressing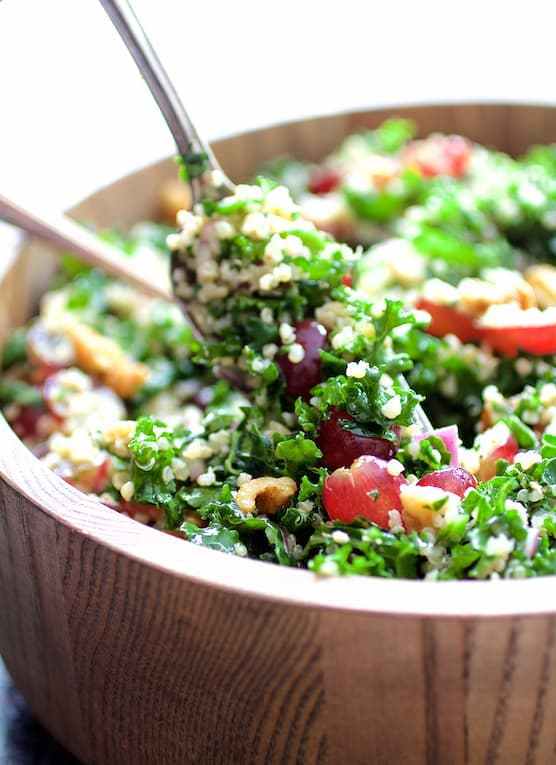 Tex Mex Quinoa Salad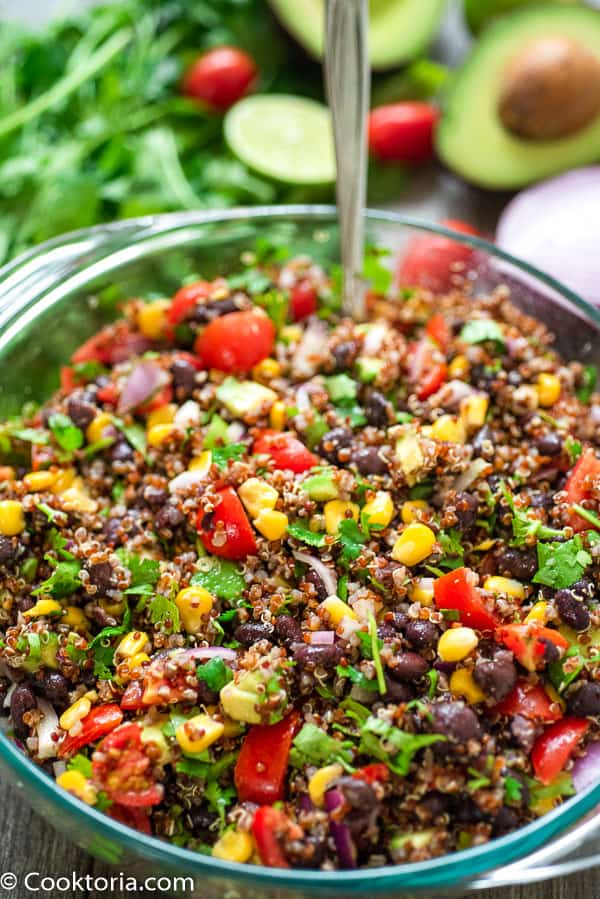 Grilled BBQ Chicken, Zucchini And Corn Quinoa Salad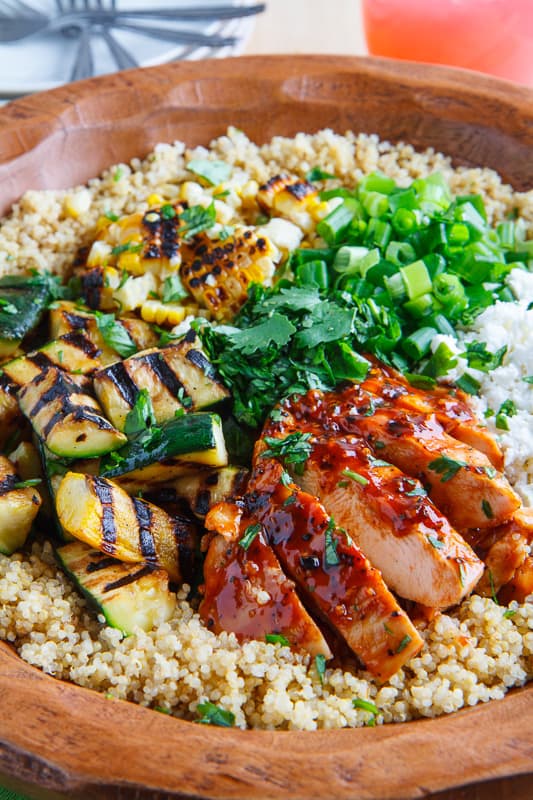 Fall Brussels Sprouts Salad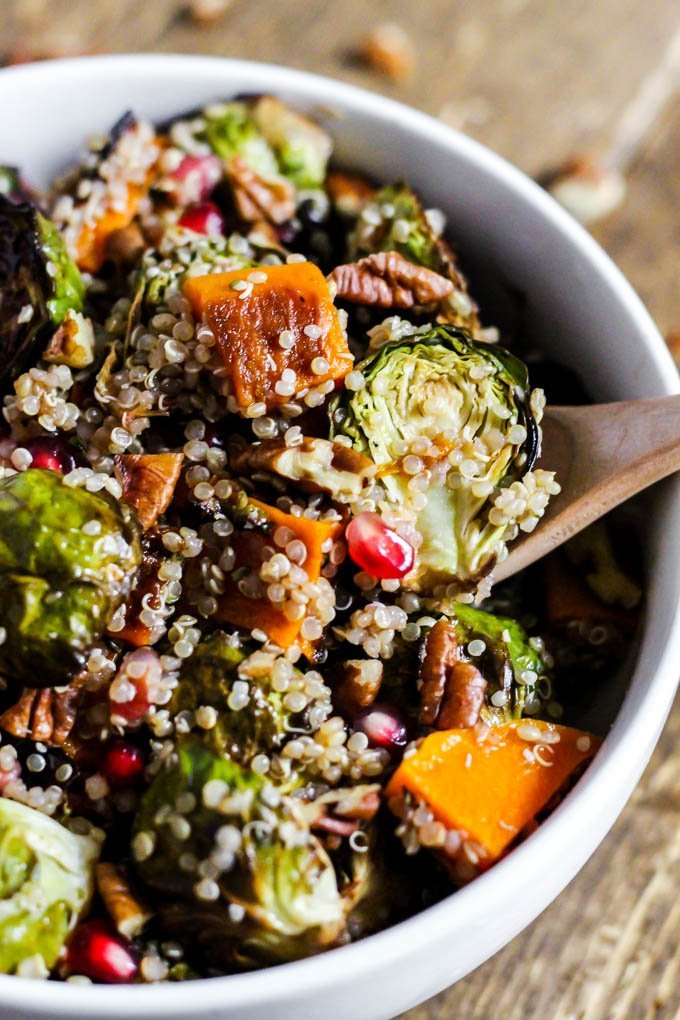 Chicken Salad With Lemon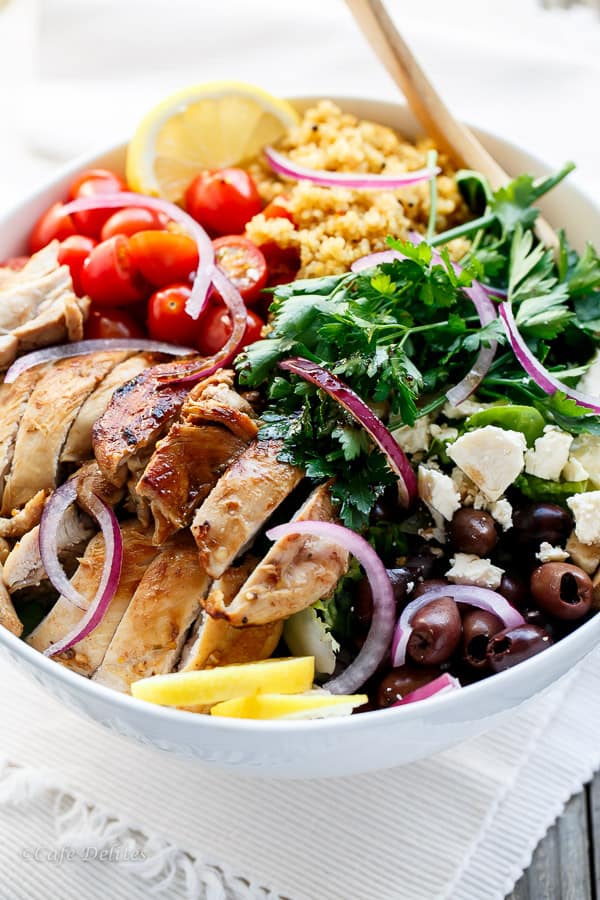 Mexican Salad With Chili Lime Dressing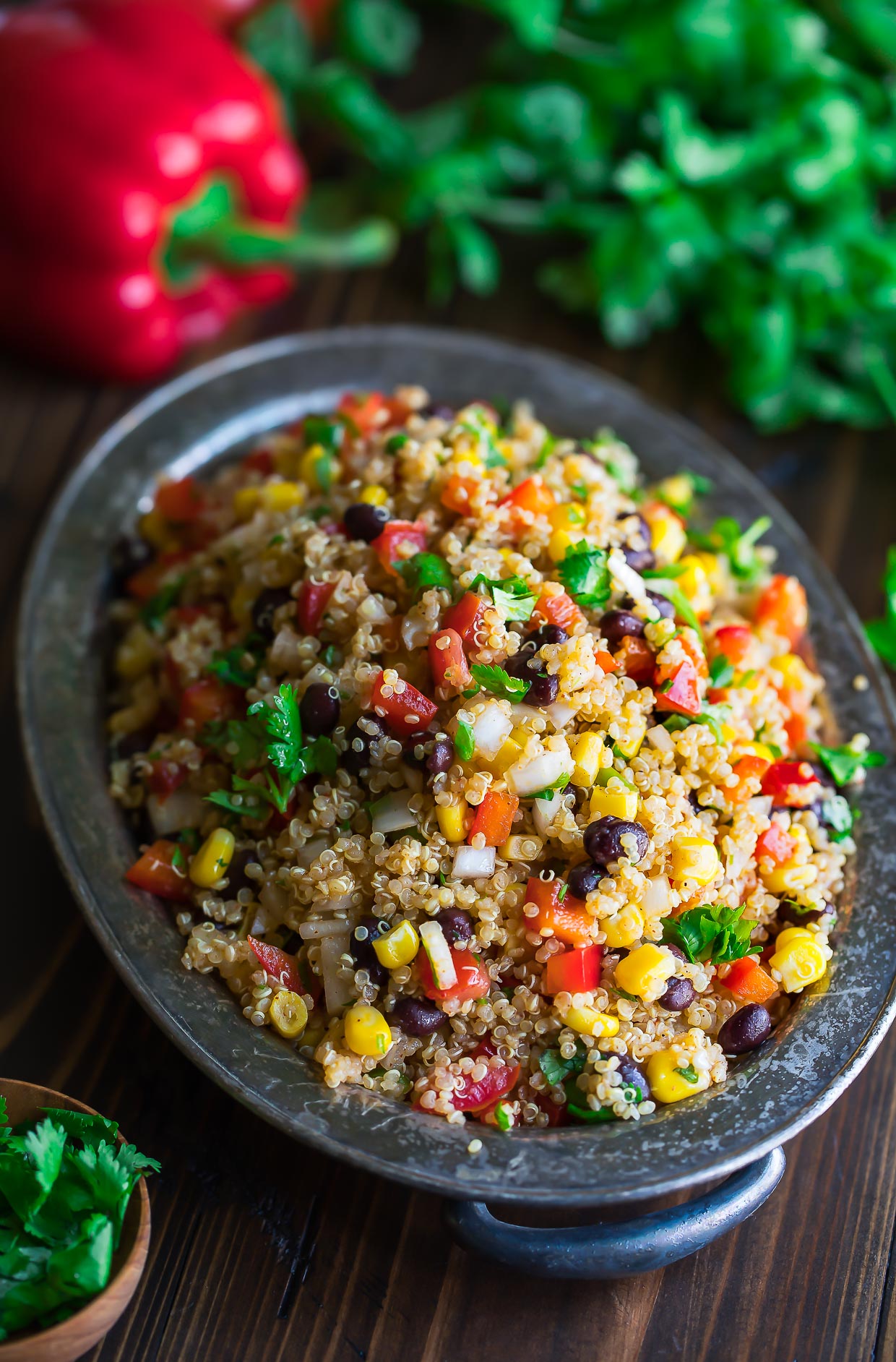 Greek Quinoa Salad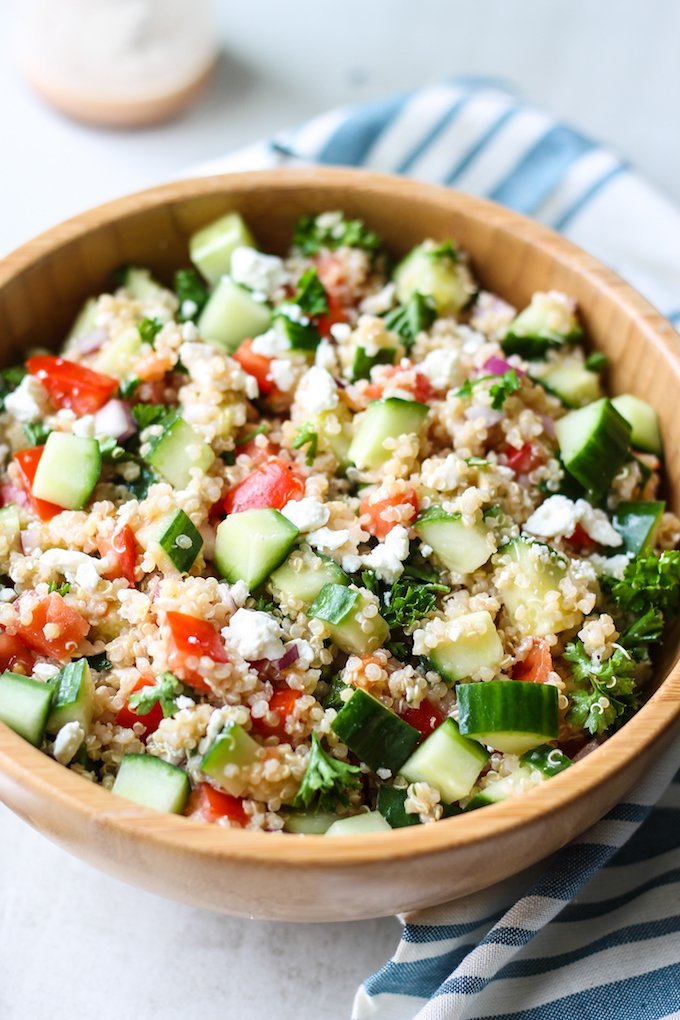 Healthy Quinoa Salad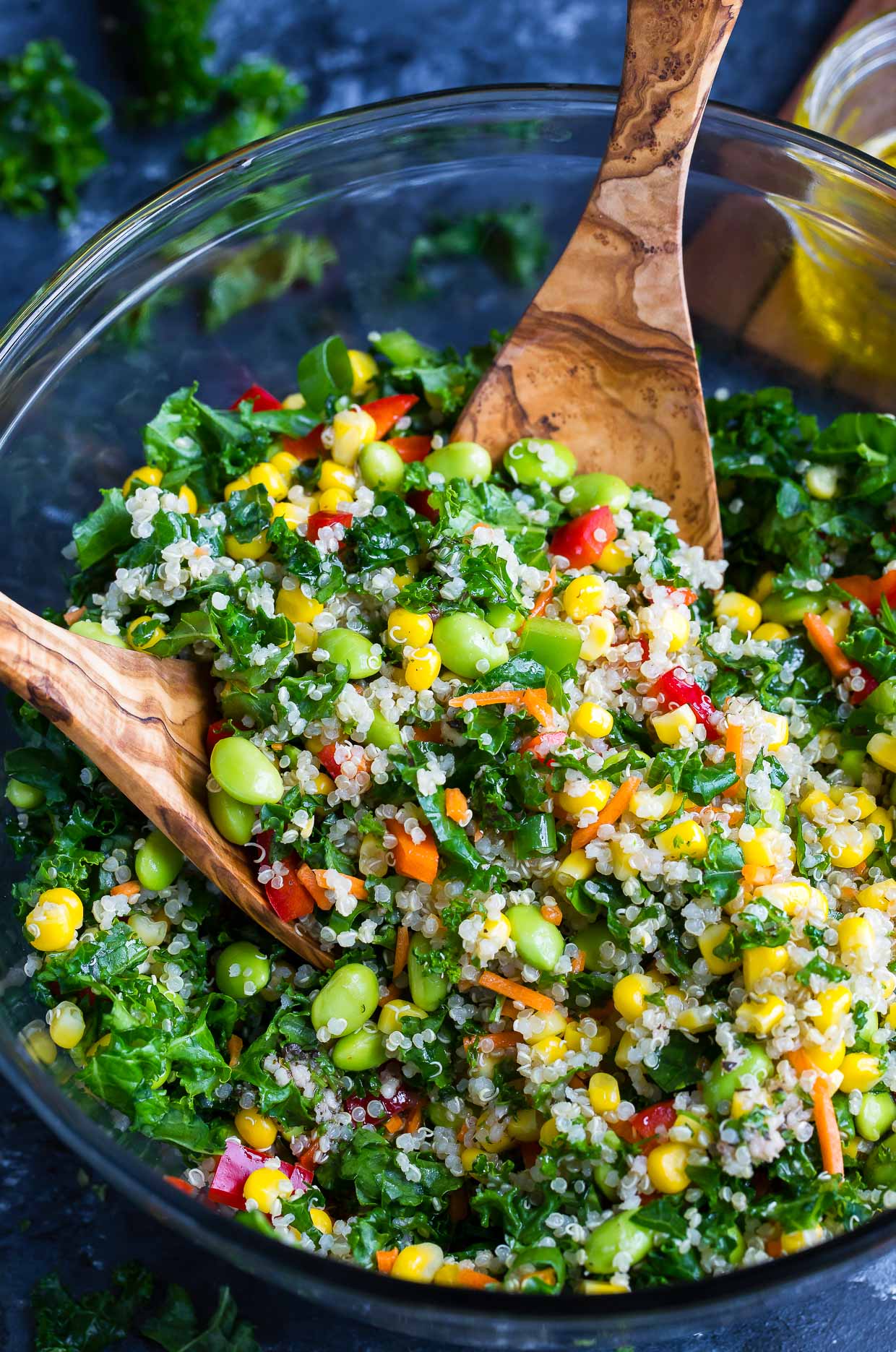 Winter Rainbow Quinoa Salad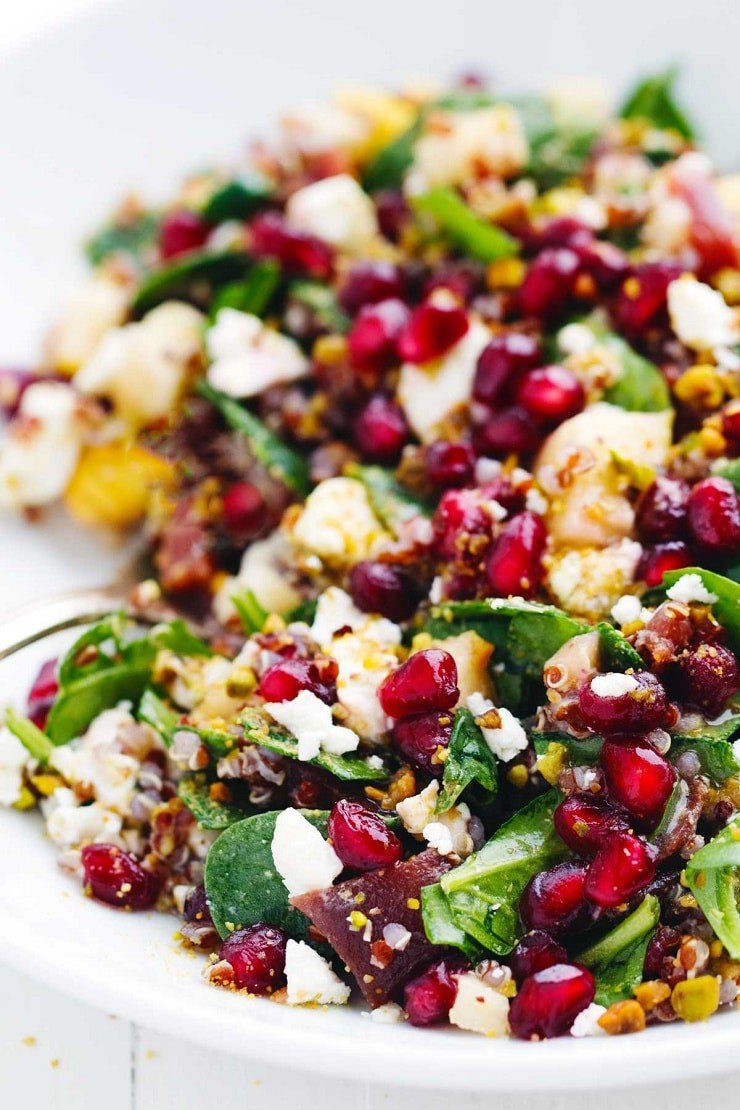 Mediterranean Three Bean Salad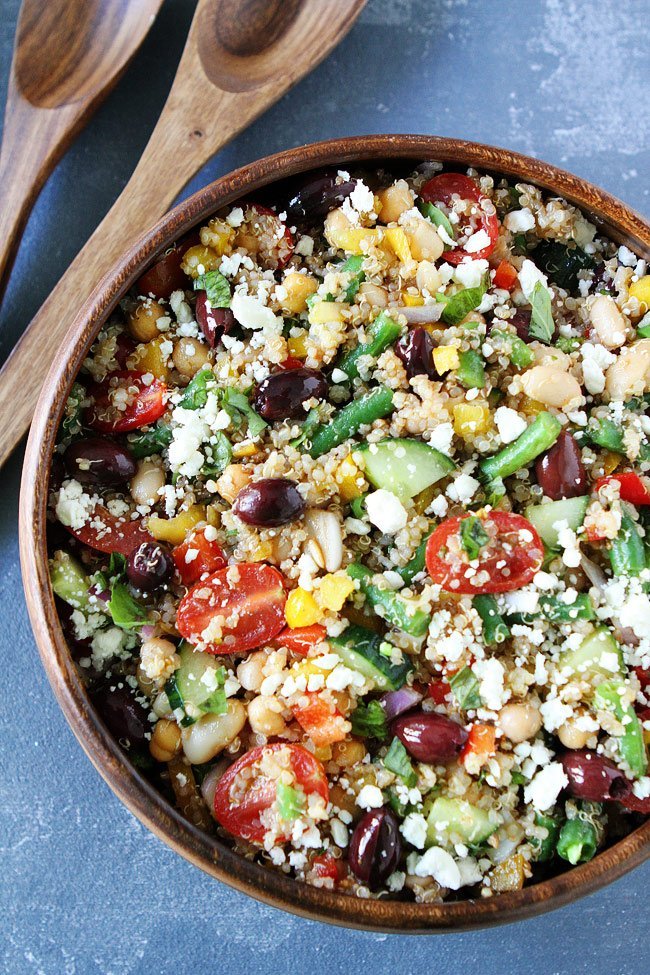 Butternut Squash Quinoa Salad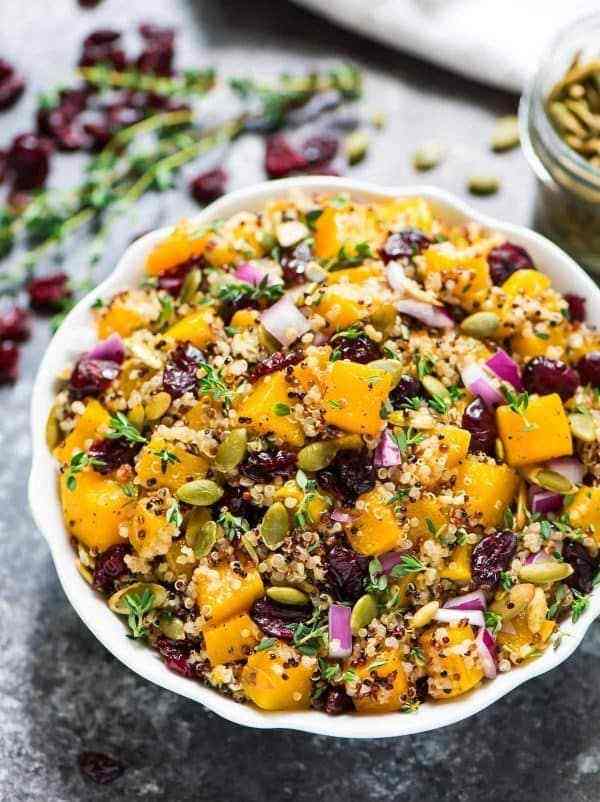 Citrus Chicken Quinoa Salad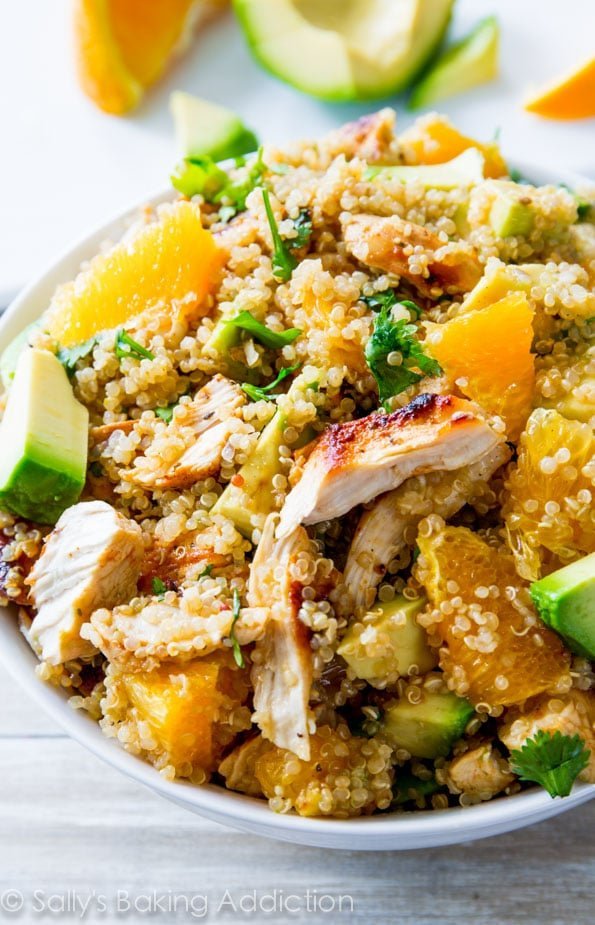 Quinoa with Walnuts, Radishes & Spring Onions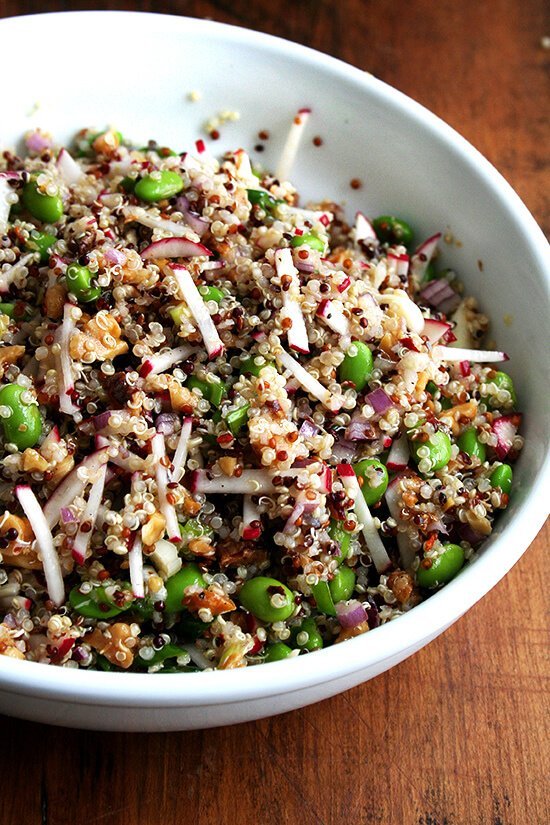 Asian Quinoa Salad
Winter Kale And Quinoa Salad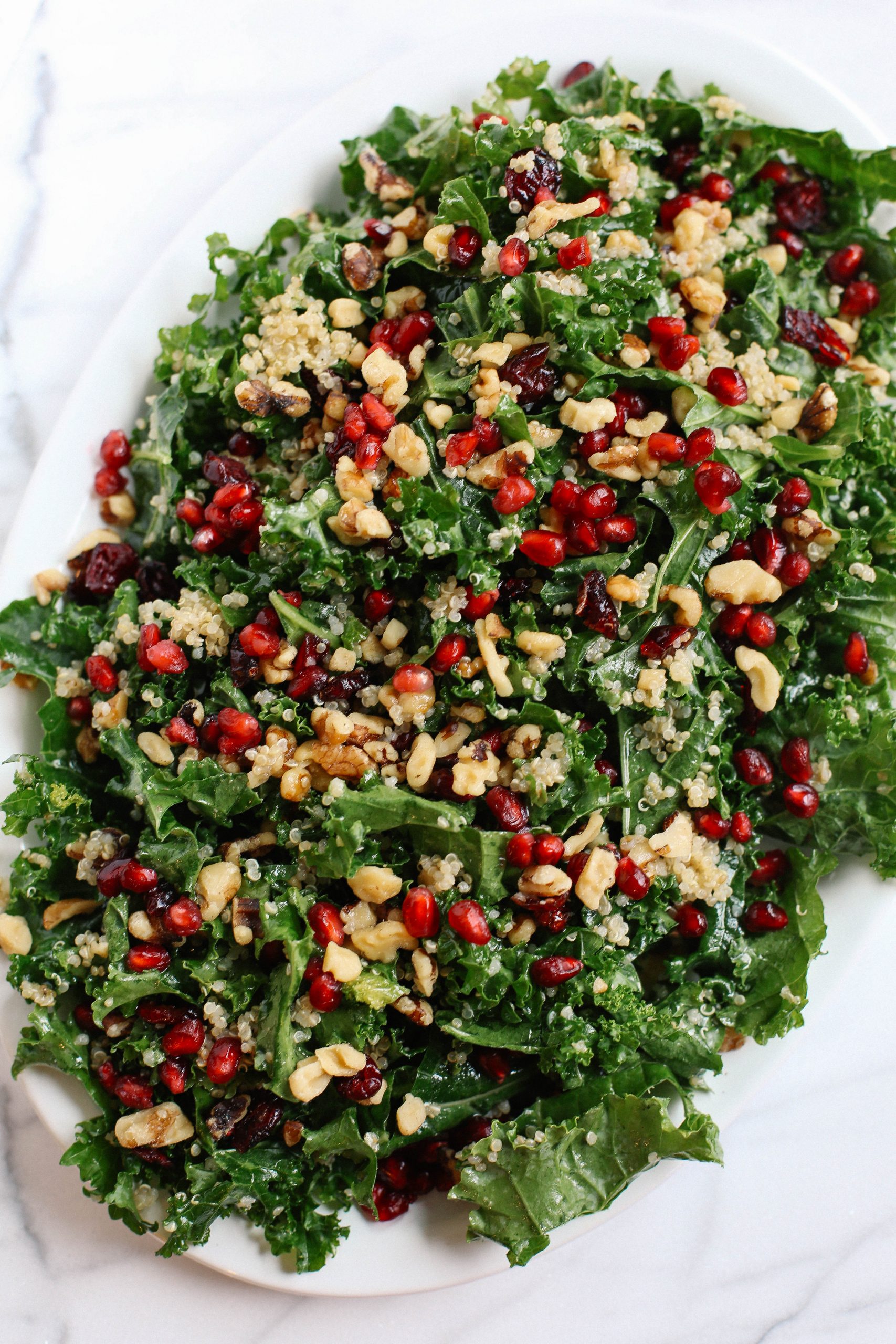 Roasted Brussel Sprout And Yam Salad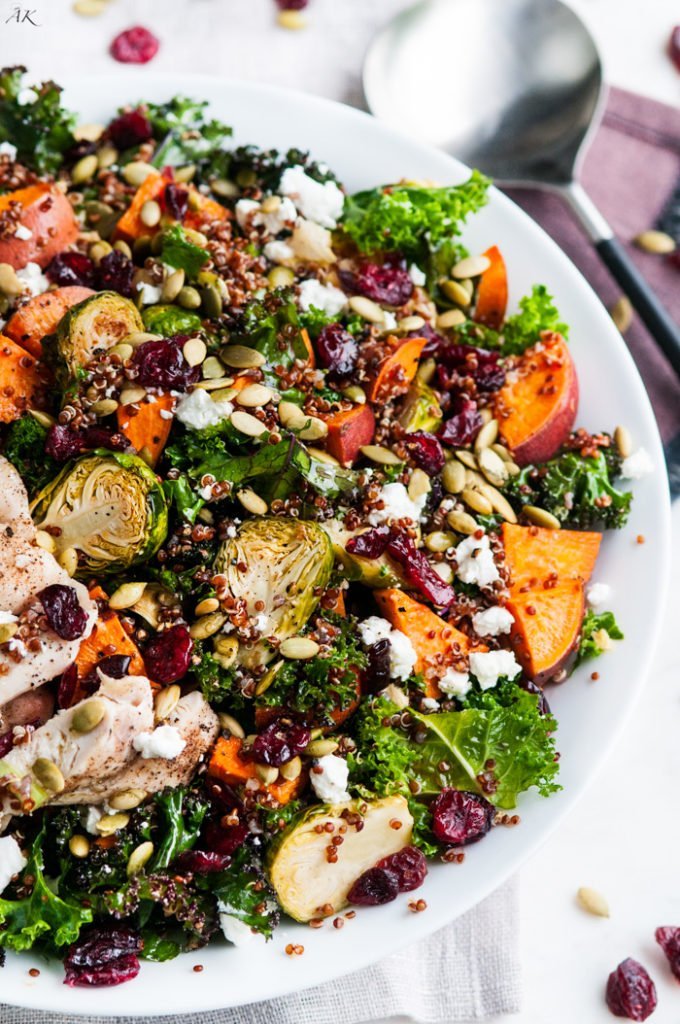 Herbed Quinoa Garden Veggie Salad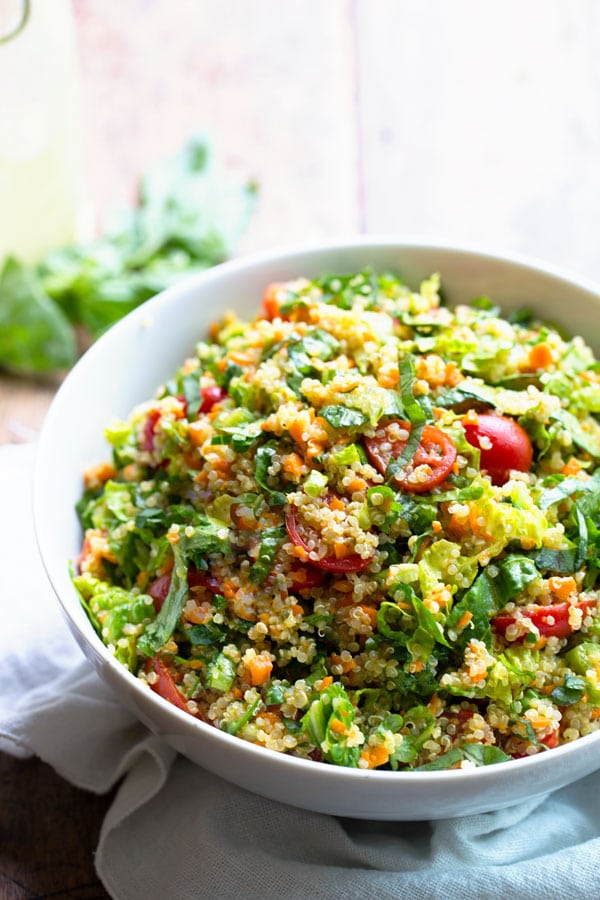 Quinoa Salad With Chickpeas, Black Beans, Mango And Avocado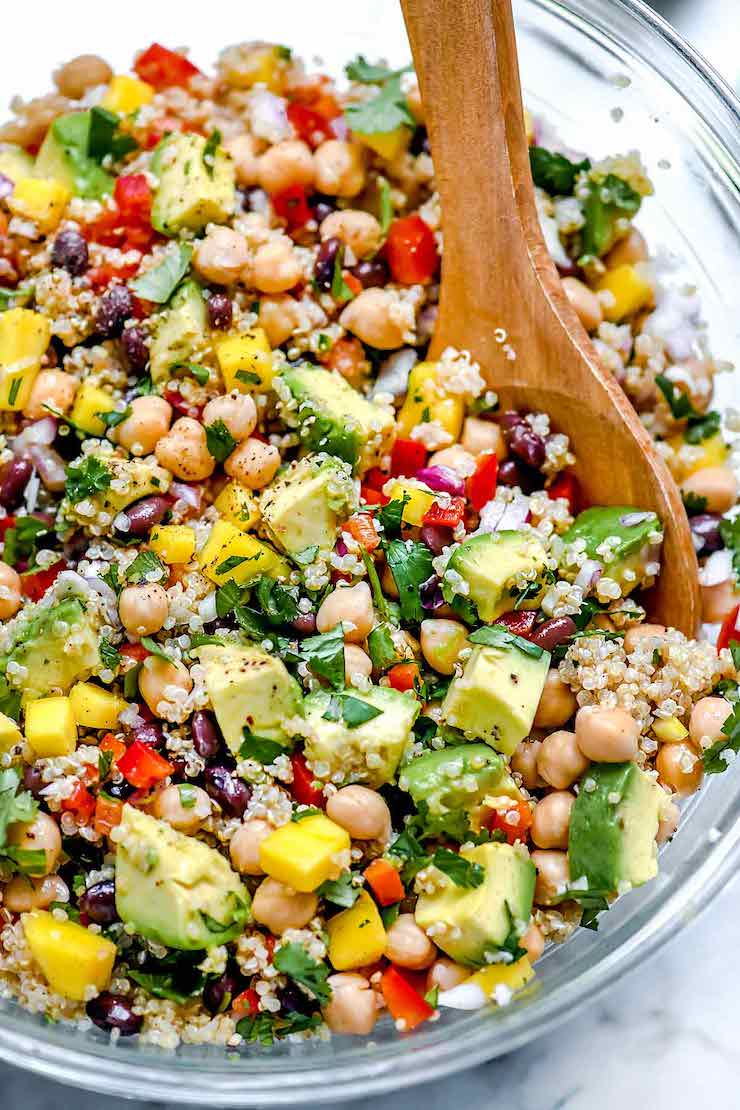 Access our complete list of healthy recipes!