photo source: lecremedelacrumb.com
14 Pork Chop Recipes
Oh you are going to love these pork chop recipes! Easy dinner ideas, juicy and tender with great recipes!
Before we get to the recipes there are some facts you will need to know.
Ok let's get started.
Pork chops can be:
Glazed
Boneless
Bone in
Creamy
Moist
Braised
Crispy
Spicy
Fried
Stuffed
Breaded
Are Pork Chops Low In Saturated Fat
It contains 3.5 grams of fat, and 1 gram is saturated fat, in a 3 oz serving.
1) Choose lean cuts. Lean white-meat pork is as healthy as chicken.
2) Remove fat off the meat before cooking.
3) Skim any saturated fat before reheating leftovers.
How Long Can Pork Chops Stay In The Fridge After Thawing
3 to 5 days.
Should You Salt Pork Chops Before Cooking
Season with salt brings out the meat's natural flavours. It will improve the taste and texture of the meat.
What Spices Pair Well With Pork
Herbs that go well with pork are:
Salt and pepper
Caraway seeds
Garlic powder
Coriander
Cumin
Cayenne pepper
Curry powder
Dill
Paprika
Rosemary
Sage
Fennel
Savory
Thyme
Cloves
Chilies
How Do You Tenderize Pork Chops
Tenderize pork by using a meat mallet hitting it evenly across the surface of the meat to break up the tough muscle.
If you want your pork to be extra tender, marinate it with marinade such as citrus juices, vinegar, or wine.
How Do You Tenderize Pork With Vinegar
Add 1 to 2 tablespoons of white vinegar to your cooking liquids. Or pierce the pork with a fork all over, then soak it in vinegar for 1 to 2 hours before you cook it.
How Can I Tenderize Pork Quickly
Soy sauce or apple cider vinegar.
Why Do You Soak Pork Chops In Milk
Milk is the most effective in tenderizing meat than any other marinades.
How Long Should I Marinate Pork Chops
At least 1 hour.
Should You Marinade Poke Meat
No. This actually drains out the juices.
How Much Salt And Sugar Do You Put In A Brine
Mix 1 cup of salt for each gallon of water you use in your brine.
For a sweet brine, mix 1 cup of brown sugar with 1 cup of salt per gallon. If you plan to only use 1/2 or 3/4 gallon of water adjust your salt and sugar accordingly.
How Long Should I Brine My Pork Chops
Thick cut, bone-in chops should be brined for 1-4 hours. Thinner boneless pork chops are fine with just 15-30 minutes. After brining is complete rinse the pork chops. Discard the brine solution and pat dry.
Should I Season Pork Chops After Brining
Do not season the meat again with salt. Feel free to season with your favourite dry rub after brining.
How To Cook Pork Chops In The Oven
Pork chops can also be cooked in a pan on your stove top, cast iron skillet, instant pot, slow cooker, crockpot or air fryer.
Should I Cover Pork With Foil When Cooking
Yes. Covering pork chops helps preserve its juicy flavours and also reduces shrinkage.
How Long Does A Pork Chop Take To Cook
Roast until the pork chops register 140°F to 145°F in the thickest part of the meat with an instant-read thermometer.
Cooking time will be 6 to 10 minutes depending on the thickness of the chops. Even 15 minutes or 20 minutes.
Cooking Method
Baked
Fried
BBQ
Grilled
Pan seared or fried
What Internal Temp Should I Use for Pork Chops
The rule for pork chops is to cook them to an internal temperature of 145°.
How Do You Cook Pork Chops In The Oven
Place baking sheet with pork chops in oven. Cook until the thermometer inserted in the center of the chops registers the desired temperature, whether you seek well cooked, medium-rare, or medium cooked.
How To Cook Pork Chops Without Drying Them Out
Add a marinade
Use bone-in pork chops
Before cooking the chops thaw meat to room temperature
Start pork chops on the stove then finish them in the oven
See above buy a meat thermometer to prevent over cooking
Why Are My Pork Chops Tough
This is partly due to over cooking. Different cuts of meat require shorter or longer cooking times. Stick to the recipe instructions.
How Do You Know When A Pork Chop Is Done
The US Department of Agriculture (USDA) recommends that pork is cooked to 145 degrees Fahrenheit (medium-rare), and has a 3-minute rest after you take it off the heat.
You will know when they are done cooking when they are golden brown and no pink juices remain.
How Long Should Pork Chops Rest After Cooking
Rest for 2 to 3 minutes.
What Vegetables Go Well With Pork
Mushrooms
Brussels sprouts
Kale with lemon & garlic
Creamy spinach and dill
Sesame-ginger roasted broccoli
Green salads
Lemon-pepper asparagus
What Else Goes With Pork Chop Recipes
See short list below and other healthy side dishes as ideas you can pair with pork chops as well.
Creamy corn casserole
Sliced grilled apples
Grilled pineapple
Cranberry sauce
Butternut squash
Brussels sprouts
Baked onions
Olive oil
With parmesan
Butter Beans
Green beans
Apple sauce
With rice
Gravy
Pasta
Grains
Types Of Pork Chop Cuts
Shoulder
Blade chops
Rib chops
Loin chops
Sirloin chops
Breaded Coating For Pork Chops
Flour
Panko
Parmesan cheese
International Cuisine Type
Italian
Mexican
Asian
Chinese
Filipino
Vietnamese
Dietary Type
14 Healthy Pork Chop Recipes
See below the compiled list of quick and easy recipes, that literally takes minutes to cook on each side, typically over medium high heat.
Add pork to the specified recipe and continue to cook based on the instructions.
Scroll down to the end. We also include a list of other popular recipes at the end of the post!
One Pan Ranch Pork Chops And Veggies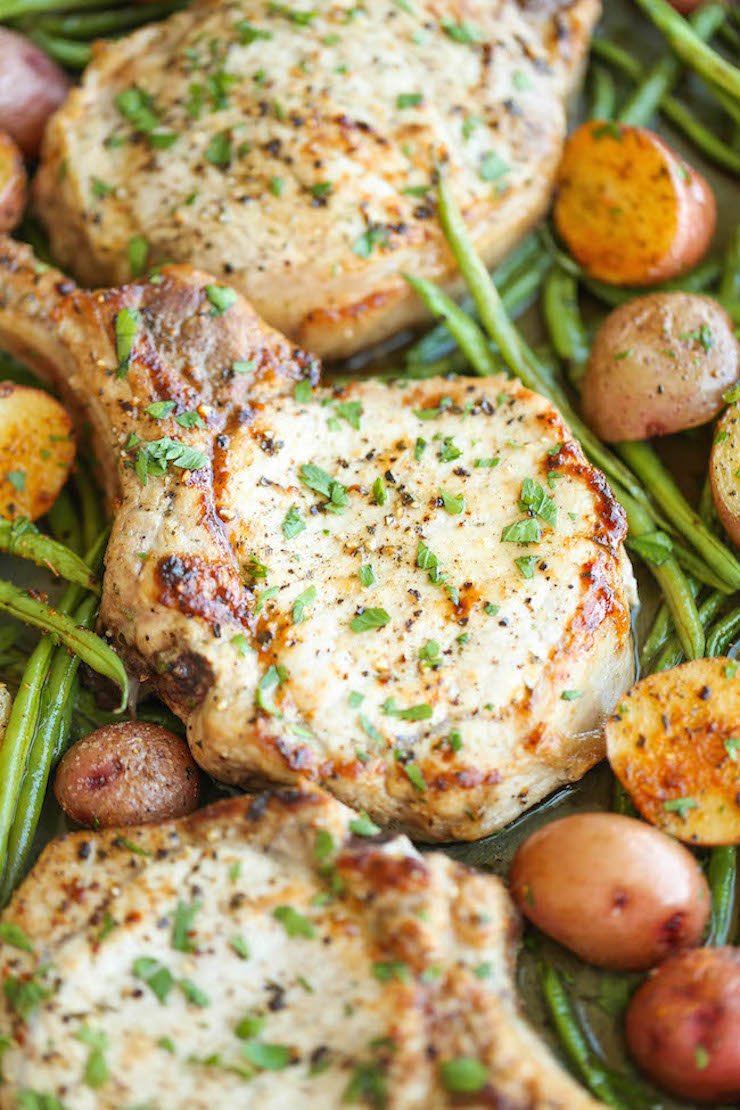 Read full details on: Damn Delicious
One Pan Maple Glazed Pork Chops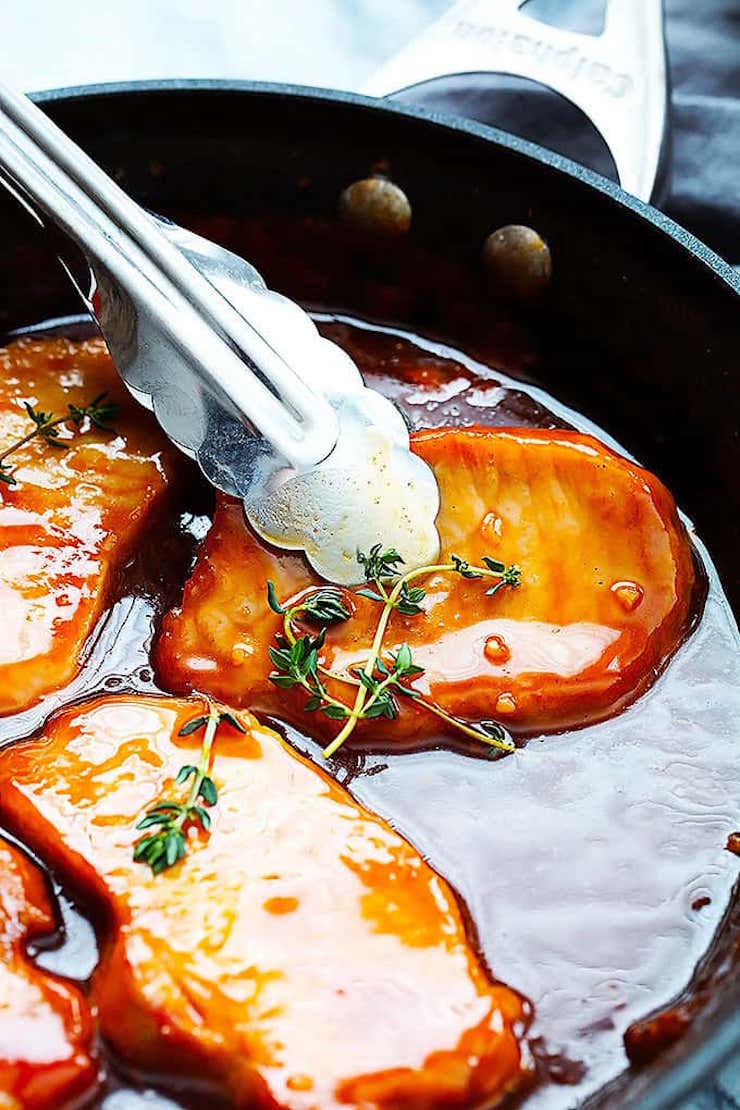 Read full details on: Creme de la Crumb
Mustard Balsamic Pork Chops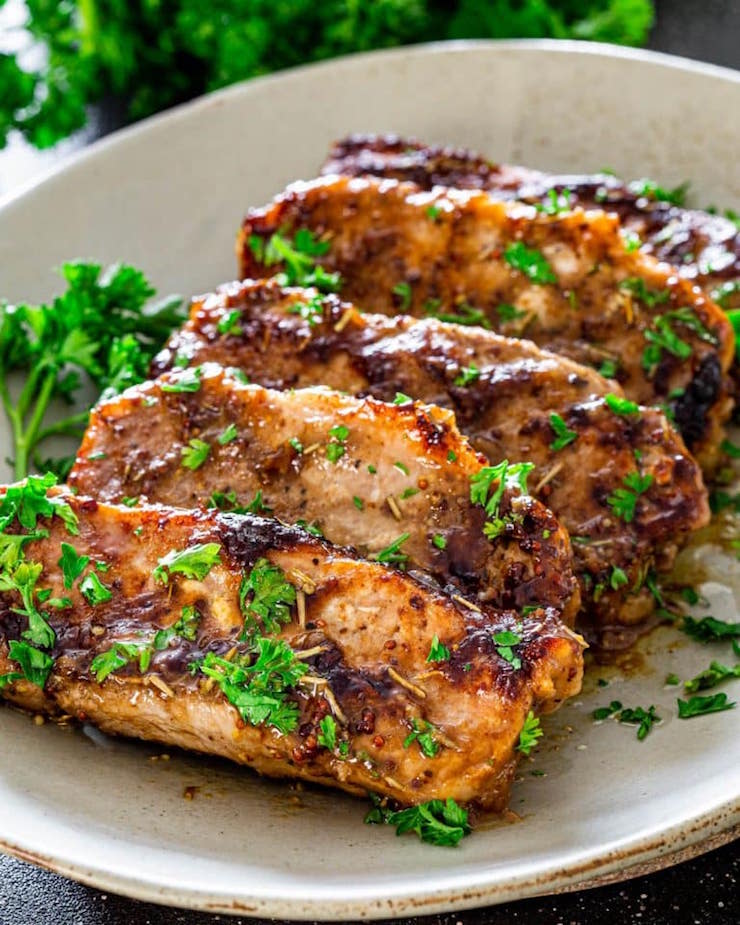 Read full details on: Jo Cooks
Pork Chops in Creamy White Wine Sauce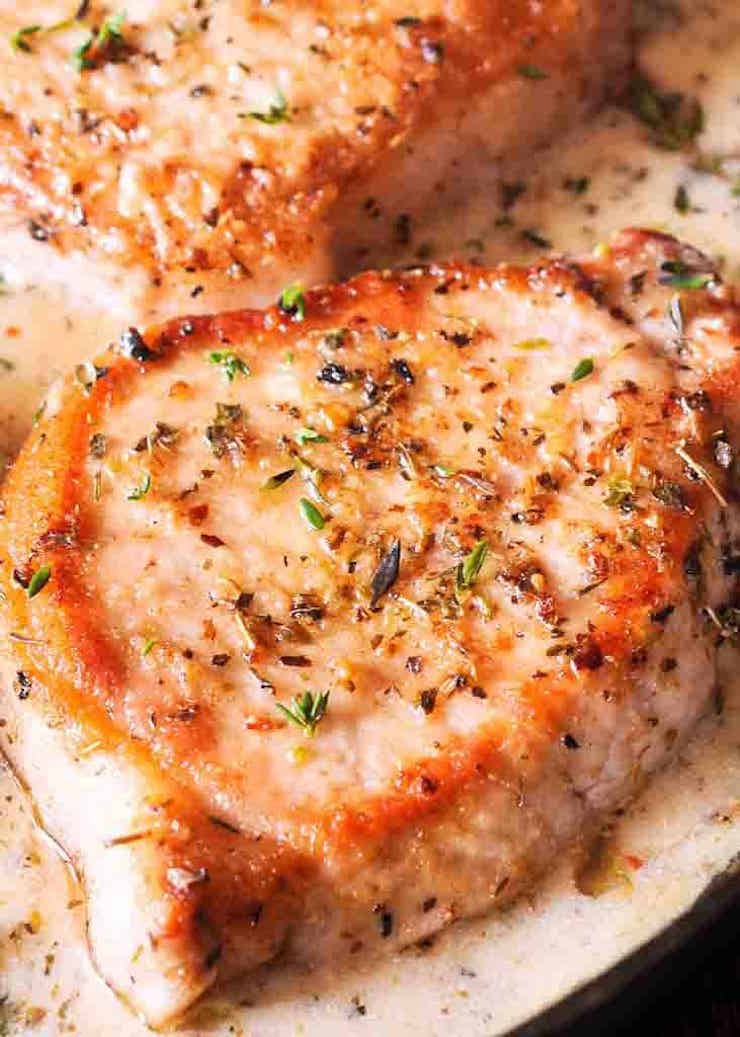 Read full details on: Whats In The Pan
Garlic Butter Pork Chops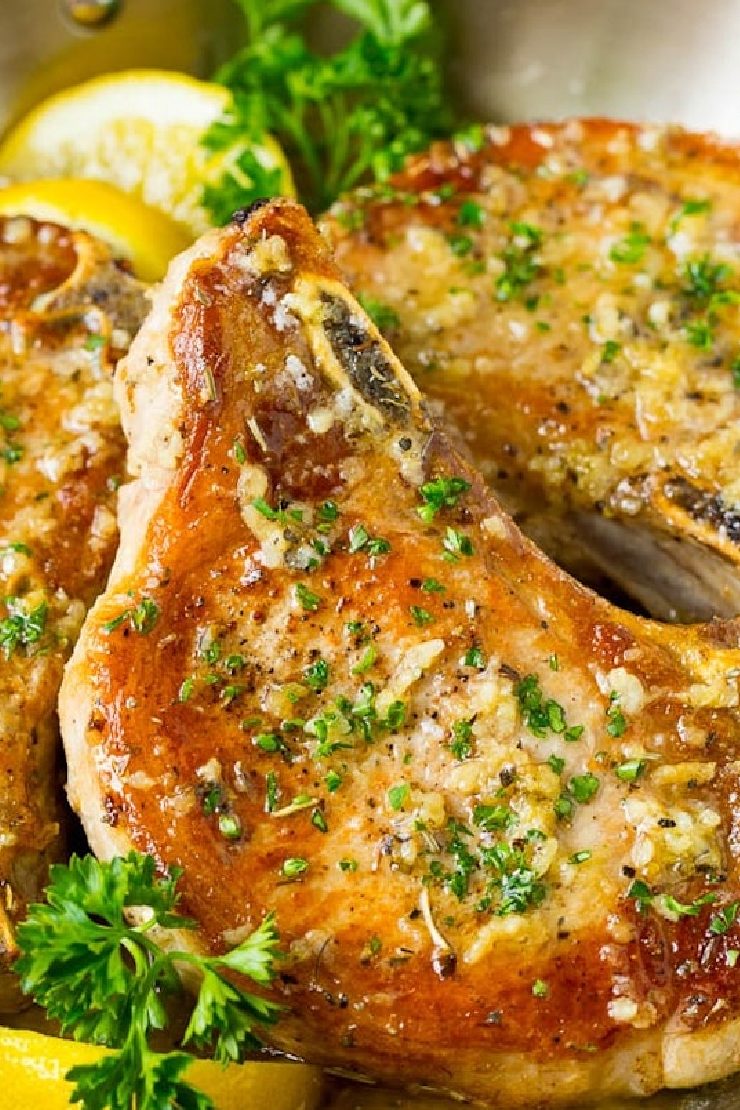 Read full details on: Dinner At The Zoo
French Onion Smothered Pork Chops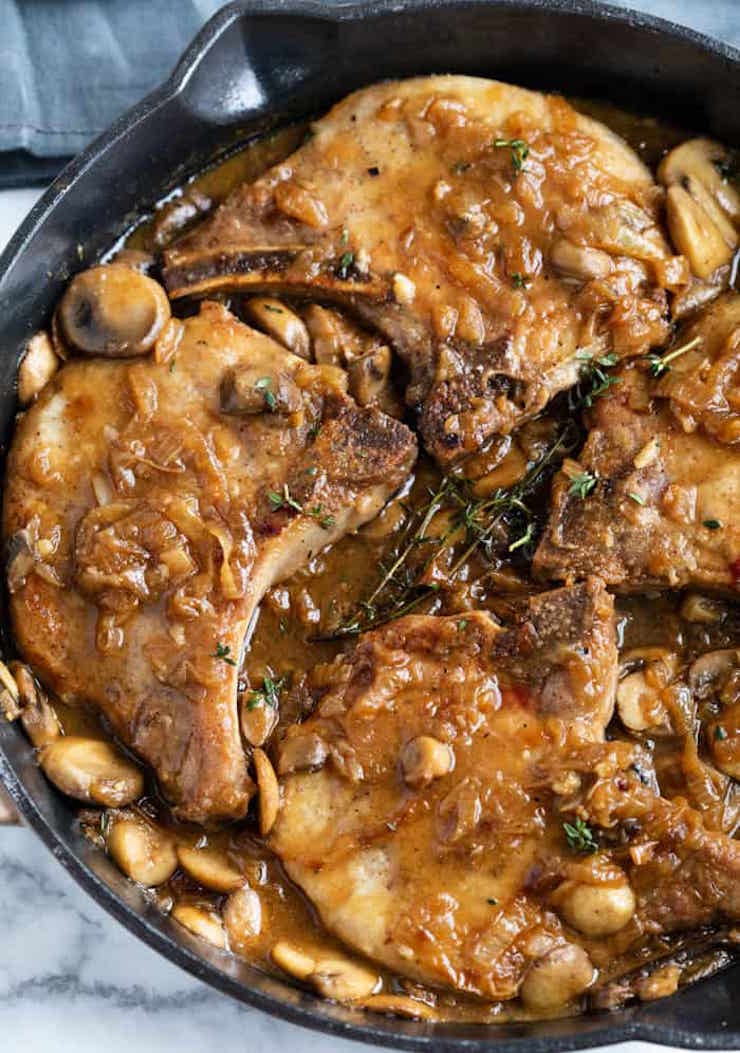 Read full details on: The Cozy Cook
Pork Chops with Pistachio Salmuera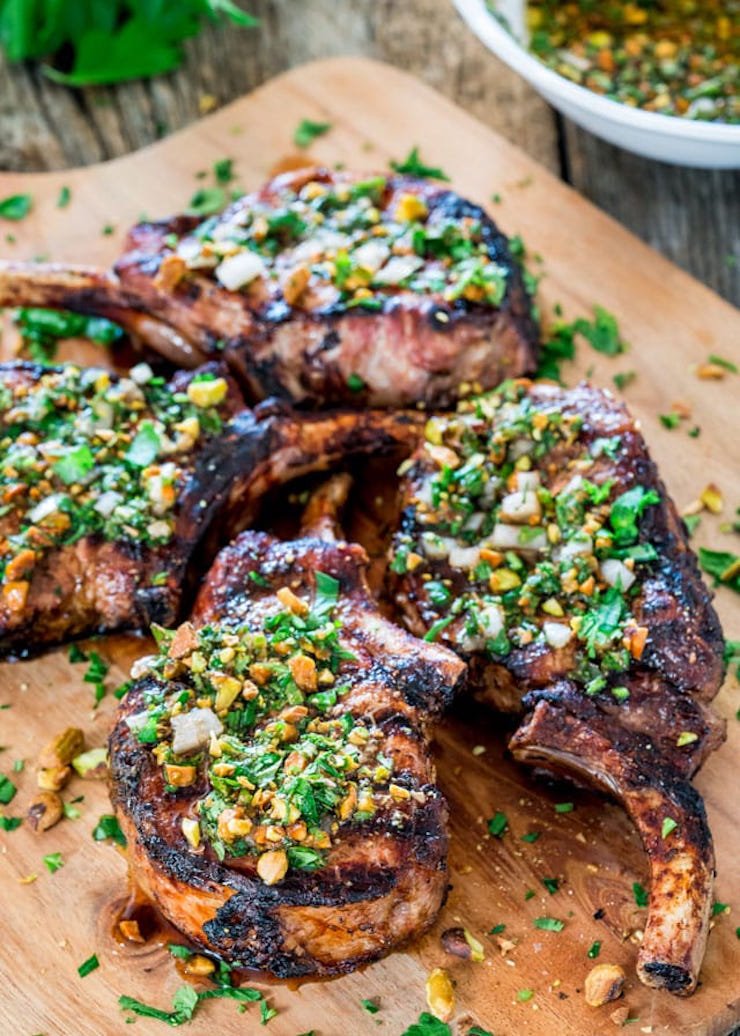 Great recipe! Read full details on: Jo Cooks
Grilled Lemon Honey Mustard Pork Chops
Read full details on: My Fabuless Life
Cast Iron Skillet Pork Chops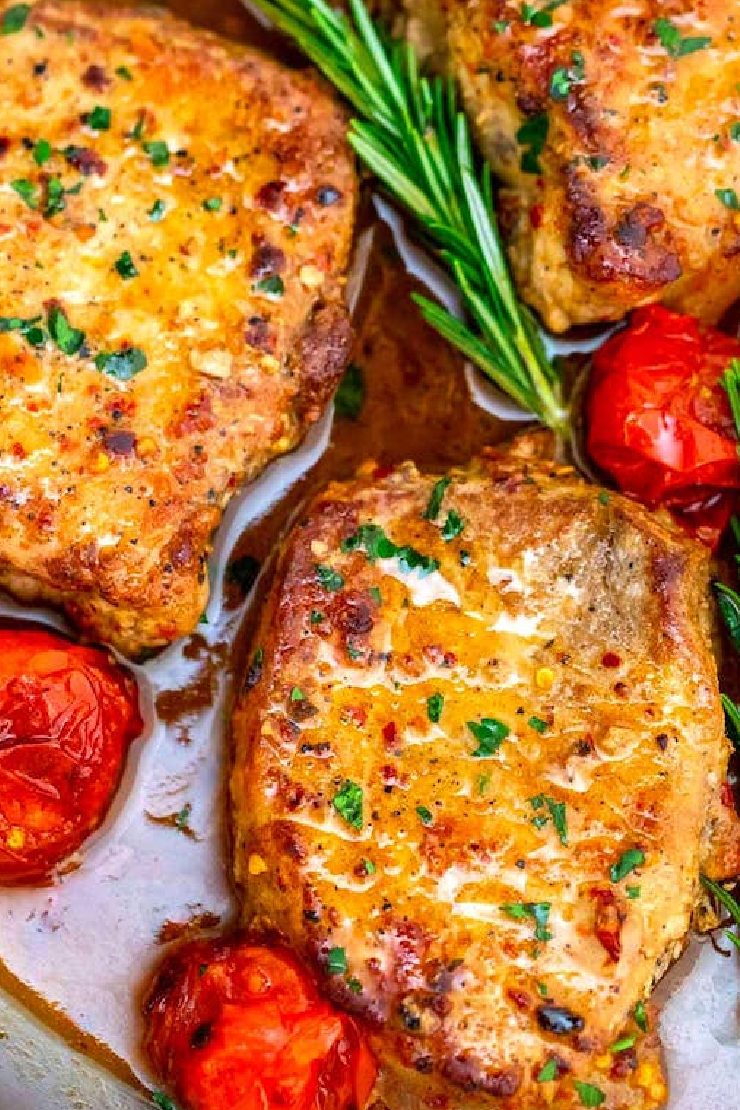 Read full details on: Sweet & Savory Meals
Baked Ranch Pork Chops
Read full details on: Wonky Wonderful
Honey Garlic Pork Chops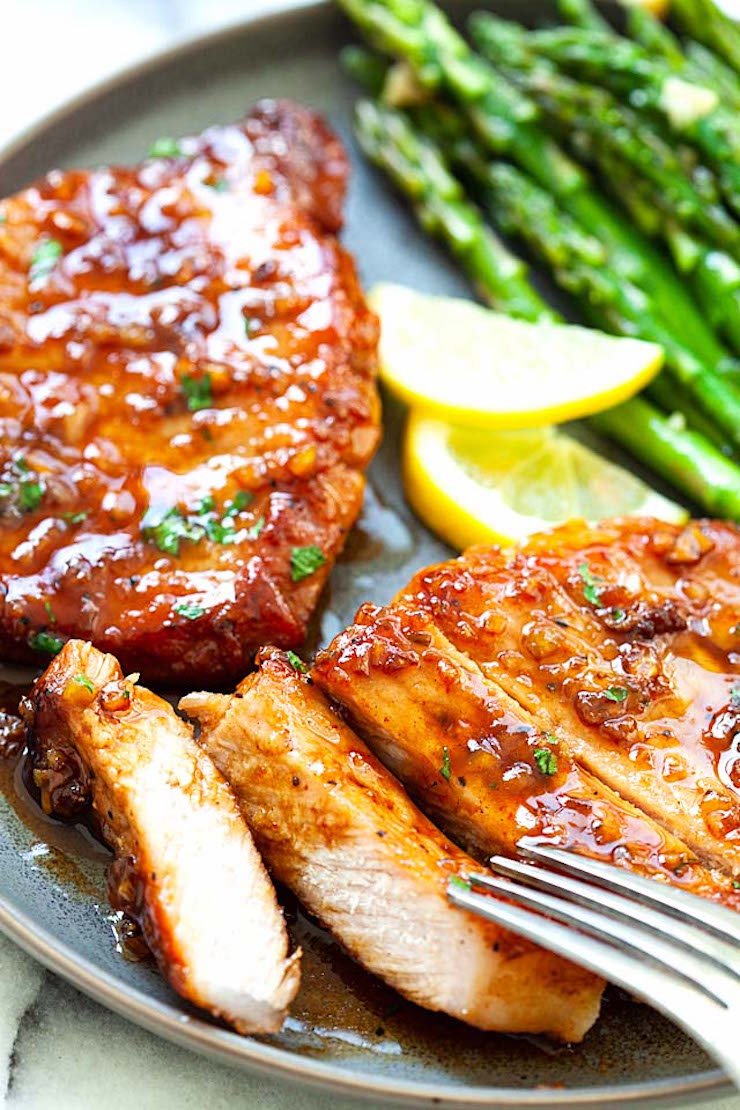 Read full details on: Rasa Malaysia
Oven Baked Pork Chops with Potatoes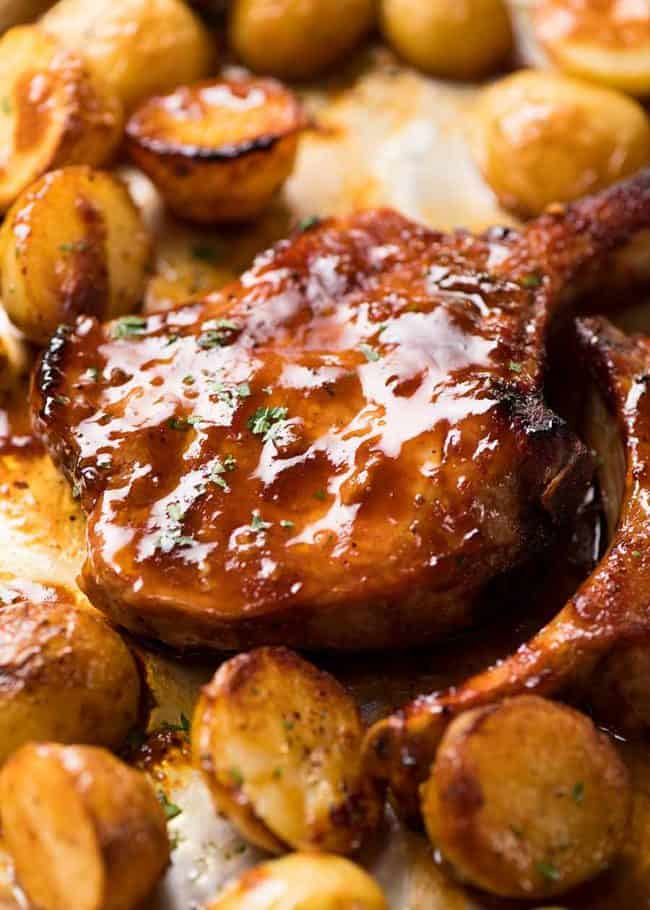 Read full details on: Recipe Tin Eats
Pan Roasted Brown Butter Pork Chops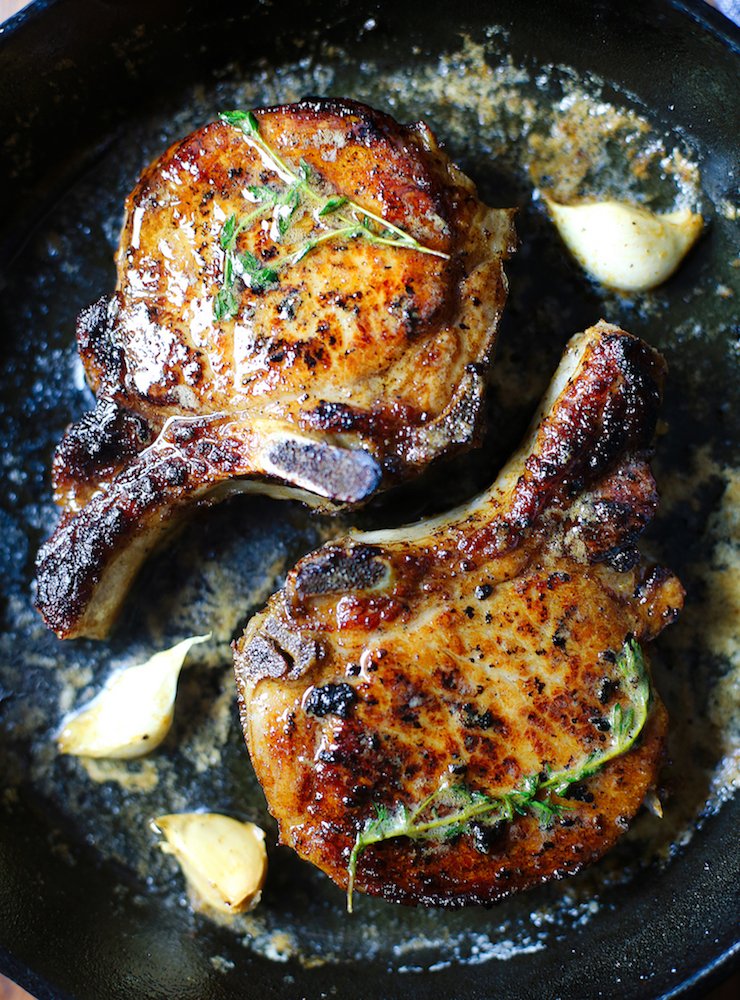 Read full details on: For The Love Of Lasagna
Slow Cooker Hawaiian Pork Chops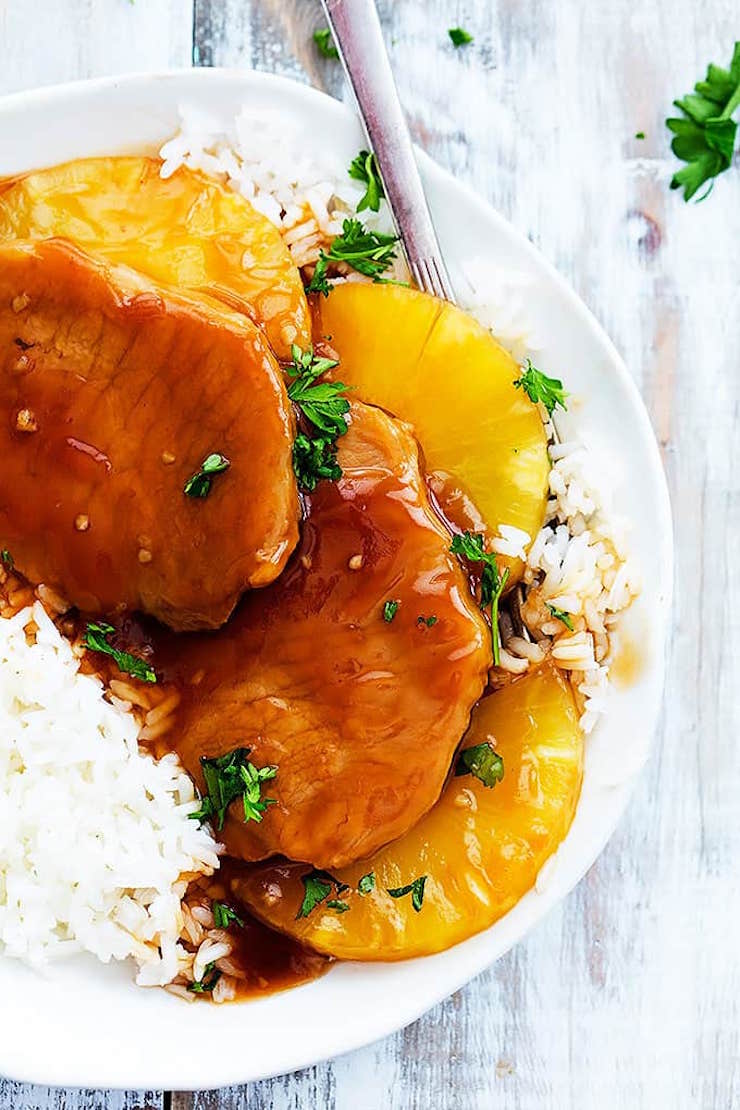 My family loved this recipe! Read full details on: Creme de la Crumb
Other Pork Recipes
8 Cuban Mojo Marinated Pork Recipes
Other Dinner Recipes
Access our complete list of healthy recipes!