Keto Diet Food List
Keto diet food list on what to buy and what not to buy. What foods are allowed and which are not with our keto cheat sheet infographic!
As a bonus we also supply a meal plan plus 100's of keto recipes!
Ketogenic recipes for breakfast, lunch and dinner, desserts, snacks and more!
What Can You Eat On The Keto Diet (Scroll Down For Infographic)
Please see below a list of keto foods you may have without counting calories and which one's you must limit.
Keto Foods You Should Avoid Or Limit
Grains and starchy products
ALL sugars
Candy
Cookies
Dairy
Evaporated skim milk & low fat dairy
Sweetened yogurts
Ice cream
Fats
Margarine
Artificial fats

Grains
Rice
Pasta
Oatmeal
Starchy Carbs
Beans
Peas
Lentils
Potato chips
Pretzels
Crackers
Fruits and Starchy Vegetables
Most fruits, except for lemons, limes, tomatoes, and small portions of berries.
Starchy vegetables, including corn, potatoes, and peas.
White Potatoes
Sweet Potatoes
Yams
Peas
Beans
Corn
Raisins
Grapes
Nuts and Seeds
Sweetened seed nut butter
Chocolate-covered nuts
Sweeteners
Agave
Splenda
Honey
Maple syrup
Coconut sugar

Sauces and Condiments
Salad dressings
Barbecue sauce
Ketchup
Honey mustard

Beverages
Wine (limit)
Beer (limit)
Sweetened cocktails
Soda
Energy drinks
Fruit juice
Lemonade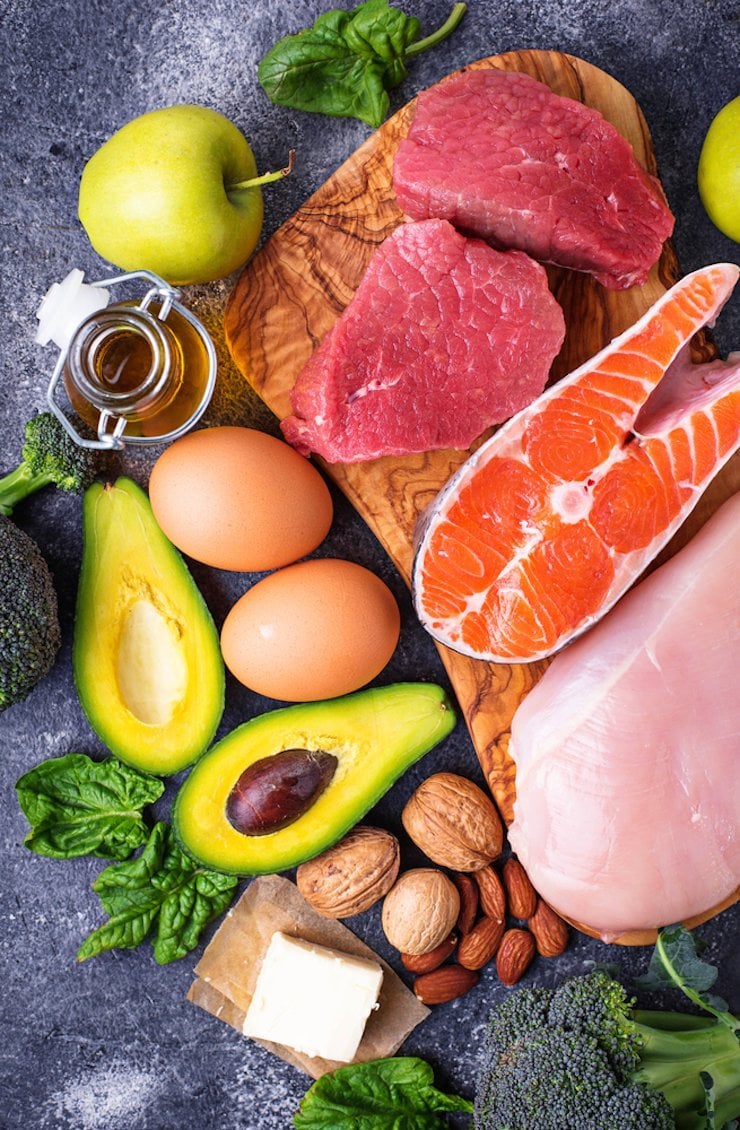 Keto Foods To Add To Your Diet
See below an allowed keto foods list on the ketogenic diet.
Meat and Seafood
Remember that ketogenic diet foods are not to be high in protein; the focal point is on fat. So be moderate in consuming these proteins.
Grass fed beef
Fish, aim for fatty fish, such as salmon
Sardines
Trout
Lobster
Dark meat chicken
Pork
Turkey
Bacon
Lamb
Shrimp
Skinless chicken breast
Whole Milk Natural Dairy
Butter
Ghee
Sour cream
Cottage cheese
Cheddar cheese
Mozzarella
Blue cheese
Parmesan
Feta cheese
Yogurt
Oils
Avocado oil
Coconut oil
Olive oil
Hazelnut oil
Sunflower oil
Flaxseed oil
Corn oil
Fruits and Vegetables
(1 cup serving size)
Avocado
Coconut
Blackberries
Spinach
Lettuce
Cauliflower
Celery
Asparagus
Zucchini
Spaghetti squash
Eggplant
Tomatoes
Broccoli
Cucumber
Bell peppers
Brussel sprouts
Seeds and Nuts
Sunflower seeds
Pecans
Walnuts
Almonds
Pumpkin seeds
Chia seeds
Flaxseeds
Cashews
Peanuts
Sweeteners
(Use moderately)
Monk fruit
Stevia
Erythritol
Xylitol
Condiments and Sauces
Soy sauce
Guacamole
Lemon butter sauce
Salsa
Mayo (No sugar)
Heavy cream
Raw garlic
Tomato sauce/paste (No sugar)
Liquids
Water
Almond milk
Coconut milk
Bone broth
Herbal tea
Green tea
Black coffee
Unsweetened carbonated water
Zero-calorie drinks
Rum
Whiskey
Tequila
Vodka
Gin
Liquors like above, are keto friendly, as long as you do not mix them with juices or sweeteners.
Use tonics, sodas, and seltzers when it comes to keto mixers.
Herbs and Spices
Any herb and spice can work in keto diet foods.
They are all typically okay if you use a tiny quantity for adding flavour.
Salt
Pepper
Thyme
Cayenne
Ground ginger
Cinnamon
Cumin
Garlic powder
Chili powder
These are just some examples however; you can use your desired choice.
Supplements
Below are not required. They are simply optional and can help you produce ketones more rapidly.
Fiber
Multivitamin
MCT oils
Vitamin D (Great support for immune system)
Exogenous ketones (A great aid to help raise ketone levels)
Nutrition Information For Keto Foods
Nutrition information for foods you may eat. It includes grams of carbs for carb count.
Saturated fats such as coconut oil, butter, ghee and cocoa butter etc are encouraged in high amounts.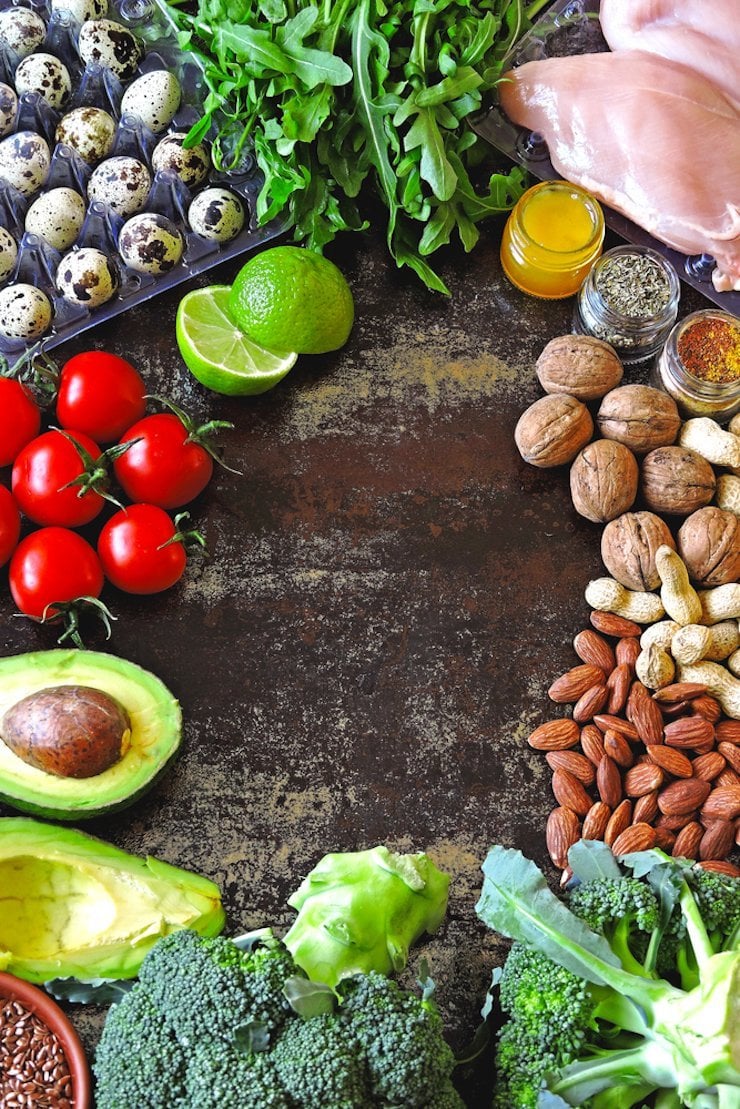 Avocado Oil
Per 1 tablespoon serving: 124 calories, 0g net carbs, 0g protein, 14g fat
Benefits: Avocado oil is vital source for boosting your nutrients. The high levels of monounsaturated fatty acids help the body absorb nutrients.
Butter
Per 1 tablespoon serving: 100 calories, 0g net carbs, 0g protein, 11g fat
Benefits: It contains a fat-soluble vitamin good for the immune system and healthy vision.
Cheese
Per 1 slice serving: 113 calories, 0g net carbs, 7g protein, 9g fat
Benefits: Cheese is the best dietary source for calcium and also an excellent source of protein.
Coconut Milk
Per 1 cup serving: 445 calories, 6.35g net carbs, 4.57g protein, 48.2g fat
Benefits: This is a great way improve digestion, and heart health. The high source of electrolytes help prevent fatigue.
Chicken
Per 1 thigh serving: 318 calories, 0g net carbs, 32g protein, 20g fat
Benefits: Chicken, the most common poultry can aid in cholesterol regulation. Also, it has a great source of protein.
Eggs
Per 1 egg serving: 77 calories, 1g net carbs, 6g protein, 5g fat
Benefits: Eggs are very essential for receiving nutrients. In fact, they're among the most nutritious foods around. They contain a fair mixture of satiating protein vitamins and fat.
Salmon
Per 4-oz serving: 170 calories, 0g net carbs, 26g protein, 6g fat
Benefits: You'll get an impressive amount of benefits from salmon. The impressive omega-3 fatty acids offer the ability fight off cancer cells and tumours.
Asparagus
Per 1 cup (raw) serving: 27 calories, 2g net carbs, 3g protein, 0g fat
Benefits: Asparagus is full of nutrients and antioxidants that can boost your brain function as well as give you more energy.
Avocado
Per ½ avocado serving: 160 calories, 2g net carbs, 2g protein, 15g fat
Benefits: The creamy fruit is loaded with fiber, giving the ability to improve digestion. They also contain a high amount of immune-revving vitamin C.
Broccoli
Per 1 cup (raw) serving: 31 calories, 6g net carbs, 2.5g protein, 0.3g fat
Benefits: The verdant green veggie is keeps you looking younger, improves bone health and works as a natural detoxification.
Cauliflower
Per 1 cup (raw) serving: 25 calories, 2g net carbs, 2g protein, 0g fat
Benefits: Cauliflower is very high in fiber, vitamin C and includes an abundance of heart-healthy nutrients.
Celery
Per 1 cup (raw) serving: 16 calories, 1g net carbs, 1g protein, 0g fat
Benefits: Celery is a very hydrating vegetable. These crunchy spears are rich in vitamins K, A, and C.
Green Peppers
Per 1 cup (sliced) serving: 18 calories, 2g net carbs, 1g protein, 0g fat
Benefits: They are a very powerful antioxidant. This food is favourable in pain-relief and lessens the risk of many chronic illnesses.
Lettuce
Per 1 cup (shredded) serving: 5 calories, 1g net carbs, 0g protein, 0g fat
Benefits: Leafy greens can add bulk to your meals while keeping your immune system healthy and strong. They also work for skin-strengthening vitamin A and vitamin C.
Green Onions
Per 1/2 cup (sliced) serving: 16 calories, 2g net carbs, 0g protein, 0g fat
Benefits: More than just a savoury taste for dishes, green onions are extremely high in antioxidants and study shows they are a natural remedy for colds.
Tomato
Per 1 cup (raw) serving: 25 calories, 6g net carbs, 1g protein, 0g fat
Benefits: amazing source containing vitamins that protect your heart health and neutralize harmful radicals in the blood.
Zucchini
Per 1 cup (sliced, raw) serving: 18 calories, 3g net carbs, 1g protein, 0g fat
Benefits: This is a delicious way to promote healthy digestion, reduce blood sugar and aid your heart health.
Use our information as a guide for when you visit your grocery store.
Keto Diet Food List INFOGRAPHIC
A detailed infographic on what you can consume without worrying about calories and which foods you have to limit and in what quantity. Its referred to the keto cheat sheet or keto grocery list!

Print Keto Foods List PDF Below
Download PDF

Bonus: 7 Day Ketogenic Meal Plan
Bonus: 100's Of Keto Approved Recipes