photo source: wholesomeyum.com
Keto Breakfast
18 popular Keto breakfast recipes for you to access for your convenience to maintain your keto diet plan. The ingredients are designed to keep you full all morning!
A Keto breakfast is easy and simple to prepare. It includes quick recipe ideas of which some can be on the go that are perfect for beginners and kids.
Its also great for healthy meal prep!
Keto meals can be prepared in a bowl, mug, crockpot, skillet, instant pot, microwave or a blender!
FAQ
Visitors to the site have asked the following:
What Can I Eat For Breakfast On A Ketogenic Diet
Smoothies
Pancakes
Waffles
Crepes
Rolls
Frittata
Burrito
Casserole
Muffins
Hash
Tacos
Coffee
Oatmeal
Cereal
Cookies
Bars
Shake
Quiche
Bread
Porridge
Omelettes
Sandwich
Chia pudding
Biscuits
Pizza
Keto cereal
Coffee
Coffee creamer
Types Of Keto Meals For Breakfast
Vegan
Vegetarian
Dairy free
Gluten free
Low carb
Low calorie
Can I Eat Sweet Potatoes On A Keto Diet
No, its too high in carbs.
Popular Ingredients For A Keto Breakfast
Sausage
Bacon
Ham
Stevia
Yogurt
Avocado
Eggs
Smoke salmon
No eggs
Coconut flour
Coconut oil
Cream cheese
Peanut butter
Ketogenic Breakfast Recipes
Please see below our compiled list of 18 recipes.
Keto Turkey and Egg Breakfast Skillet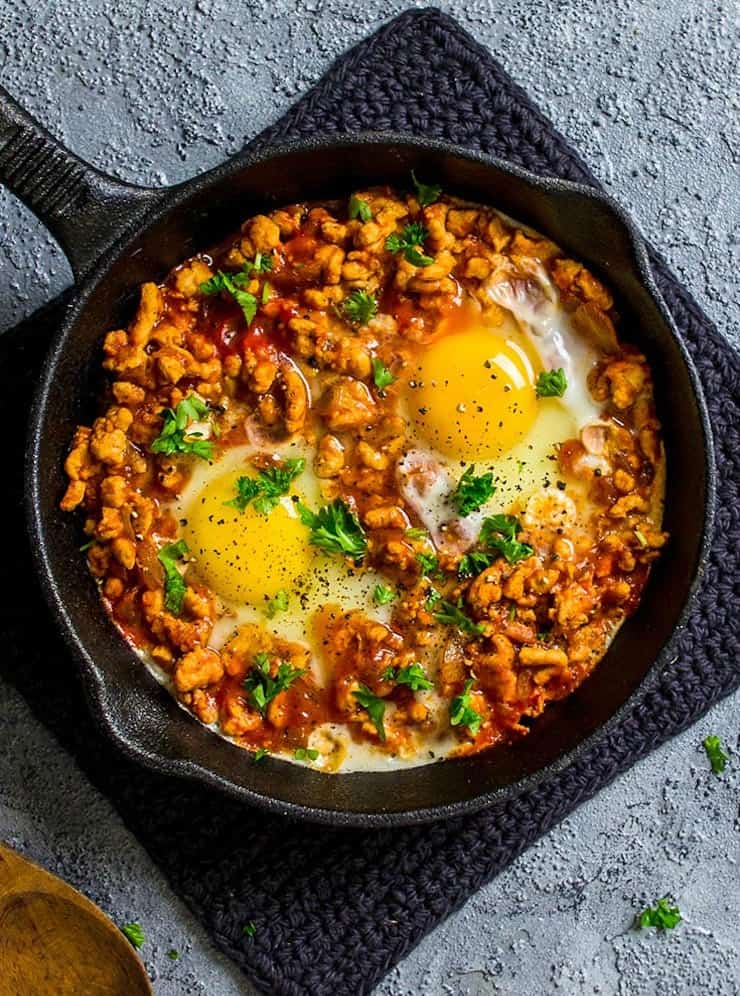 The turkey breakfast and egg skillet is the perfect meal keep you in ketosis! Get the recipe.
Breakfast Fried Cauliflower Rice (also paleo)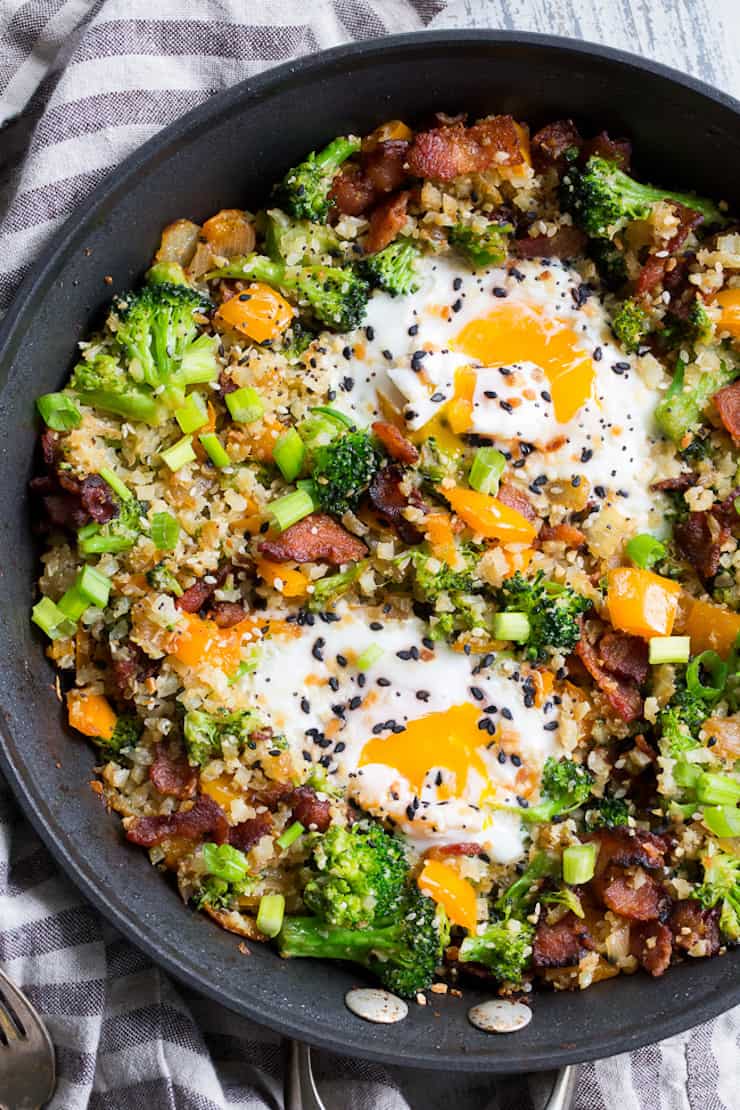 The breakfast fried cauliflower rice is very filling, and extremely delicious! Get the recipe.
Breakfast Taco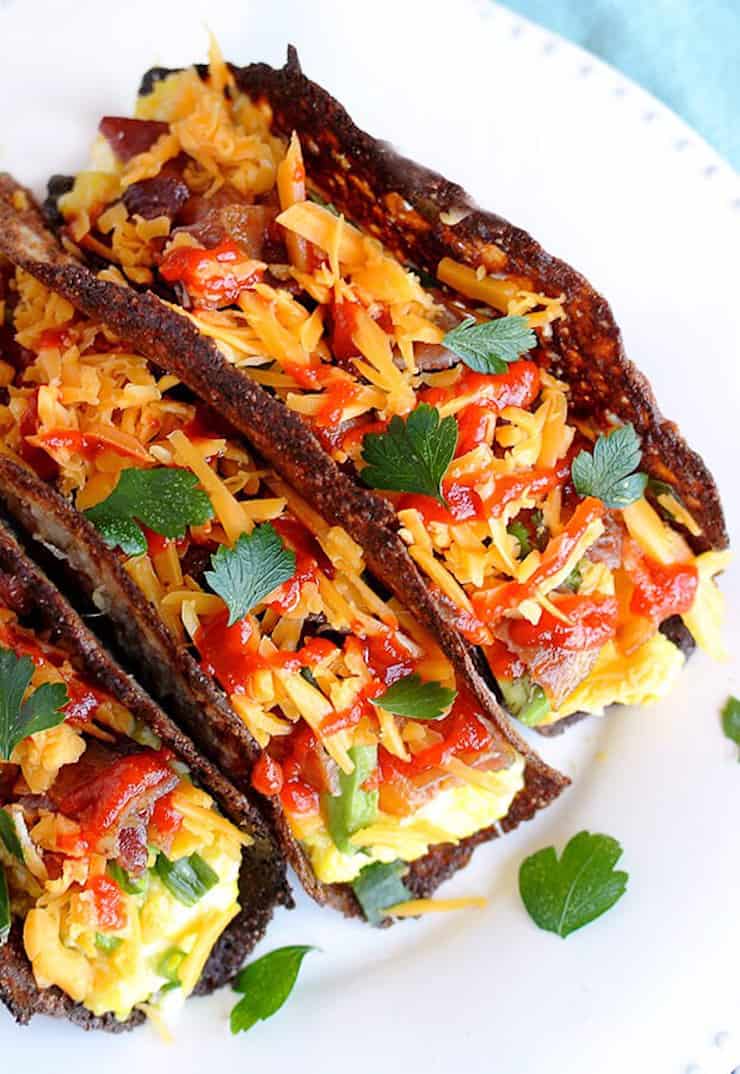 A unique breakfast with bacon, eggs, avocado, and cheese combined in a crunchy taco shell, you will soon become a fan! Get the recipe.
Crispy Bacon and Baked Eggs in a Portobello Mushroom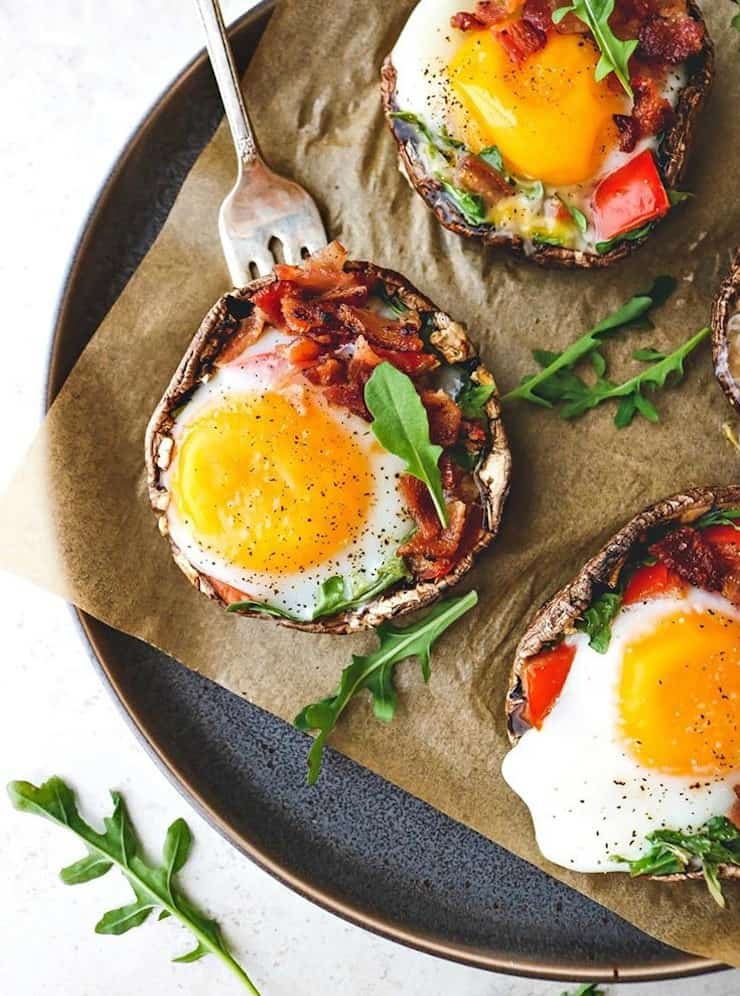 Portobello mushroom caps are filled with tomatoes, arugula, eggs and smoky bacon. Get the recipe.

Bacon And Egg Breakfast Muffins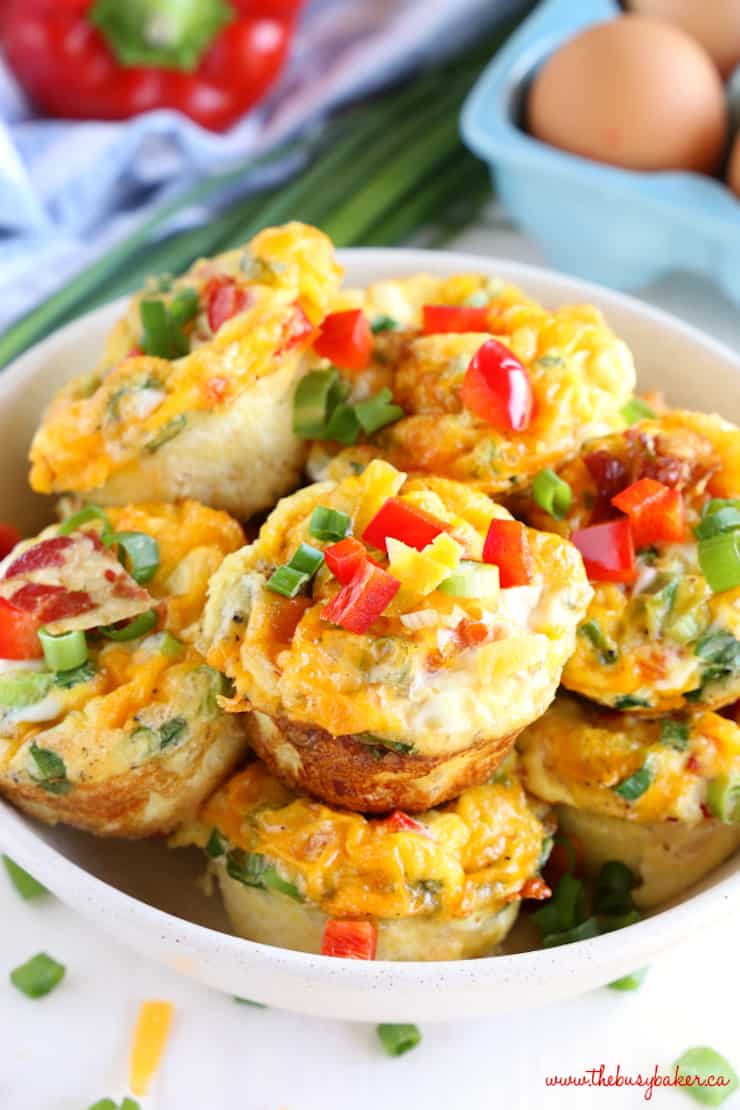 The bacon and egg breakfast muffins can be made in advance for busy mornings! The recipe consist of eggs, milk, red pepper, green onions, bacon and cheddar cheese! Get the recipe.
Warm Breakfast Salad (also paleo)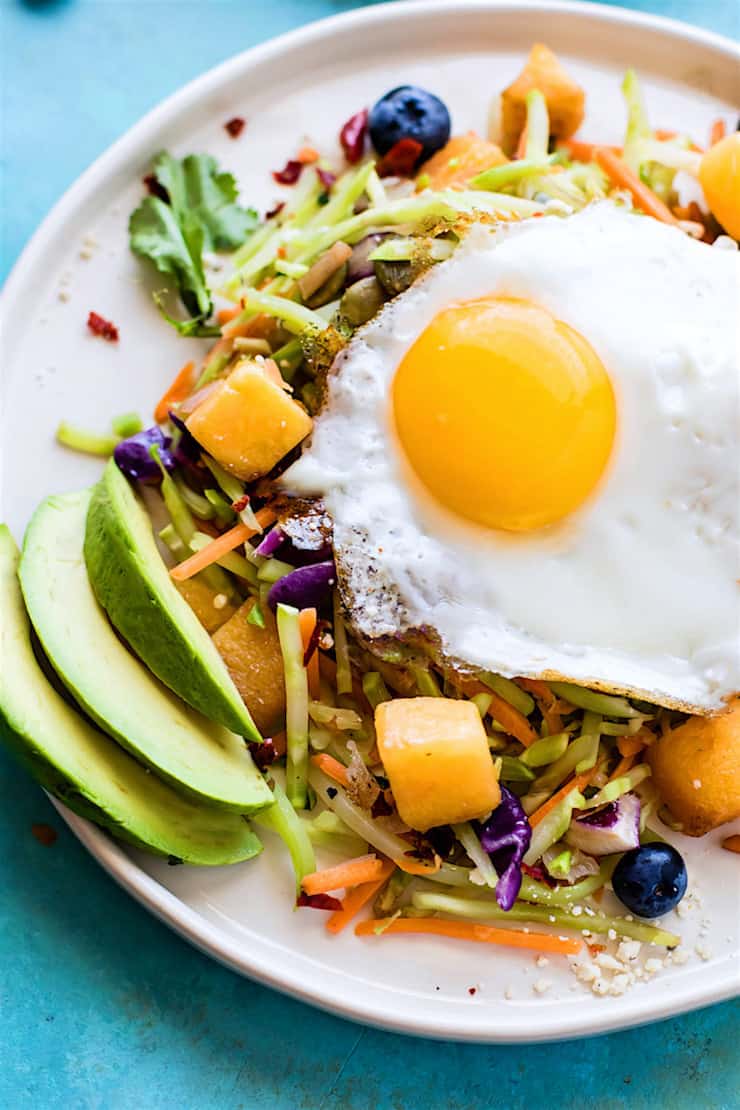 This breakfast salad is the perfect meal to start the day! Its a combination of veggies, fruit and a fried egg! Get the recipe.
Homemade Chorizo Sausage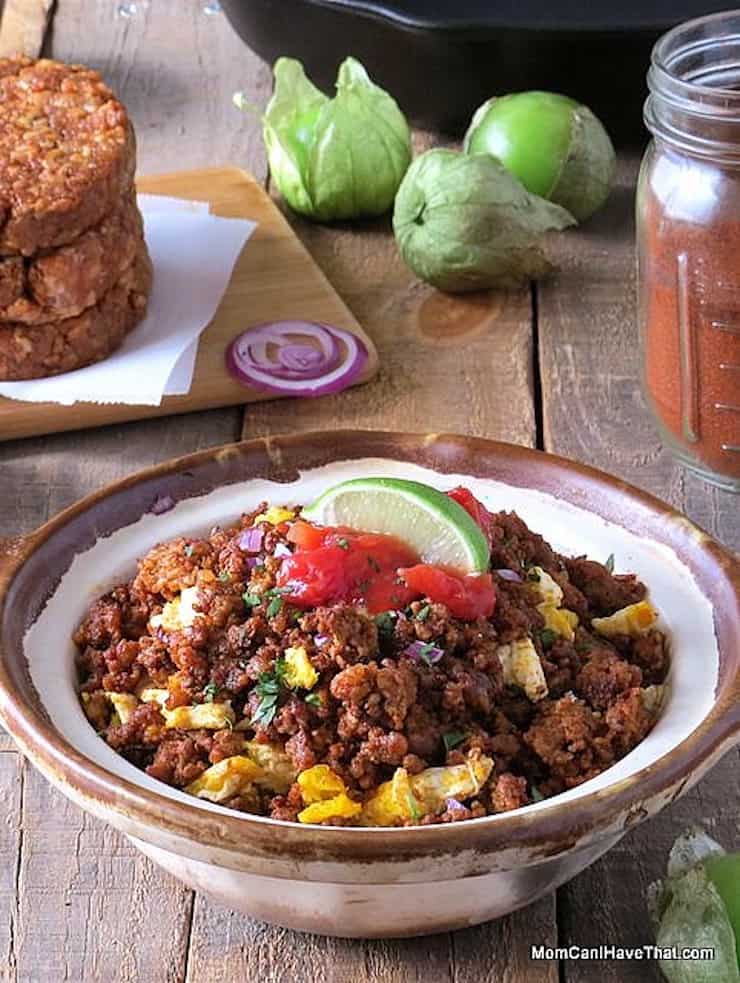 Delicious homemade chorizo is so easy to make, forget store bought! Get the recipe.
Spinach Frittata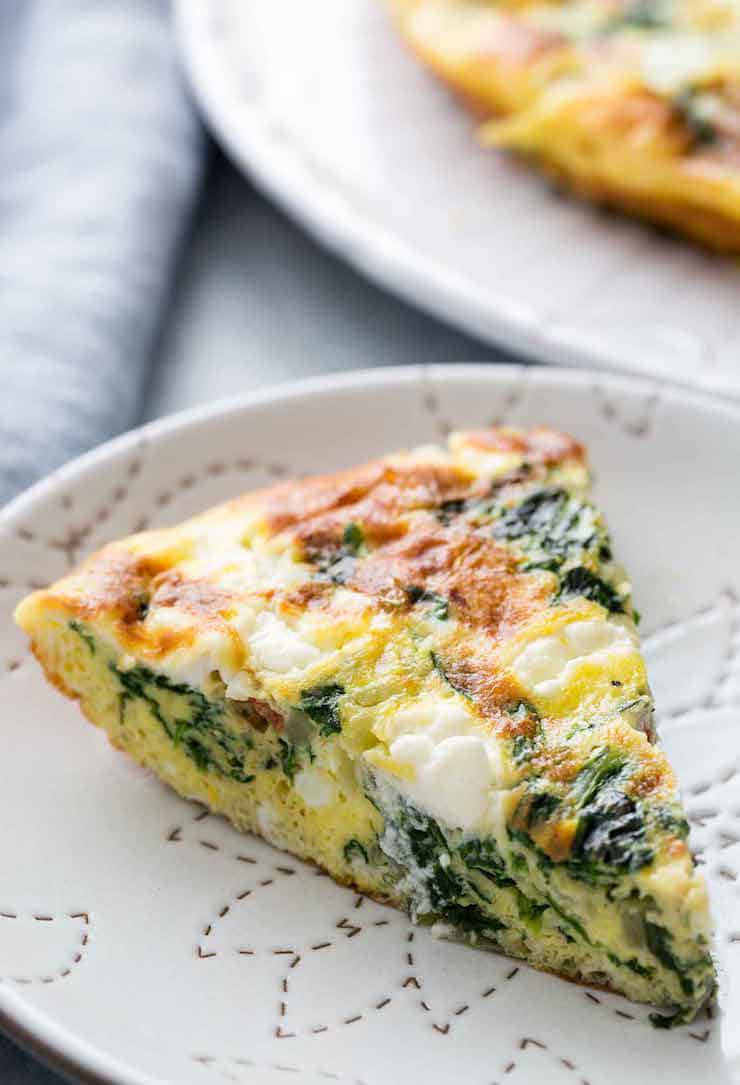 This is an easy spinach frittata recipe with eggs, parmesan and goat cheese along with spinach, sun dried tomatoes, onions and garlic. Get the recipe.
Easy Egg Muffins with Bacon + Spinach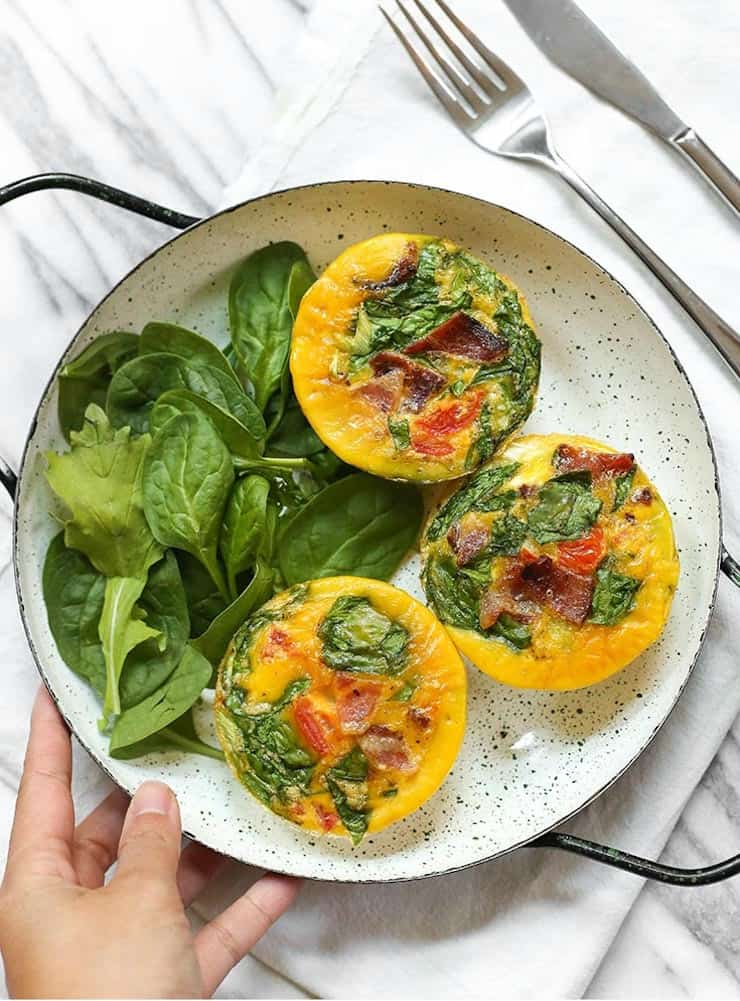 This breakfast is very delicious! The egg muffins are filled with tomatoes and spinach and healthy protein. Get the recipe.
The Best Keto Pancakes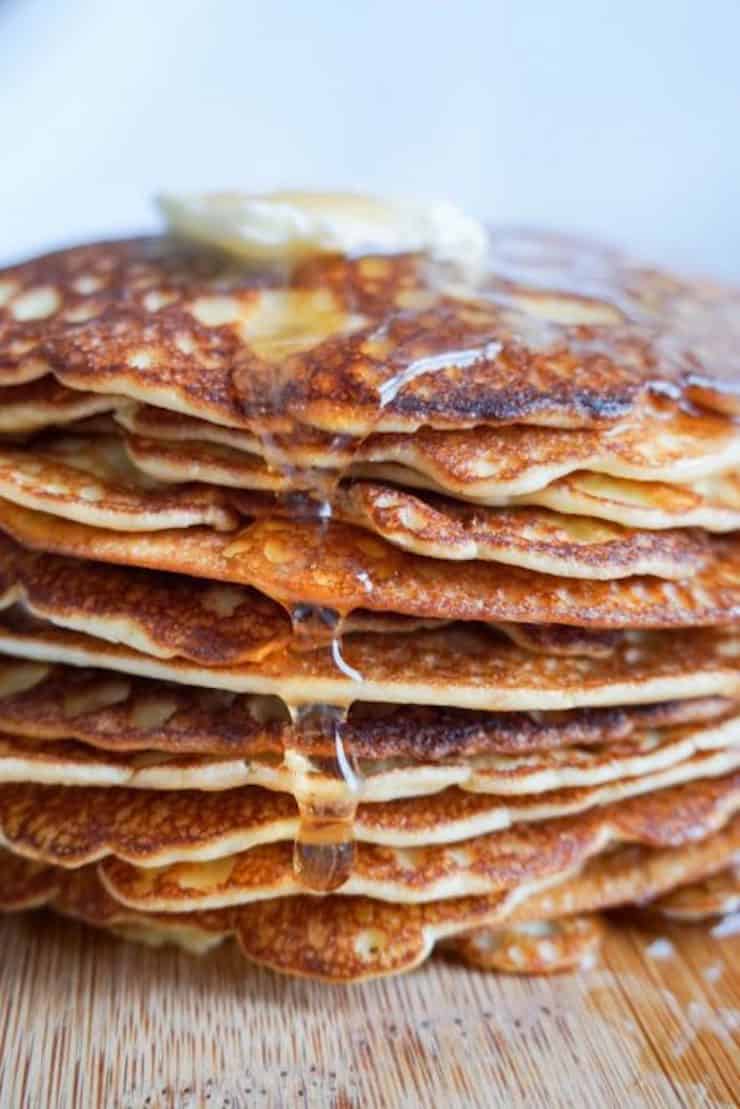 This is very delicious Keto pancake with cream cheese, eggs and butter along with protein powder and vanilla extract to achieve the perfect Keto pancake recipe. Get the recipe.
Waffle Iron Cauliflower Hash Browns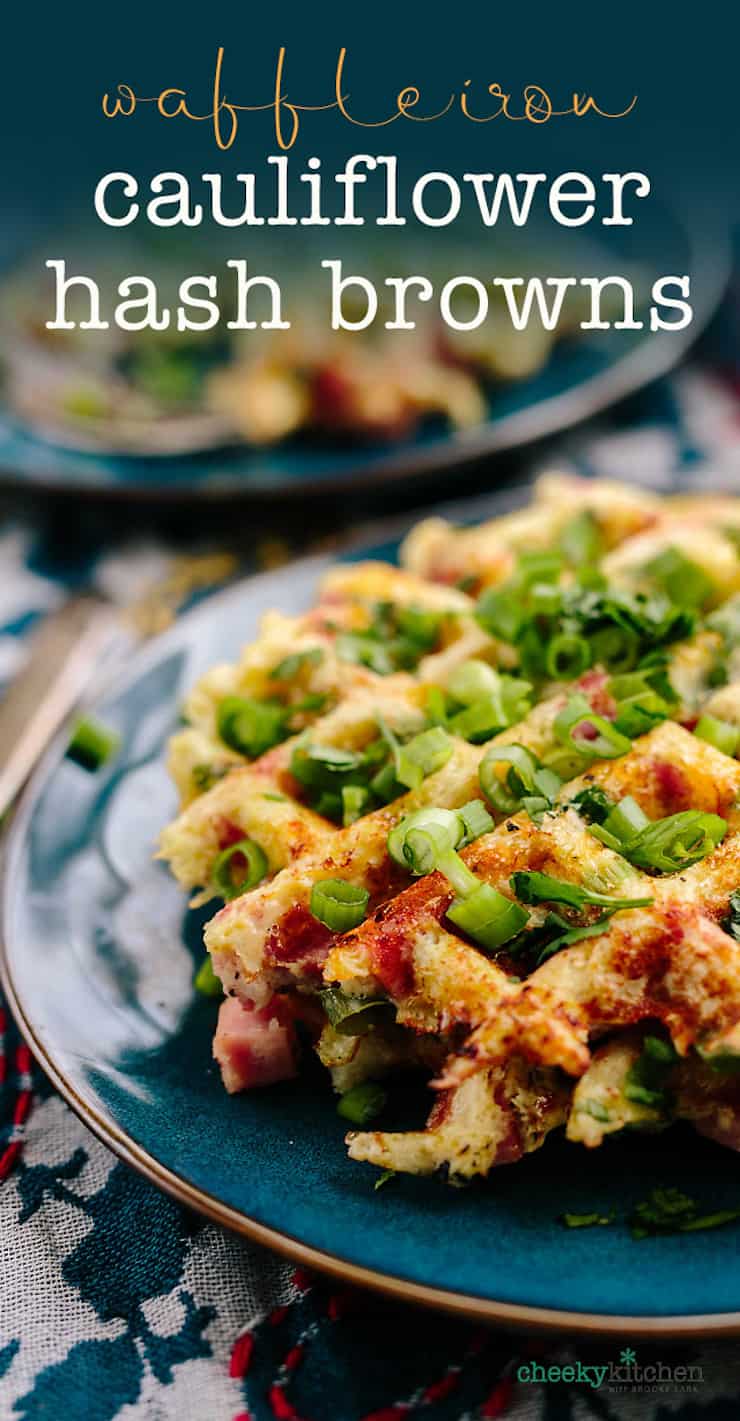 I loved this breakfast! Grate cauliflower then combine it with eggs, scanllions, cubed ham, cheddar, cilantro, basil or parsley and waffle it! Get the recipe.
Breakfast Casserole With Sausage (also GF)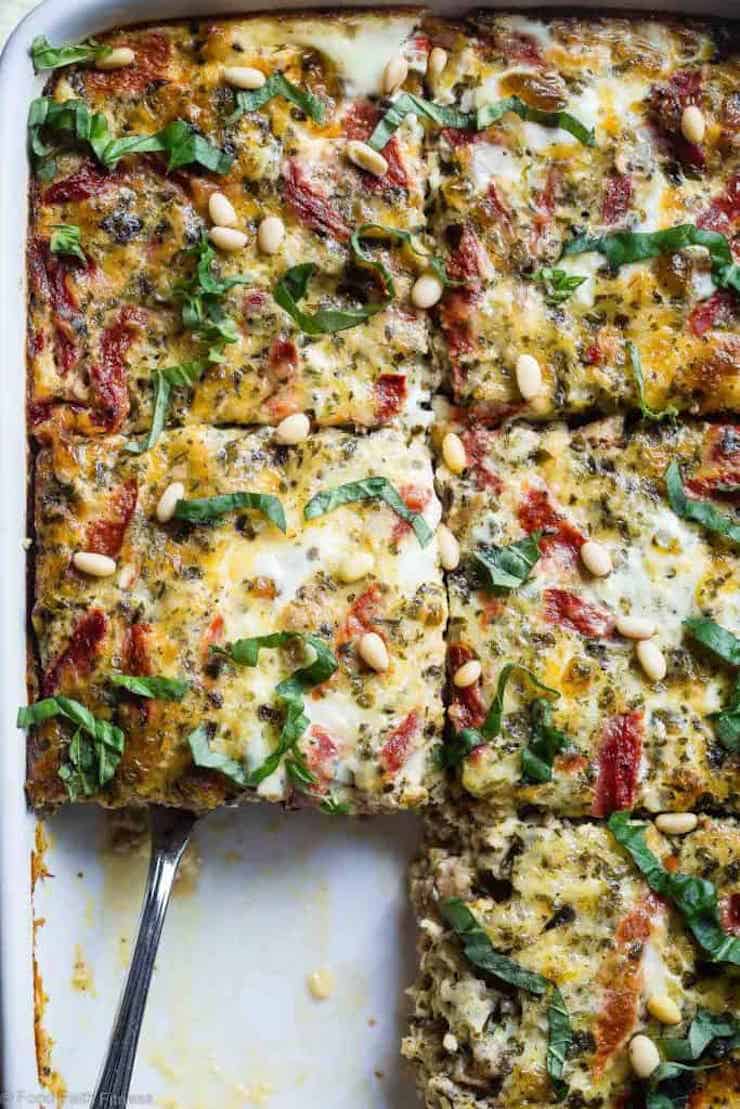 This healthy breakfast casserole is the perfect make ahead meal loaded with eggs, sausage, cheese, pesto, roasted red peppers, pine nuts with fresh basil! Get the recipe.
Breakfast Biscuits Stuffed With Sausage And Cheese (also GF)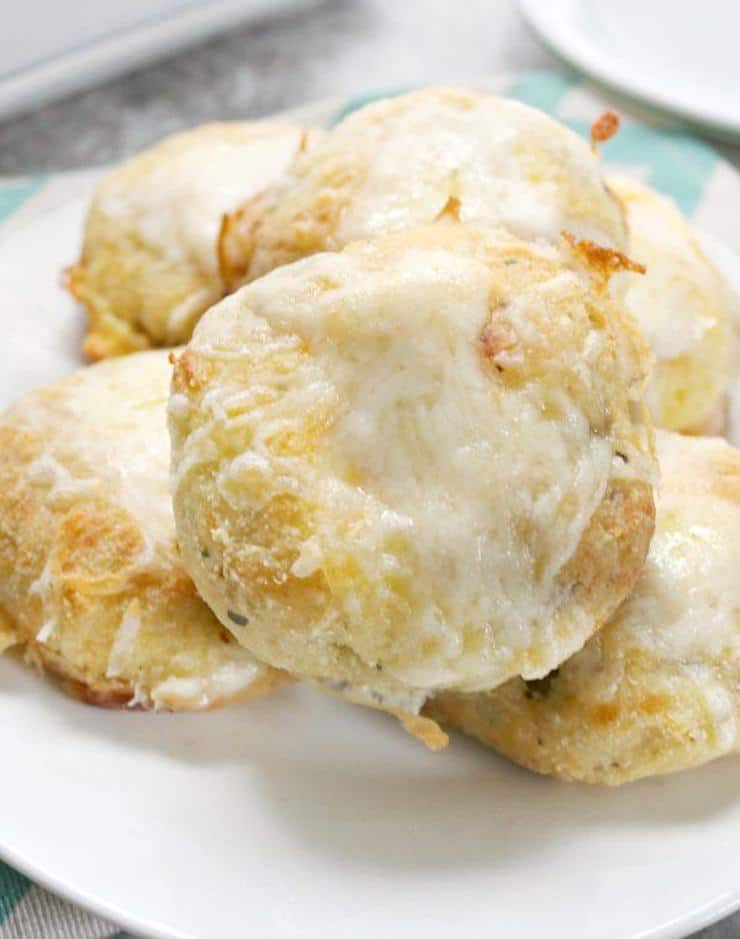 These biscuits can be made ahead and frozen so you can eat this delicious biscuit all week! Get the recipe.
Keto Baked Ham and Poppy Seed Sliders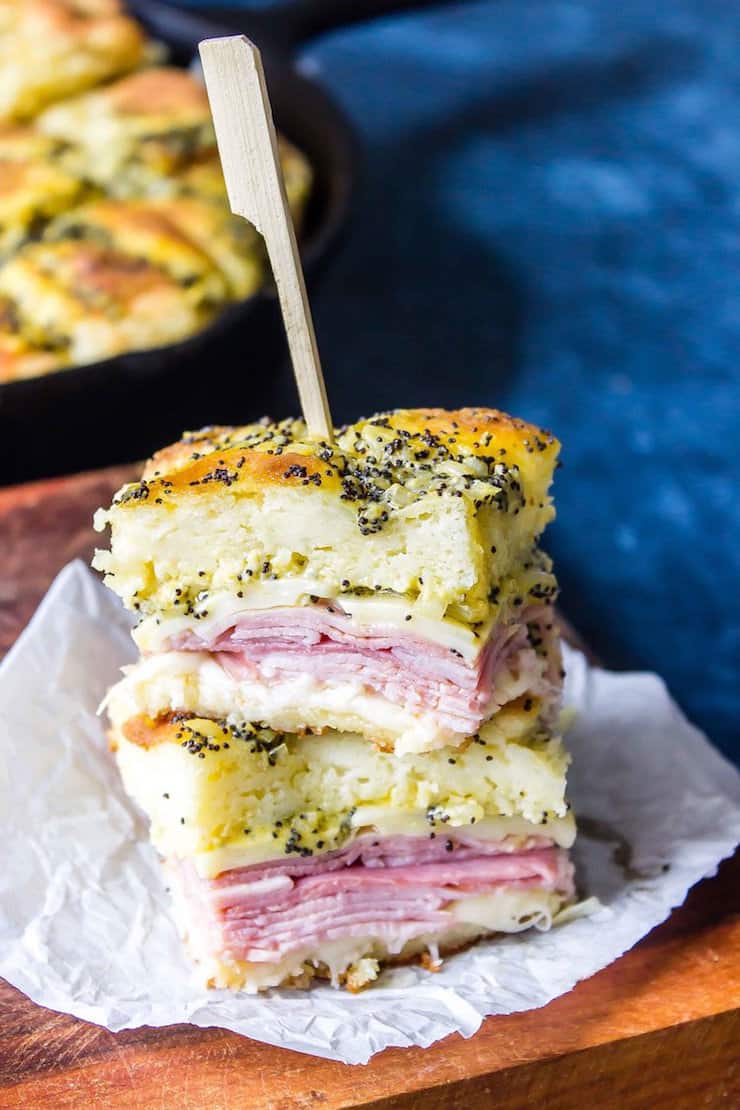 Perfect as a snack or for breakfast! Get the recipe.
Low Carb Bacon, Egg, And Spinach Breakfast Casserole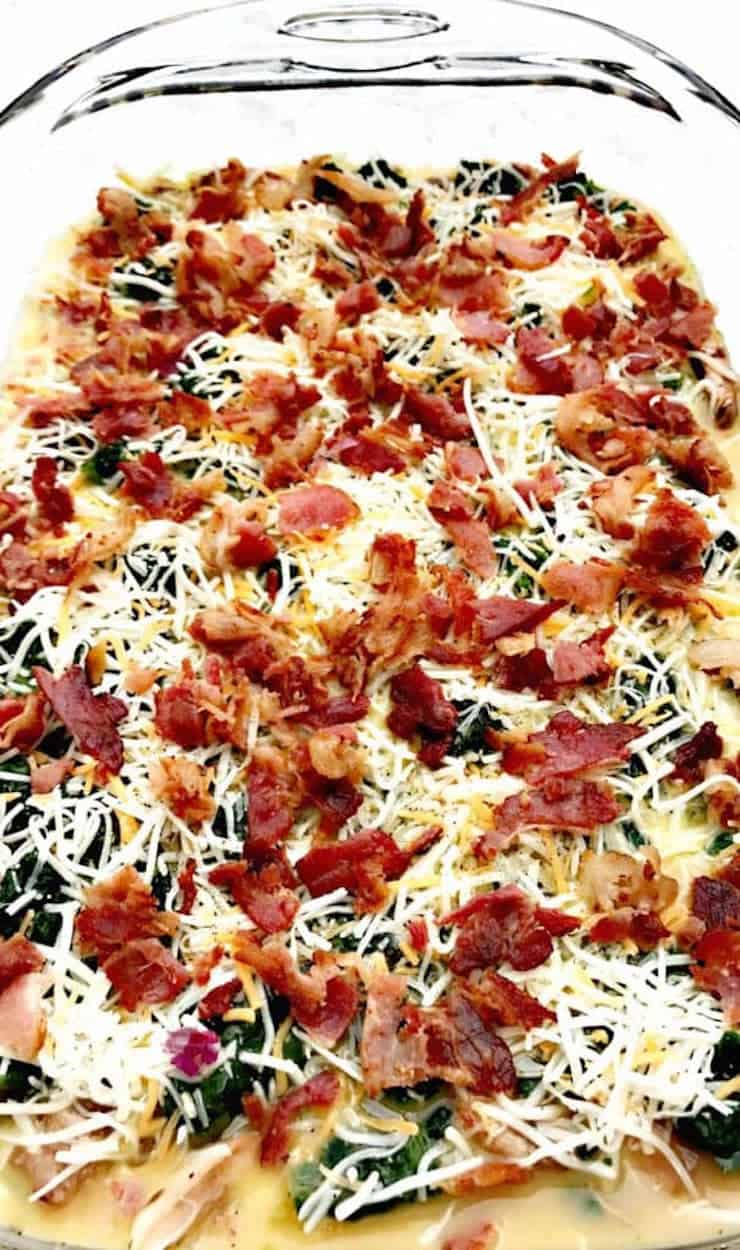 This breakfast casserole can be meal prepped. It is an easy make ahead meal with spinach, cheese, mushrooms, red onions, bacon and peppers. Get the recipe.
3-Ingredient Bacon and Egg Cups
These bacon and egg cups will keep you full for hours! Get the recipe.
Keto Low Carb Pancakes (also paleo and GF)
These Keto low carb pancakes are so easy to make. With almond and coconut flour, almond milk, and avocado oil they are so delicious and fluffy. Get the recipe.
Paleo Almond Flour Waffles (also paleo and GF)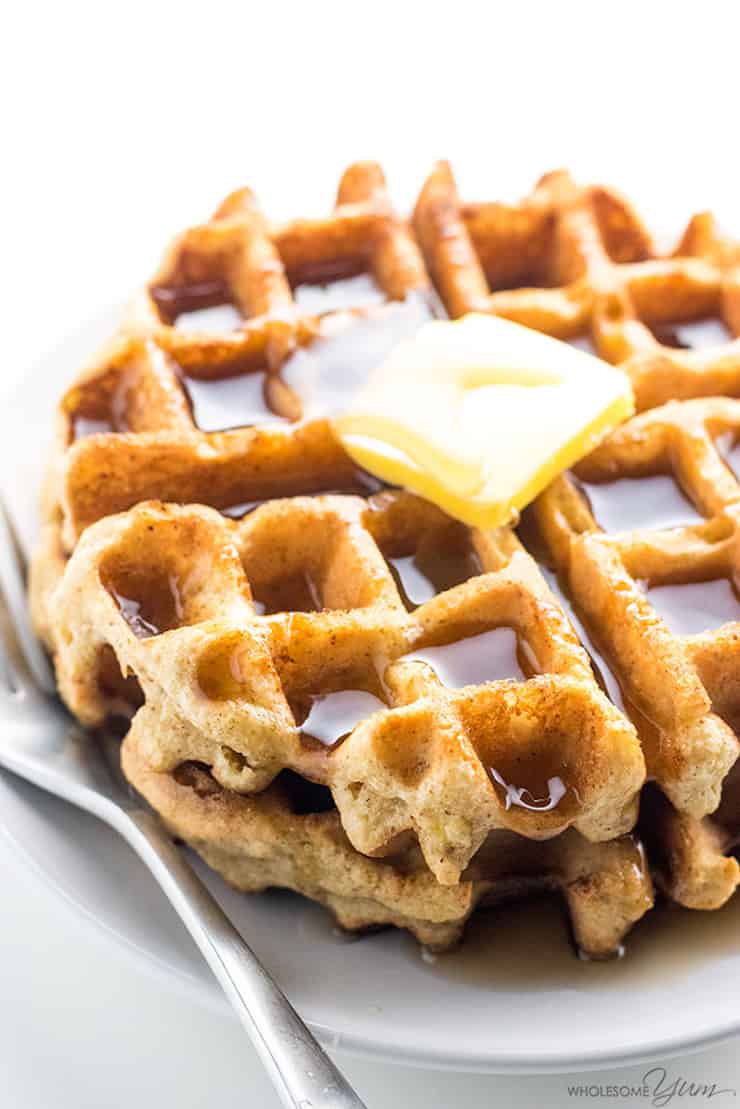 These waffles are so crispy! Easy and quick to make with healthy ingredients they will be ready in 20 minutes! Get the recipe.
Keto Resource
In addition to Keto breakfast recipes see below our growing resource for Ketogenic resource.
7 Day Keto Meal Plan + Cheat Sheet
Access our complete list of healthy recipes!