Healthy Vegan Desserts
Instead of purchasing a pint of vegan ice cream or a muffin at the health food store, why not whip up sweet healthy vegan desserts in your own kitchen.
What Desserts Can Vegans Eat
Brownies
Ice cream
Cup cakes
Cookies
Scones
Cakes
Popsicles
Pie crust
Chocolate
Waffles
Muffins
Biscuits
Doughnuts
Raw nutella
Cookie dough
Avocado mousse
Nut butter cups
Types Of Vegan Desserts
Vegan
Vegan gluten free
Raw vegan dessert
Are Oreos Vegan
No.
Is Nutella Vegan
Nutella is made of skimmed milk. Vegans can not have Nutella.
Is Peanut Butter Vegan
Yes, peanut butter is vegan-friendly. Most brands of peanut butter are a combination of peanuts, oil, and salt.
Are Marshmallows Vegan
No. Gelatin is derived from the collagen in animal skin and bones.
Are Bananas Vegan
Yes.
Is Baking Soda Vegan
Yes. It can be used in recipes.
Is Brown Sugar Vegan
Brown sugar is made from refined sugar with molasses added in. Therefore its vegan right? Maybe not.
Refined sugar comes from refineries that may use bone char to process their sugar, which potentially makes brands of brown sugar not vegan.
Can Vegans Eat Honey
Strict vegans avoid animal products, and a bee is an animal. However, not all vegans avoid honey.
Is Dark Chocolate Vegan
A typical chocolate bar contains chocolate liquor, sugar and cocoa butter.
Go for a high-quality dark chocolate.
Look for chocolate with a cacao content of 50% or more for baking.
Typical Vegan Baking Ingredients
Dairy free milk i.e. coconut, soy, hemp, oat, cashew and almond
All flour(s)
Dates
Beans
Sea salt
Baking soda
Baking powder
Cocoa powder
Vegan chocolate
Coconut oil
Vegan buter
Organic sugar
Lemon juice
Egg substitutes
Vegetables
Vanilla extract
Ground flax seed
Apple cider vinegar
Wholesome Sweeteners
Coconut cream
Almond milk
Maple syrup
Cacao powder
Medjool dates
What Flour Is Best For Vegan Baking
Focus on grain-free and nut-free flours i.e.:
Almond flour
Coconut flour
Buckwheat flour
Hazelnut flour
Teff flour
Quinoa flour
Chickpea flour
Soy flour
What Do Vegans Use Instead Of Butter
Sunflower oil
Olive oil
Coconut oil
Vegan butter or spread.
Nut butters, tahini, vegetable pates, and hummus.
Vegan Baking Essentials You May Need
Vegan Eggs by Heart
Among Friends Devilishly Chocolate Baking Mix
Dates Lady Dates
Dollop Frosting
Duncan Hines California Walnut Brownie Mix
King David White Chocolate Chips
General Mills Pillsbury Puff Pastry Dough Sheets
Sweet Freedom Choc Shot Liquid Chocolate
Date Lady Caramel Sauce
Ricemellow Marshmallow Creme
Jell-O Pie and Cheesecake Filling
Sprinkelz Confetti Sprinkles
Color Kitchen Color Packets
Cappello's Cookie Dough
Vivian's Whipped Cream
Equipment For Baking
Food processor
Measuring cups
Parchment paper
Wooden spoons
Kitchen scissors
Baking sheet
Cookie sheet
Hand mixer
Round cake pan
Baking pan
Rolling pin
Pastry brush
Paring knife
Chef's knife
Pie plate
Wire rack
Loaf pan
Spatula
Whisk
Vegan Desserts To Buy For Convenience
The list of products below are available at your local health food store or market.
Brownie Crisps
Maple Leaf Cookies
Vegan Marshmallows
Jumbo Cinnamon Rolls
Soft-Baked Snickerdoodles
Dark Chocolate Orange Sticks
Joe-Joe's Creme Filled Cookies
Soy Creamy Cherry Chocolate Chip Ice Cream
Chewy Chunky Chocolate Chip Cookies
Chocolate Coconut Milk Ice Cream
Lenny & Larry's Complete Cookie
Don't forget to conduct a search in Google to locate "vegan desserts near me" to discover what is available in your area.
Finally, before we get to the recipes, let's take a look at kitchen tools every baker should have.
Kitchen Tools For Baking
Below is a list of baking tools that I believe every baker should have.
Hand Mixer
Mixing Bowls
Doughnut Pan
Stand-Up Mixer
Bundt Cake Pan
Measuring Cups
Bakeware Set
Baking Utensils
Piping Bags and Tips
Silicone Baking Mats
Pastry and Dough Cutters
Scroll below and access our growing vegan resource along with the best list of delicious vegan dessert recipes today!
Vegetarian & Vegan Recipes
Access our other vegan content as well for your convenience.
24 Of The Best Vegan Desserts
See compiled list of easy vegan sweet treats below.
Lemon Vanilla Bean Rawnola (VEG & GF)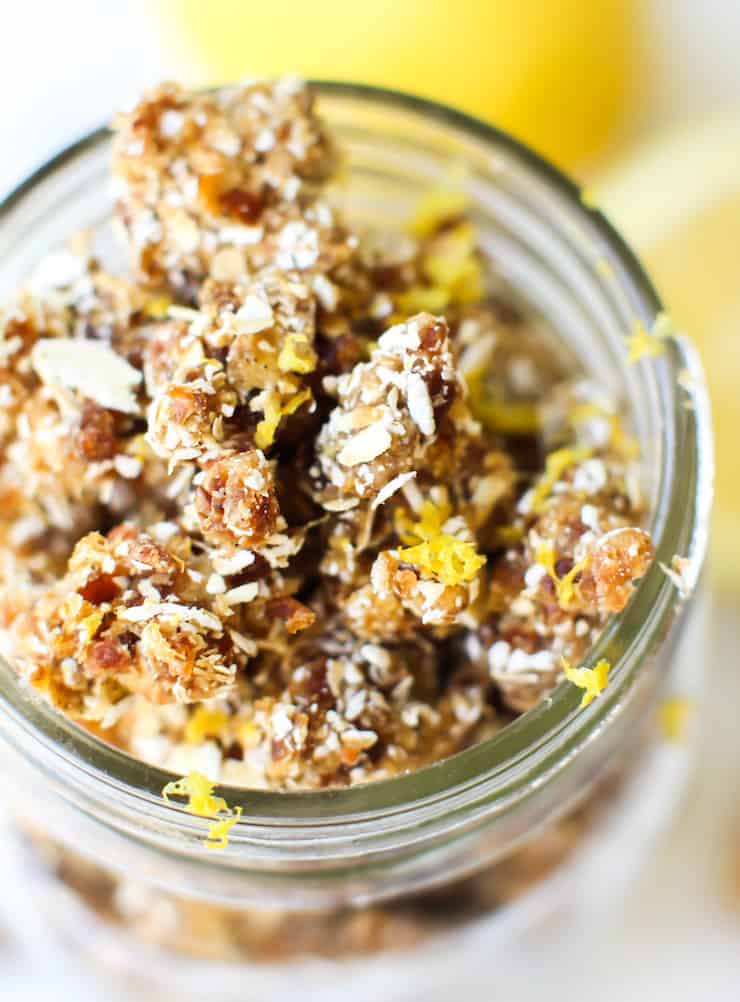 Lemon Vanilla Bean Rawnola is the perfect chewy citrusy-sweet snack or topping for a smoothie bowl. Get the recipe.
Chocolate Chip Almond Butter Brownies (VEG & GF)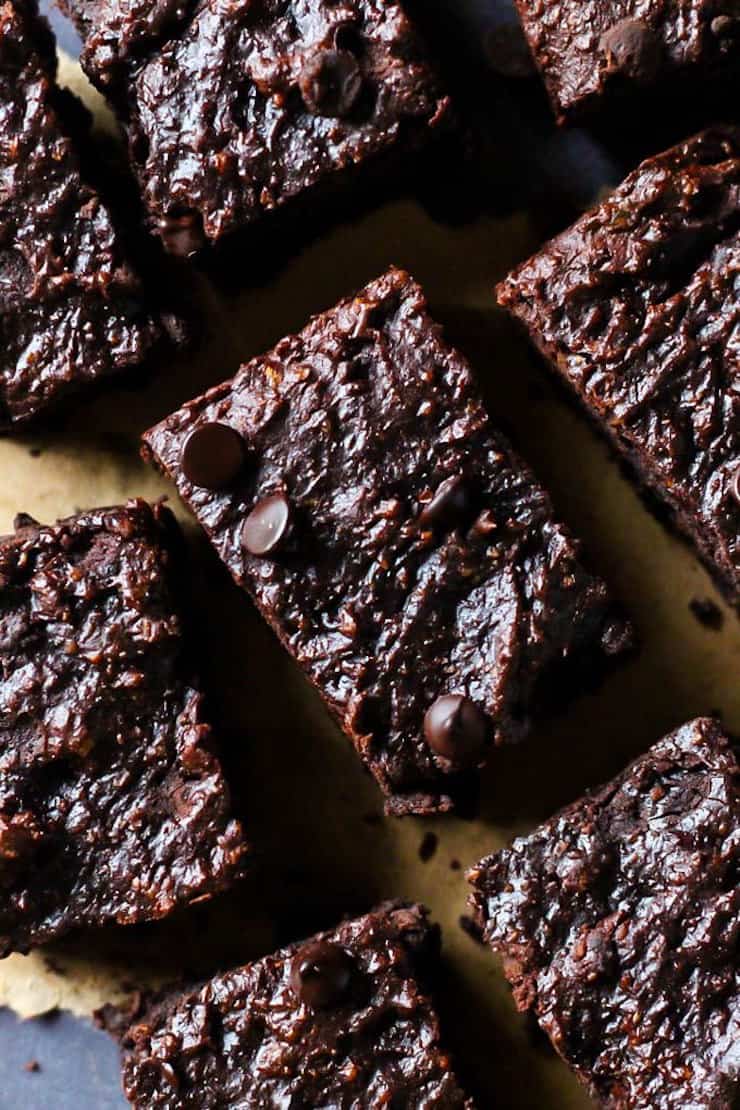 This is a rich, decadent fudgy rich chocolate dessert sweetened with date! Get the recipe.
Super Fudgy Paleo Maple Pecan Brownies (VEG, GF & DF)
Fudgy chocolate brownies topped with sweet maple pecans. Get the recipe.
5 Ingredient Vegan Gluten Free Cookies (VEG & GF)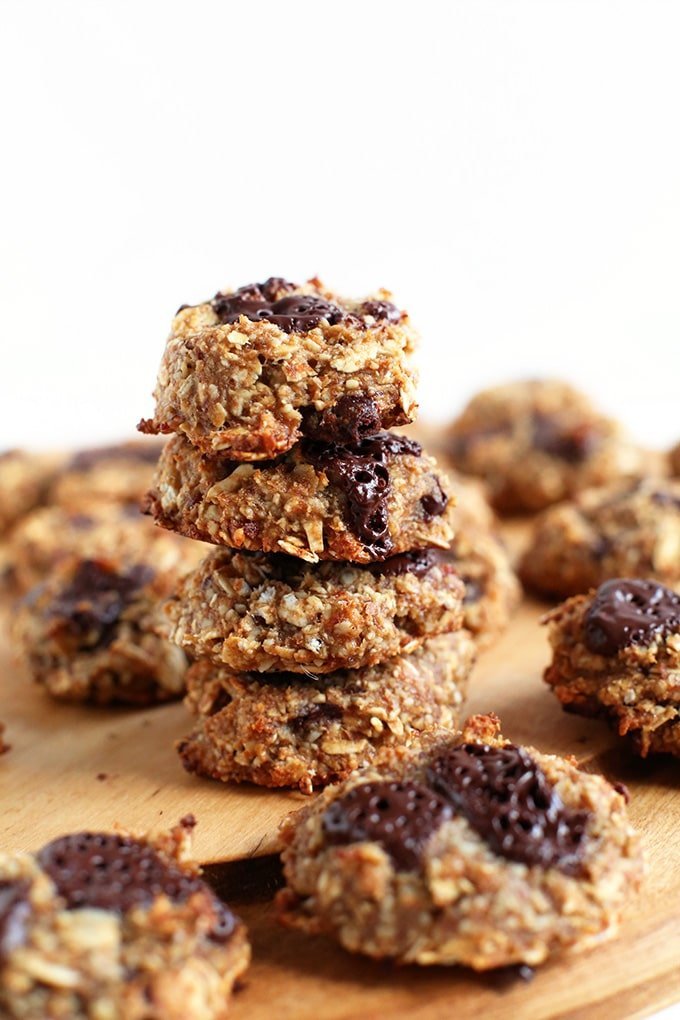 With only 5 ingredients, this cookie recipe is so easy to make and so tasty! Get the recipe.
Vegan Pistachio Ice Cream
from feastingonfruit.com
This ice cream recipe has a delicious flavour! Get the recipe.
Best Vegan Brownies
The BEST vegan brownies you will ever try! Extremely rich, fudgy, moist brownie full of amazing flavour. Get the recipe.
No Bake Oatmeal Cookie (VEG & GF)
Maple glazed nuts, chocolate chips, oats, peanut butter, and cranberries combined to taste just like oatmeal cookies but in energy bite form. Get the recipe.
No Bake Almond Butter Coconut Bites (VEG & GF)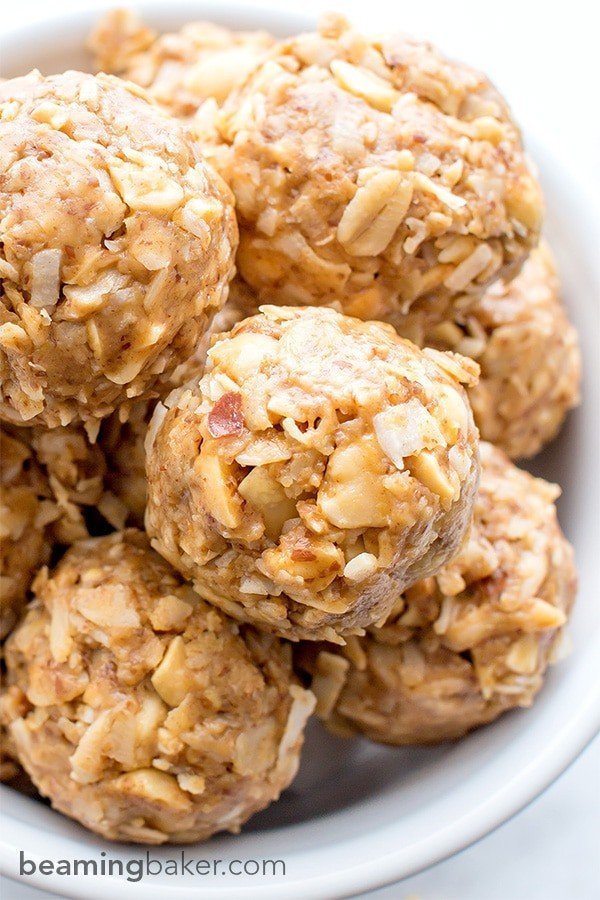 This energy bite is nutty, lightly sweet made with just 6 ingredients! Get the recipe.
Grain Free Sweet Potato Blondies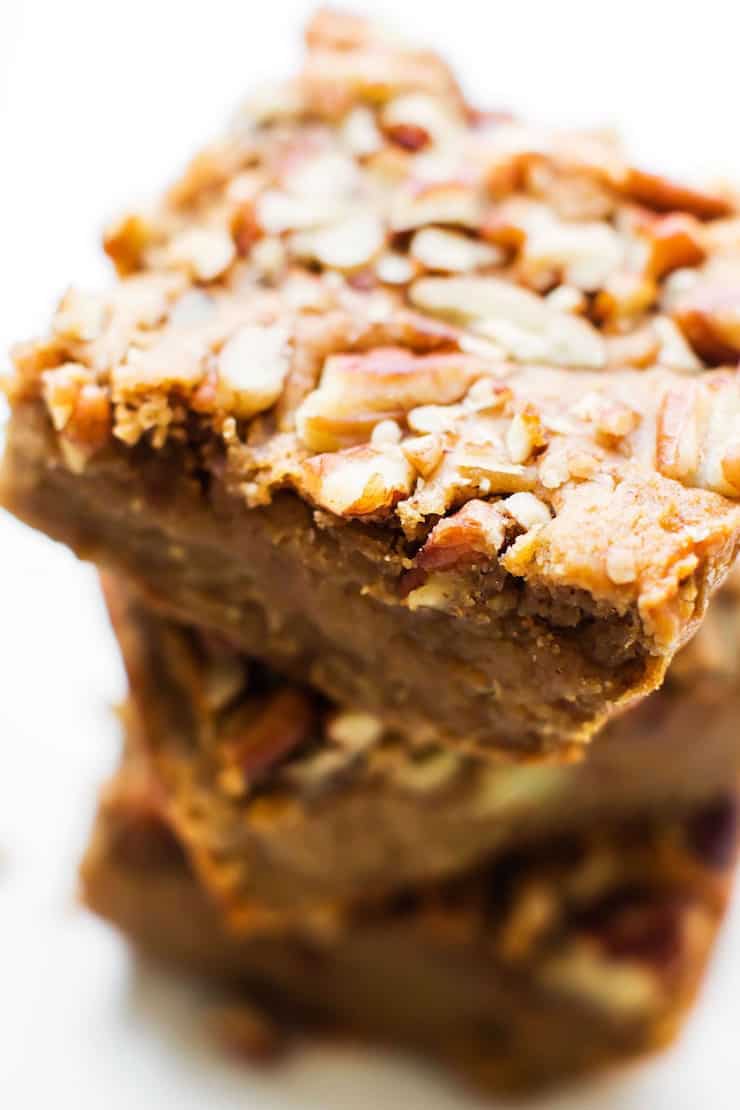 The fudgy brownie with the sweet vanilla flavour of cake, combine into the perfect cinnamon-spiced nut-sprinkled treat! Get the recipe.
Peanut Butter Chocolate Chip Oatmeal Cookies (VEG & GF)
With lots of peanut butter and chocolate this is an easy recipe that creates a soft, textured cookie that also includes oats and coconut. Get the recipe.
Almond Butter Oatmeal Chocolate Chip Cookies (VEG, GF & DF)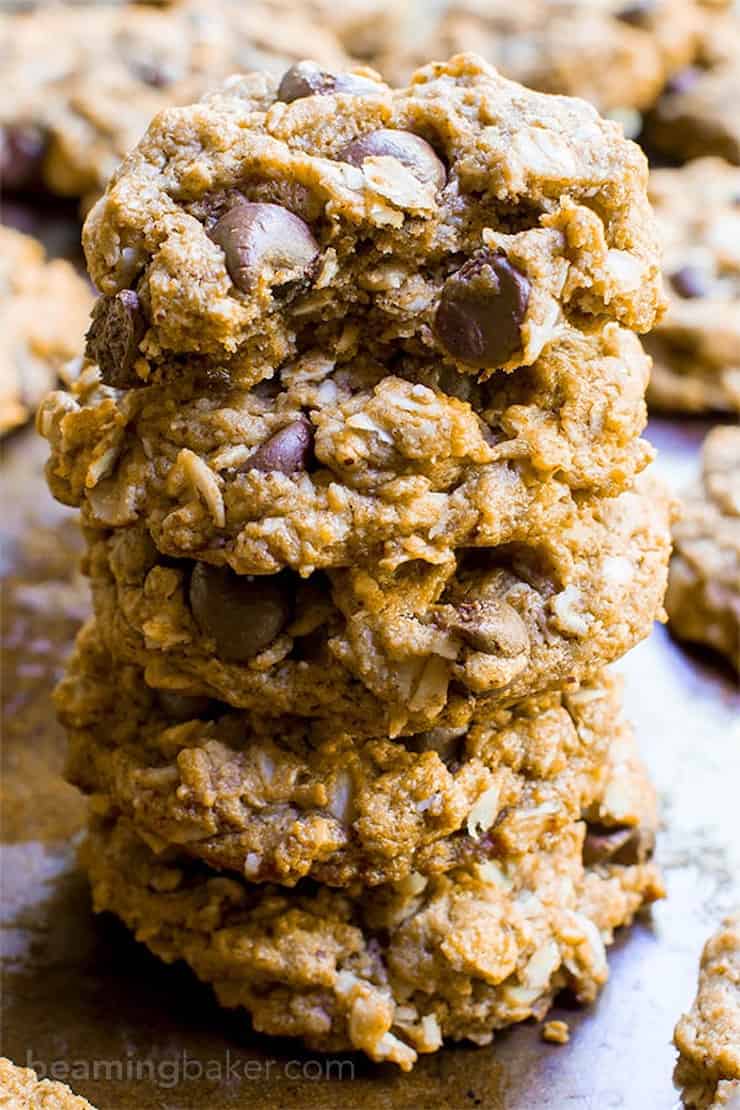 A simple recipe packed with chocolate chips, almond butter, oats and coconut. Get the recipe.
Trail Mix Cookies (VEG, GF & DF)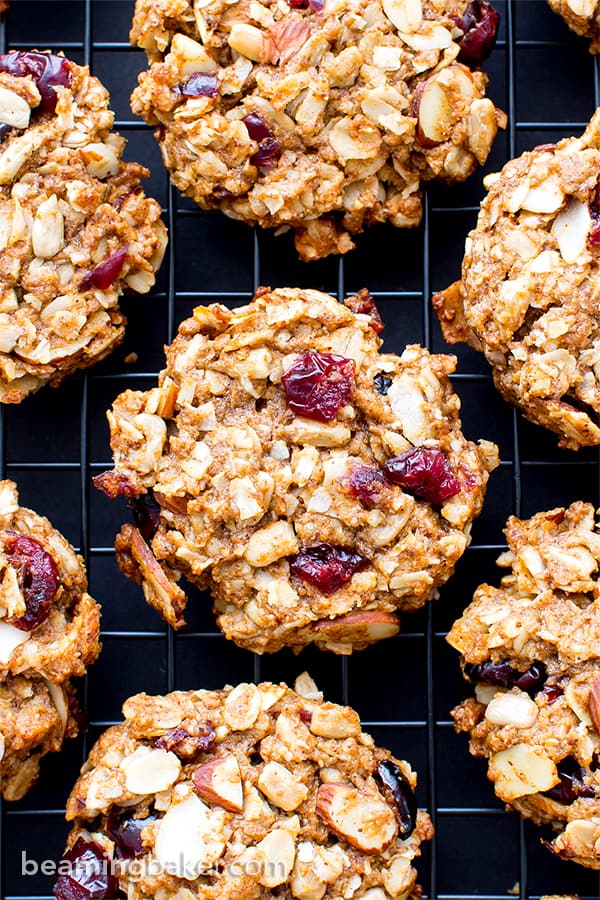 A protein-packed trail mix cookies, full of fruits, seeds and nuts. Get the recipe.
3 Ingredient Vegan Chocolate Pots (VEG & Paleo)
This is the easiest most decadent dessert that does NOT include coconut, tofu, avocados, or even refined sugar! Get the recipe.
Good Morning Breakfast Cookies (VEG & GF)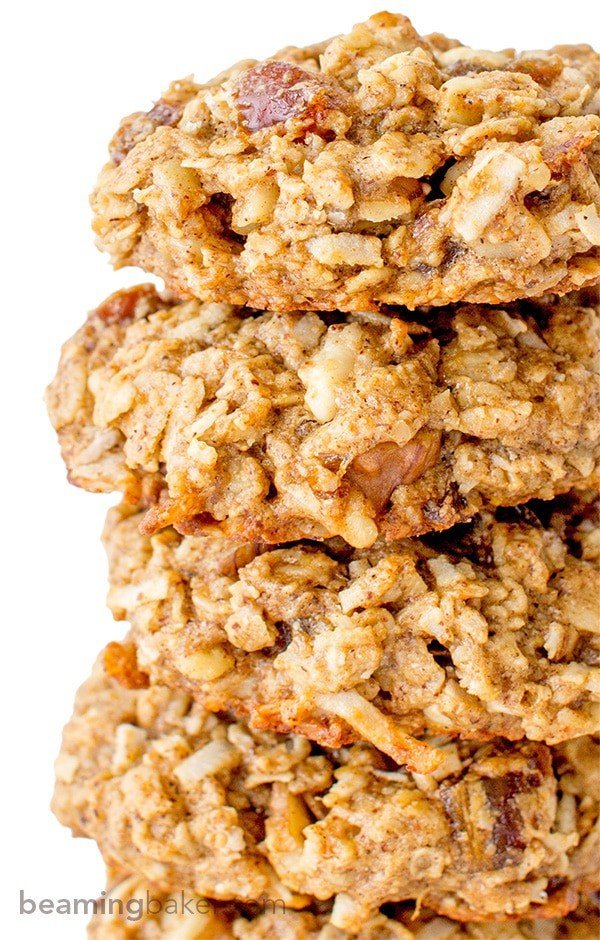 An energy-boosting cookies made with wholesome ingredients. Get the recipe.
Fudgy Raspberry Brownies (VEG, GF & Paleo option)
These easy, healthy raspberry brownies taste amazing! Get the recipe.
Flourless Banana Almond Butter Cookies (VEG, GF & Paleo)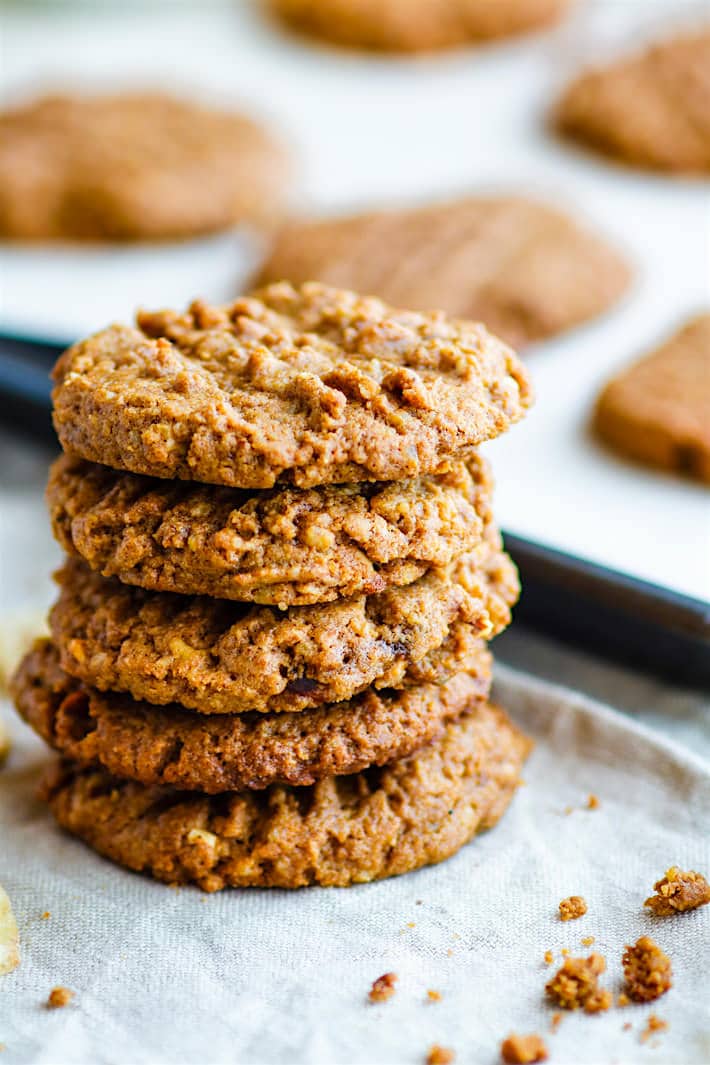 Lightly sweetened with banana, with a nutty almond flavour, this treat is excellent for kids, snacks or breakfast on the go! Get the recipe.
Easy Vegan Strawberry Cheesecake (VEG, SF, DF & Paleo)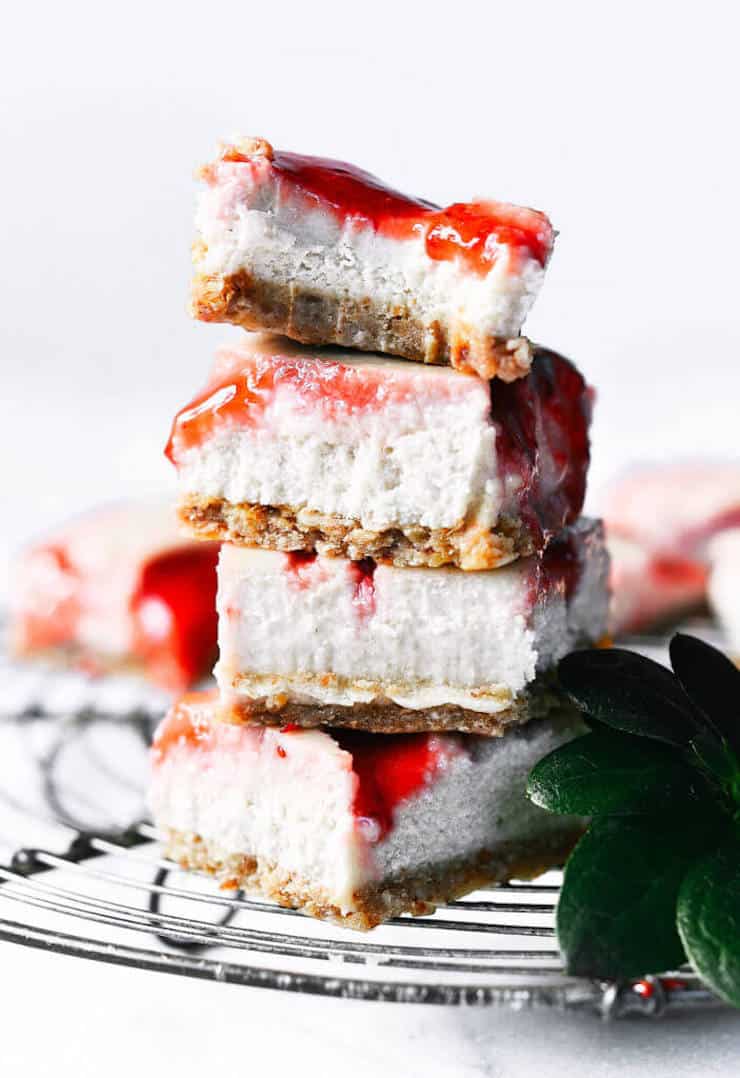 This is one of the best, no bake, vegan strawberry cheesecake I have ever tried. Its so creamy, healthy, and addictive! Get the recipe.
Banana Nut Cookies
This recipe produces a soft, cinnamon-spiced, with toasted pecans for an easy snack or healthy dessert! Get the recipe.
Peanut Butter Swirl Brownies (VEG & GF)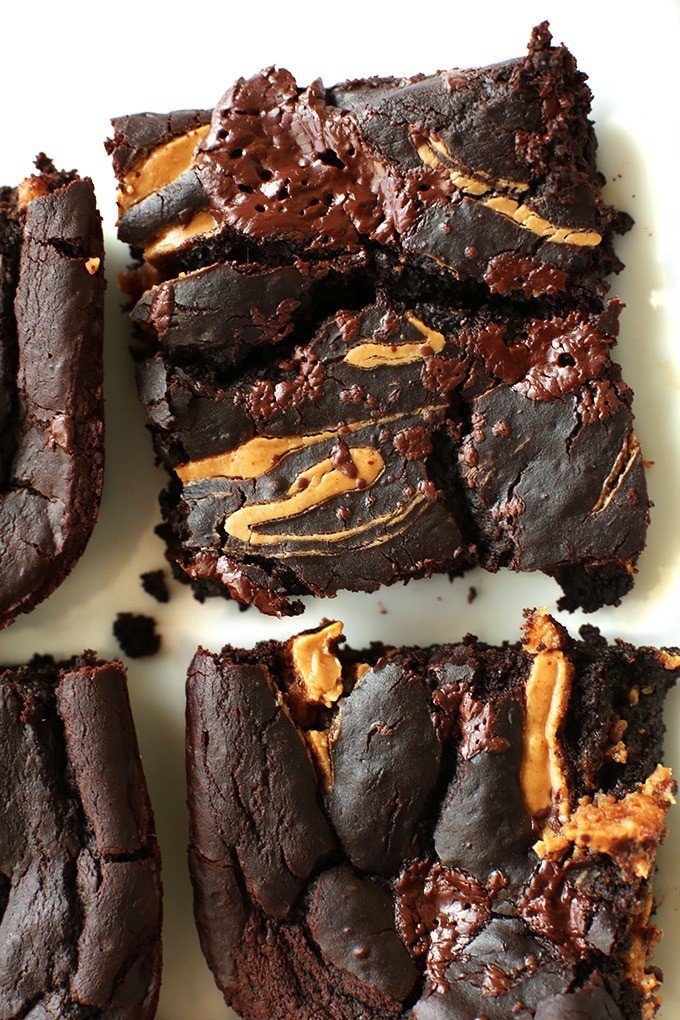 Indulge in these fudgy black bean decadent brownies with a rich peanut butter swirl. Can you believe this brownie is healthy for you? Get the recipe.
The Worlds Easiest Cinnamon Rolls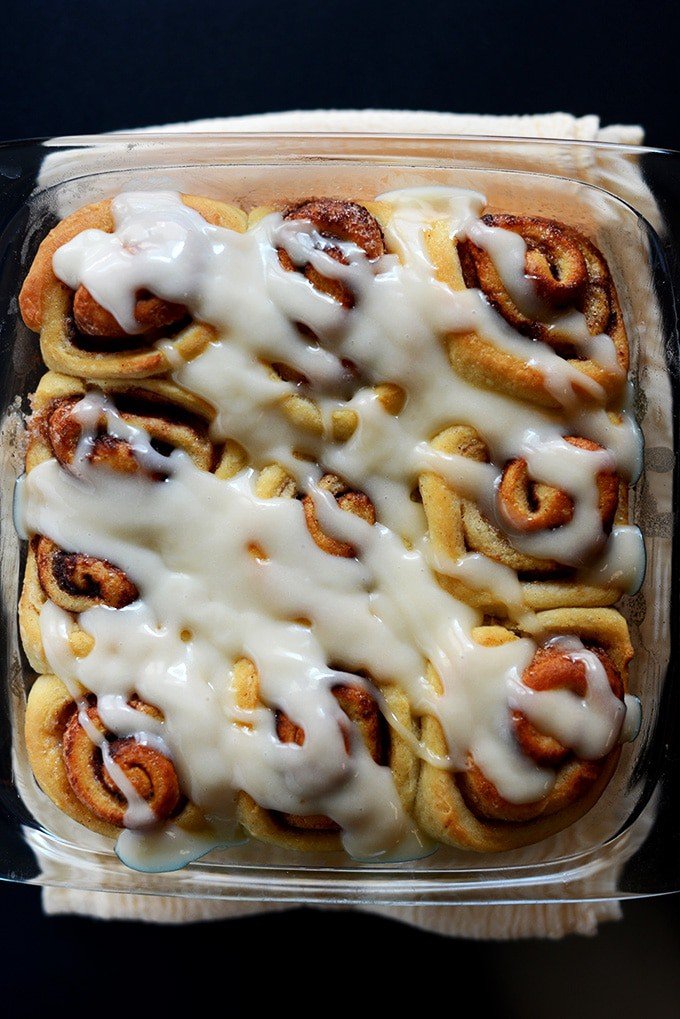 These cinnamon rolls only consist of 7 ingredients! So easy to prepare and so delicious! Get the recipe.
Chocolate Mousse Cake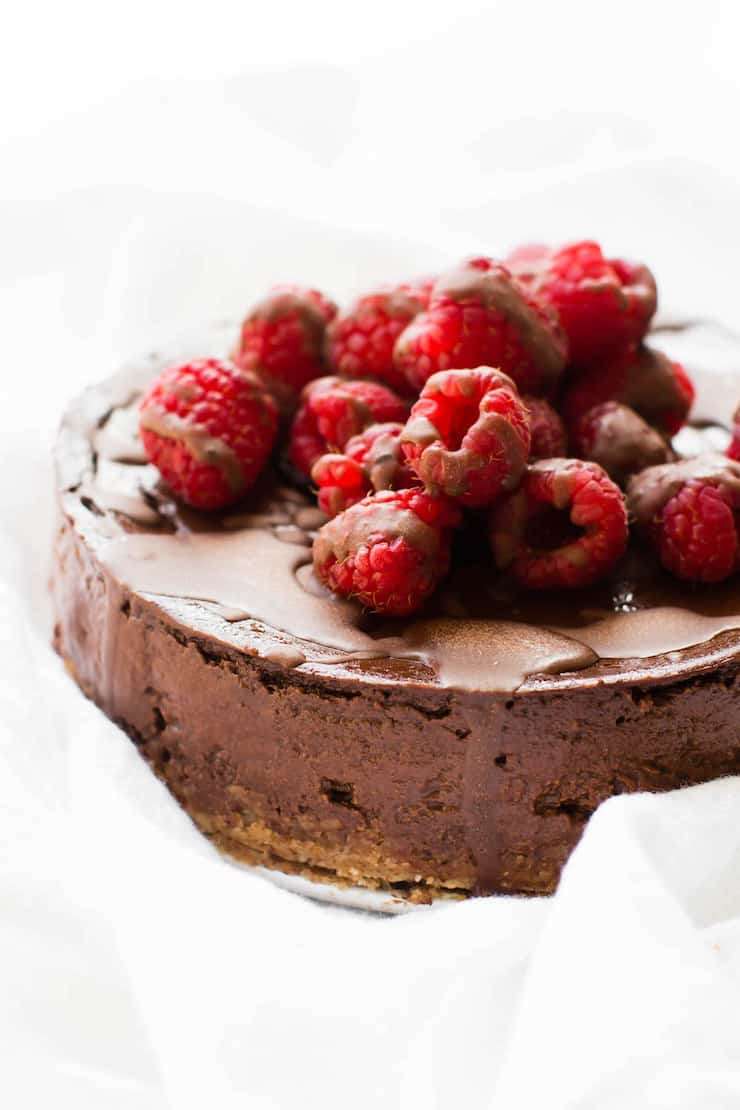 This insanely decadent rich dessert is made from just a few healthy whole food ingredients right in the blender! Get the recipe.
Whiskey Hazelnut No Churn Ice Cream (VEG & GF)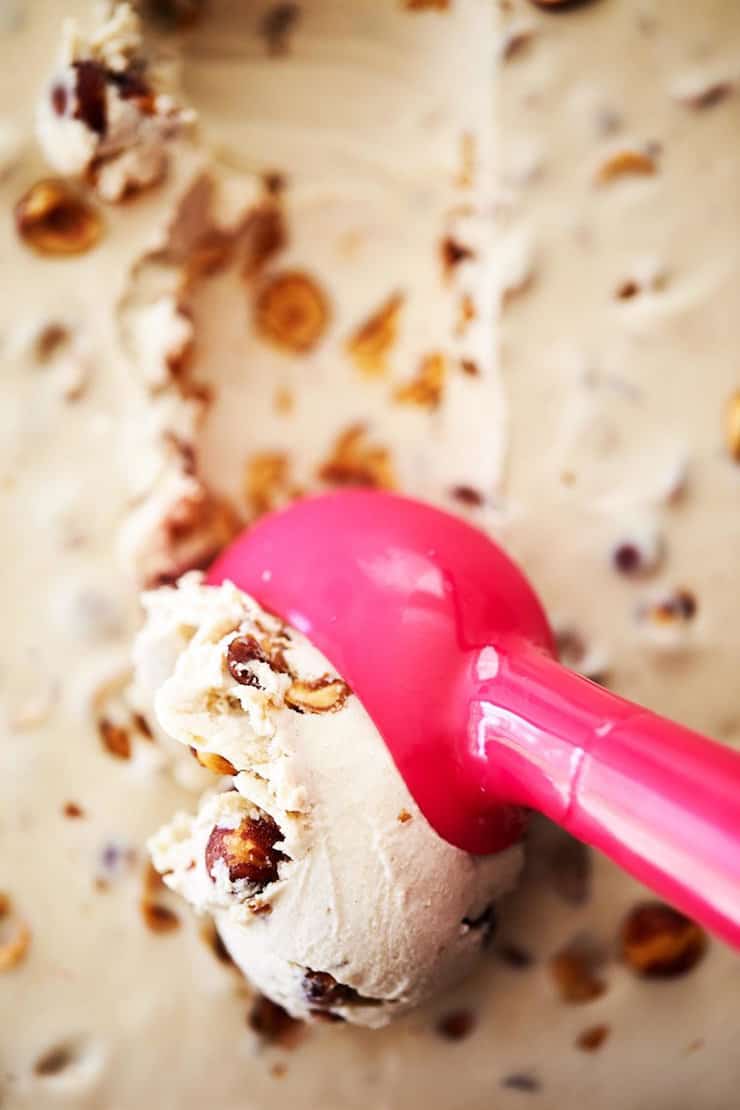 This recipe was a hit with the family, they definitely were impressed! The creamy ice cream consist of maple & whiskey with crunchy roasted hazelnuts folded in. Get the recipe.
Vegan Vanilla Custard Cake (VEG & Low Fat)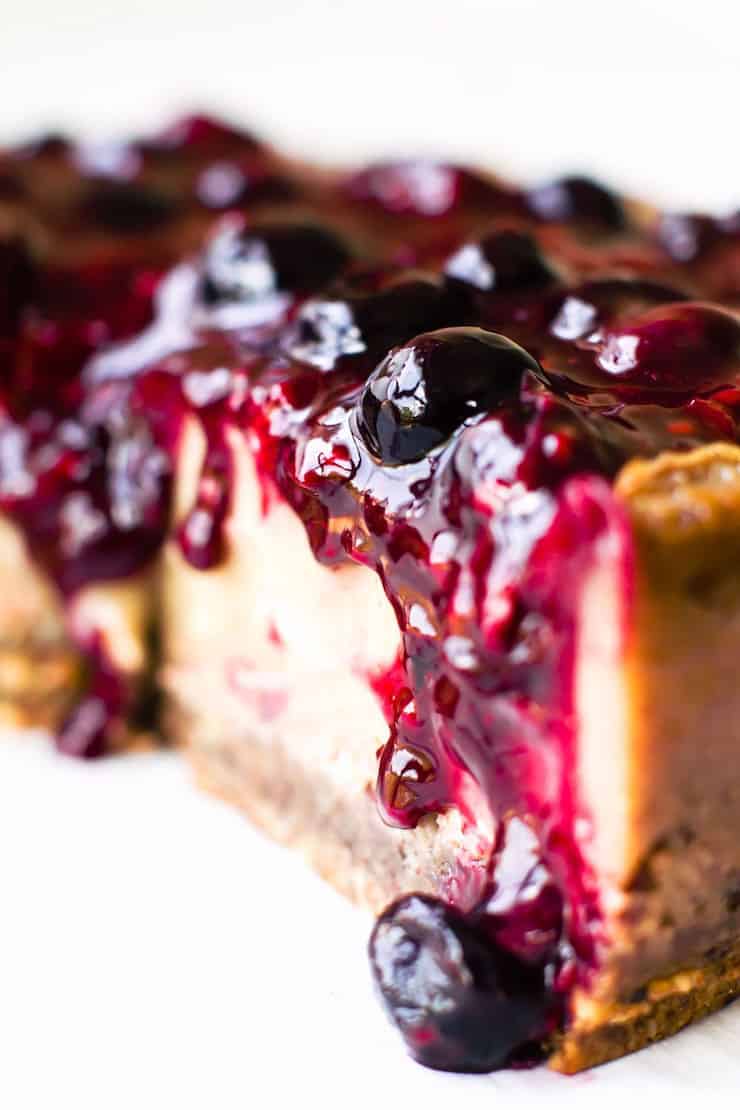 A 2-ingredient pecan crust with low-fat vanilla bean filling is topped with an easy to prepare berry compote! Get the recipe.
Other Healthy Desserts
Access our complete list of healthy recipes!