photo source: whattheforkfoodblog.com
Healthy Carrot Cake Recipes
Easy healthy carrot cake recipes packed with flavour. Some of the recipes main ingredients consist of carrot, walnuts, gluten free flour, pineapple & more.
Health Benefit Of Carrots
The health benefits of carrots include reduced cholesterol, prevention from heart attacks, warding off of certain cancers, improving vision, and reducing signs of premature aging.
Carrots also have the ability to increase the health of your skin, boost your immune system, improve digestion, increase cardiovascular health and stroke prevention, detoxify the body, and boost oral health.
Most health benefits of carrots can be attributed to their beta-carotene and fiber content.
This vegetable is also a good source of antioxidants. Furthermore, carrots also provide tons of vitamins and minerals rich in vitamin A, Vitamin C, Vitamin K, Vitamin B8, pantothenic acid, folate, potassium, iron, copper, and manganese.
Health Benefit Of Walnuts
Walnuts not only taste great but are a rich source of heart healthy monounsaturated fats and an excellent source of omega-3 fatty acids.
Like most nuts, walnuts can easily be added to your diet. Just chop and add to your favourite dessert, vegetable dish, salad or fruit.
The health benefits of walnut include weight loss, induced sleep, hair health, prevents heart disease and diabetes, makes skin glow, keeps dementia at bay, prevents pancreatic cancer, reduces breasts cancer, fights stress and helps you live longer.
Gluten Free Flour
Gluten free flour is made of non-gluten containing ingredients.
Which Gluten Free Flour Is Best For Baking?
See list below.
Health Benefits Of Gluten Free Flour
Gluten-free flour can consist of 1 ingredient or a blend of gluten free flours that is perfect for all of your gluten-free recipes.
Gluten-free flours are loaded with fiber and protein which can help fight diseases such as cardiovascular disease,diabetes and obesity.
Almond Flour
It has three times the fiber of white flour. It is loaded with potassium, iron, vitamin E, magnesium, calcium, cholesterol-free with 6 grams of protein per ¼ cup.
Almond flour provides a rich buttery flavour and a smooth texture to recipes.
Coconut Flour
It is packed with 10 grams of disease fighting fiber per 1/4 cup, it's been found to lower glycemic index to help keep blood sugar levels under control. It is best used in muffins, breads, cakes and bars.
14 Types Of Gluten Free Flours
1) Coconut Flour
2) Rice Four
3) Oat Flour
4) Sprouted Flour
5) Almond Flour
6) Chickpea Flour
7) Amaranth Flour
8) Cassava Flour
9) Buckwheat Flour
10) Quinoa Flour
11) Corn Flour
12) Millet Flour
13) Sweet Potato Flour
14) Sorghum Flour
How To Make Gluten Free Flour From Scratch
– 2 cups brown rice flour
– 1/3 cup tapioca starch
– 2/3 cup potato starch
– 1 tsp xanthan gum
Sift brown rice flour, tapioca starch, potato starch and xanthan gum together into a large bowl; mix thoroughly. Store in a sealable container.
Does Gluten Free Cake Freeze Well
Most gluten free cakes freeze really well.
How Long Will A Gluten Free Cake Last
GF cakes are good for maximum of 2-3 days after they are baked. Make them in advance then freeze them.
Should I Refrigerate Gluten Free Cake
No. They do not refrigerate well. Store baked goods at room temperature or freeze them as soon as they are completely cool.
Can You Substitute GF Flour For All Purpose Flour
Yes. If your recipe calls for 1 cup of all-purpose flour, you can substitute 1 cup of GF flour, etc.
Dietary Type For Recipes
Vegetarian
Vegan
Gluten free
Dairy free
Oil free
Paleo
Low carb
Low calorie
No refined sugar
8 Carrot Cake Recipes
See below moist, fluffy, delicious carrot cake recipes that are so delicious.
Sheet Pan Paleo Carrot Cake With Maple Cream Frosting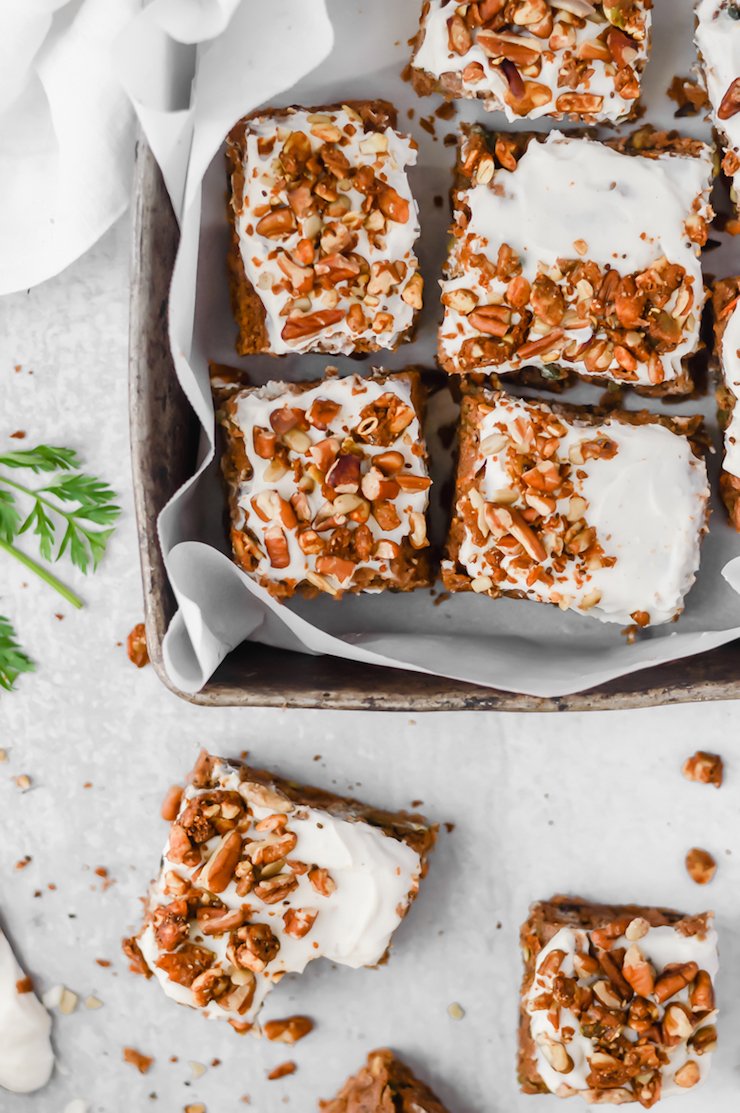 Read full details on: The Nutritious Kitchen
Vegan Carrot Cake Bites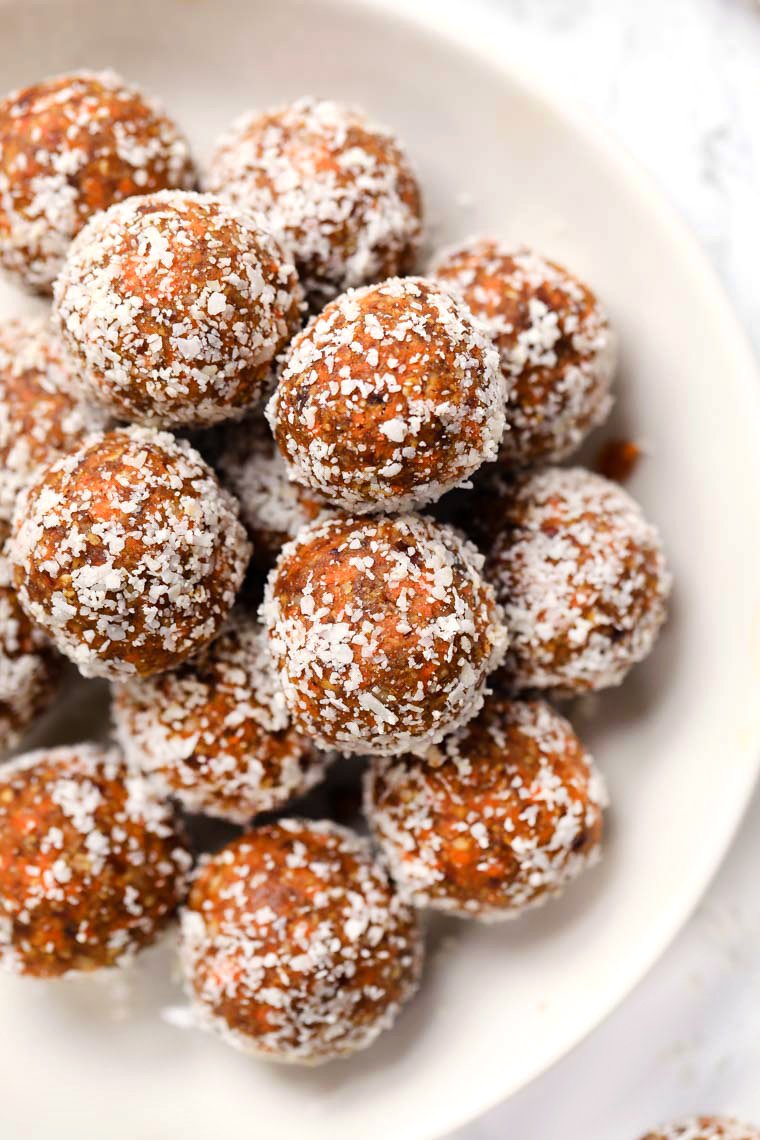 Read full details on: Simply Quinoa
Mini Carrot Cake Muffins with Orange Glaze
Read full details on: Krolls Korner
Carrot Cake Oatmeal Cookies
Read full details on: Foodin Grill
Healthy Carrot Cake Muffin
Read full details on: Little Spice Jar
Carrot Cake Banana Bread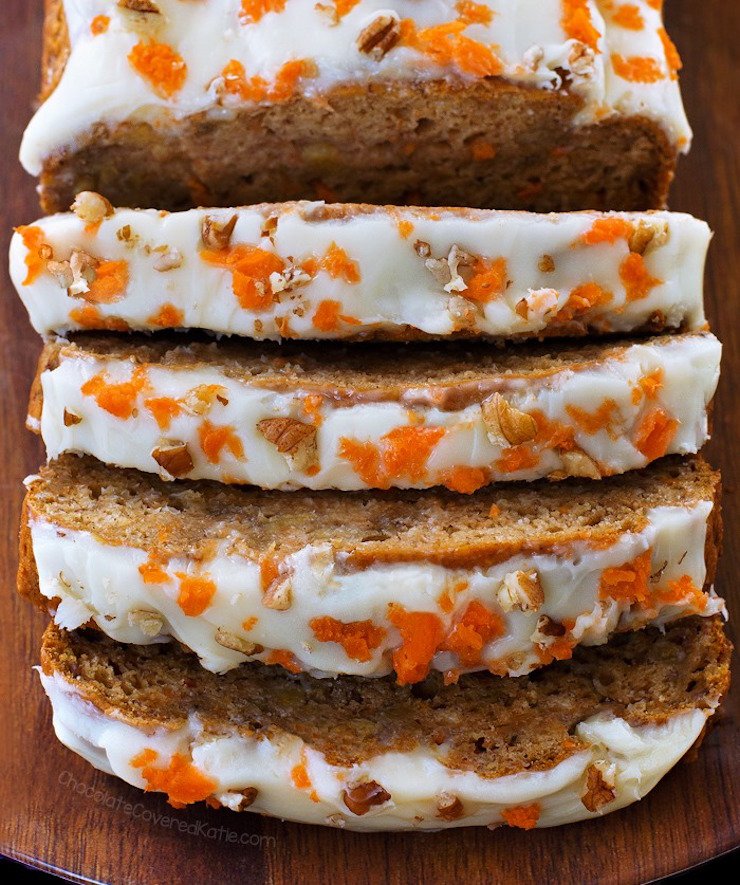 Read full details on: Chocolate Covered Katie
Healthy Carrot Cake Muffins With Cream Cheese Glaze
Read full details on: Ambitious Kitchen
Gluten Free Carrot Cake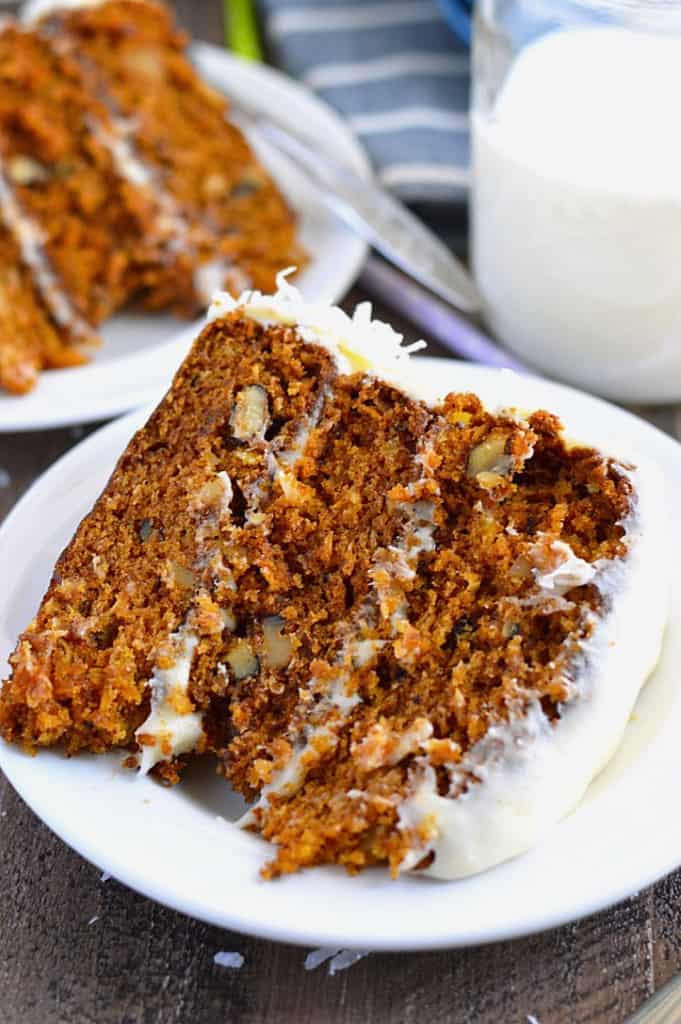 Read full details on: What The Fork Food Blog
Additional Vegetarian Recipes
Other Healthy Desserts
Want More Recipes?
Access our complete list of healthy recipes on Change In Seconds!