photo source: pinchofyum.com
Healthy Green Smoothie Recipes
These make ahead, simple, tasty, green smoothie recipes for healthy eating, are super delicious and plant based!
Consuming smoothies makes it very easy to get in healthy nutrition in a drinkable form.
For beginners, see below videos and our PRINTABLE, "How To Make The Perfect Green Smoothie Infographic".
First let's address some FAQ.
How To Meal Prep Smoothies
Smoothie meal prep is very easy as the ingredients can be frozen in advance.
Create a grocery shopping list for the ingredients you will need for the recipes.
Slice or cut fruit into chunks.
Place the exact amount of fruit and greens you need into freezer bags.
Pack the fruit and greens tightly while removing as much air as possible from the bags.
Place in freezer.
Are Green Smoothies Good For You
Yes.
What Are The Health Benefits
Great source of nutrition i.e. vitamins, minerals and antioxidants
Promotes healthy skin, nails and hair
Help prevent chronic diseases
Rich with chlorophyll
Natural weight loss
Excellent source of fiber
Fat burning
Detox cleanse
Increased energy
Meal replacement
Boost fruit & vegetable intake
Strengthens immune system
Supports healthy gut health
Lowers cholesterol
Lowers blood pressure
Reduces cravings
Supports eye health
Supports healthy pregnancy
Easy to make and perfect for kids
Source: Davy&Tracy.com
How Many Calories Are In A Green Smoothie
Anywhere from 50 to 250+ calories per serving.
Is It OK To Drink A Green Smoothie Every Day
Yes. To get your daily recommended serving of fruits and veggies green smoothies make it easy to accomplish that goal.
Balance it out with whole grains, heart-healthy fats, lean protein, and fruits and vegetables.
What Should You Not Put In A Smoothie
Flavoured yogurt
Ice cream
Sherbet
Canned fruit
Can These Smoothies Help Me Lose Weight
Research proves that Green Smoothies are one of the best ways to quickly lose weight.
How Many Times A Day Should You Drink Green Smoothies
If you goal is to lose weight consume 2 green smoothies as a meal replacement per day.
Types Of Green Smoothies
Paleo
Vegan
Sweet
No sugar
Low sugar
Dairy free
Low carb
For diabetics
With fruit
Low calorie
Without banana
Post workout
Best Greens For A Smoothie
Kale (this is #1)
Spinach
Parsley
Celery
Collard
Chard
Arugula
Brocoli
Bok choy
Zucchini
Cucumber
Chinese cabbage
Is Spinach Or Kale Better For Smoothies
Spinach and kale are highly nutritious.
Spinach provides more folate and vitamins such as A and K. Whereas kale offers more than double the amount of vitamin C as spinach.
Both are associated with increased weight loss, improved heart health and protection against disease.
Popular Ingredients
Cucumber
Kale
Avocado
Spinach
Mango
Kiwi
Beets
Blueberry
Strawberry
Peach
Broccoli
Banana
Ginger
Celery
Veggies
Yogurt
Mint
Apple
Matcha
Chocolate
Cauliflower
Peanut butter
Coconut water
Almond milk
Coconut milk
Frozen fruit
Pineapple chunks
Orange juice
Ice cube
Easy Formula To Make Green Smoothies Perfectly
Download Our How To Make The Perfect Green Smoothie Infographic 
Kitchen Tools To Make Your Green Smoothie
Ninja Smoothie Blender
Vitamix Smoothie Blender
Blendtec Smoothie Blender
Nutribullet Smoothie Blender
Seedless Smoothie Press
Strainer
Glass Bottle
Mix Powder
Lids And Straws With Smoothie Cups
Straw
What Is The Best Time To Drink A Green Smoothie
My favourite time of the day is in the morning. However, its a personal preference. You may also prefer before and after a workout, or at lunch or dinner time.
Can I Make My Smoothie The Night Before
Yes you can.
How Long Will A Green Smoothie Last In The Fridge
About 48 hours preferably in a mason jar, however, my personal preference is no more than 12 hours.
Do Smoothies Lose Nutrients Overnight
You will lose some nutrients.
Do High Speed Blenders Destroy Nutrients?
Blending for long periods can produce heat. Blend your fruits for a short period of time will help reduce lost nutrients.
SOURCE: LiveStrong
What Can I Put In My Smoothie For Quicker Weight Loss
Green tea powder
Berries
Chia seeds
Flax seeds
Coconut oil
Cinnamon
Spinach or Kale
Ginger
Oats
Beetroots
See our compiled list below the best smoothies that are also great for energy!
Coconut Green Smoothie (GF & Vegetarian)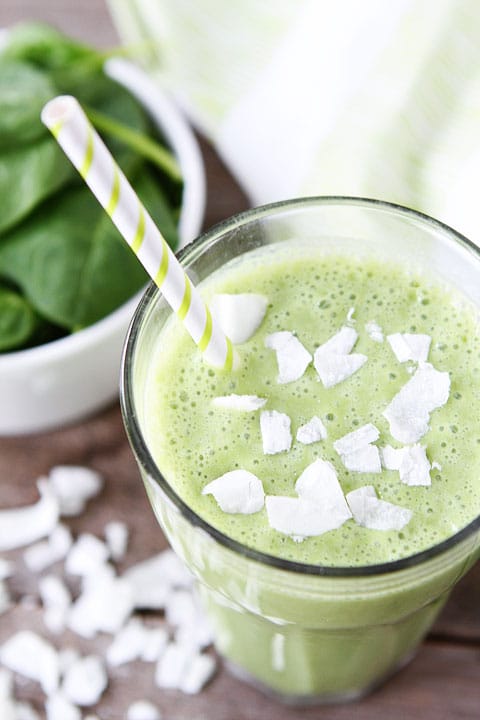 A healthy green smoothie with a coconut kick! Love it! Get the recipe.
The Green Drink (VEG & GF)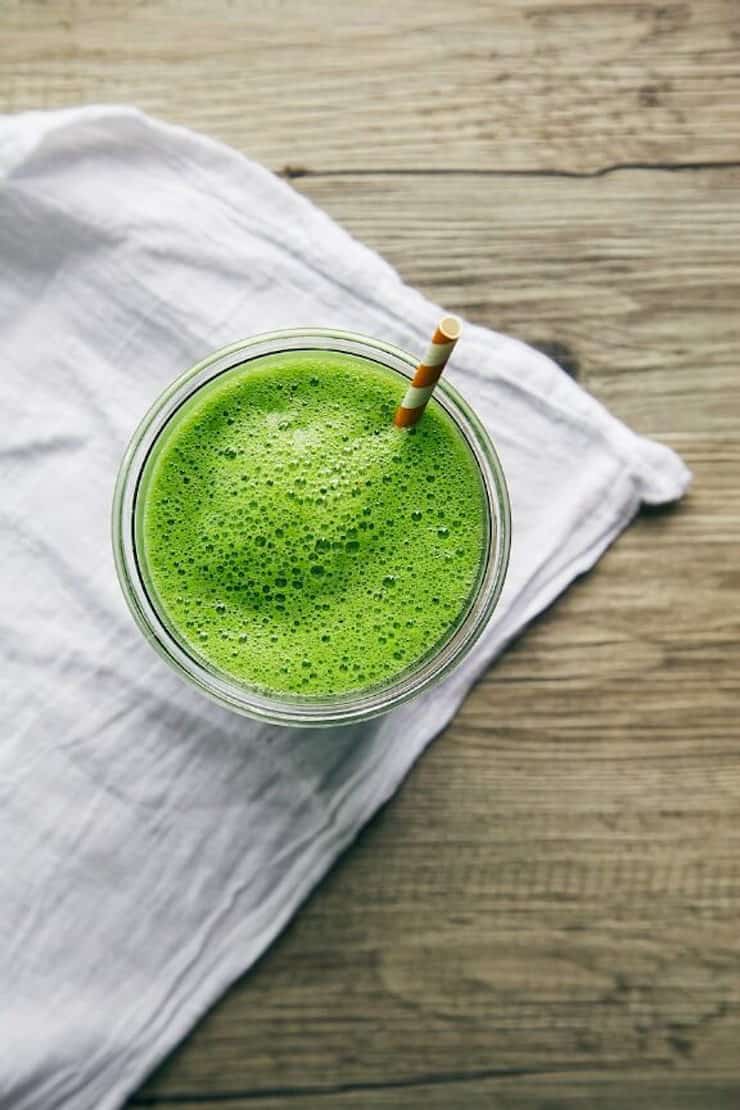 It's green, minty, with a nice hit of lime with frozen peaches and mango that creates a light sweet flavour.  Get the recipe.
Mint Chocolate Green Smoothie (Vegetarian)
This smoothie recipe is PACKED with protein and tons of nutrients. It tastes like a mint chocolate chip milkshake! It's quick, easy and SO healthy! Get the recipe.
Almond Mocha Green Smoothies (VEG & GF)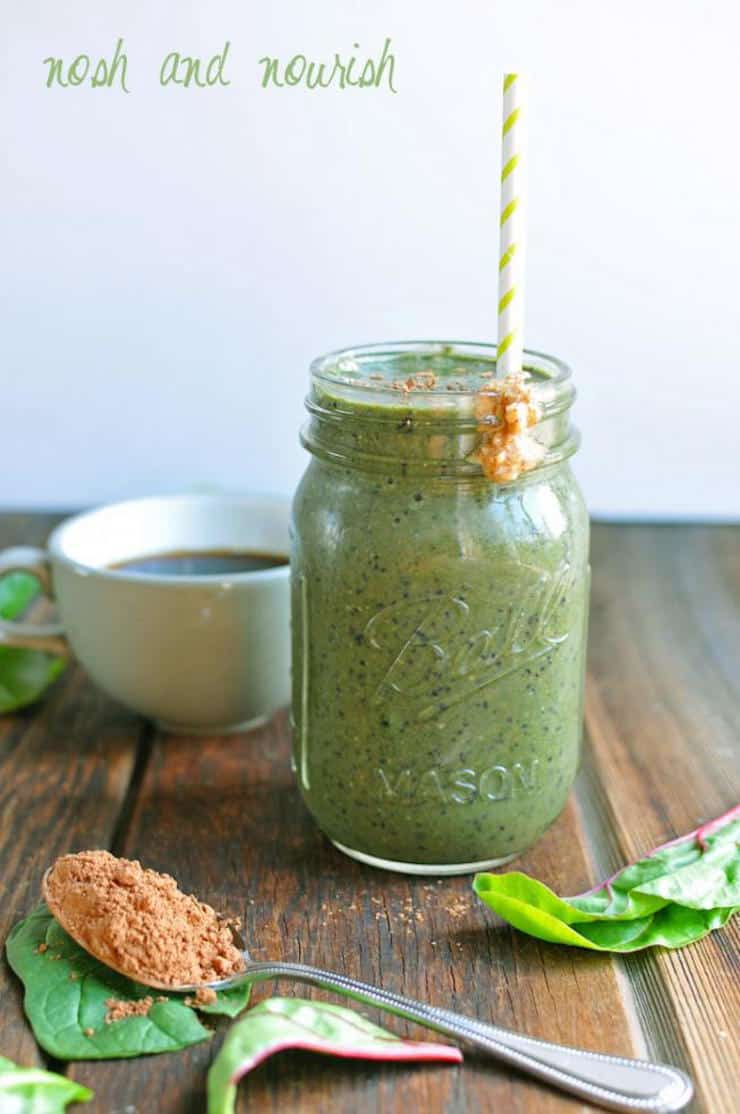 This recipe looks awesome and taste great! Get the recipe.
Green Warrior Protein Smoothie (VEG, GF, NF, SF, Grain & Refined Sugar Free)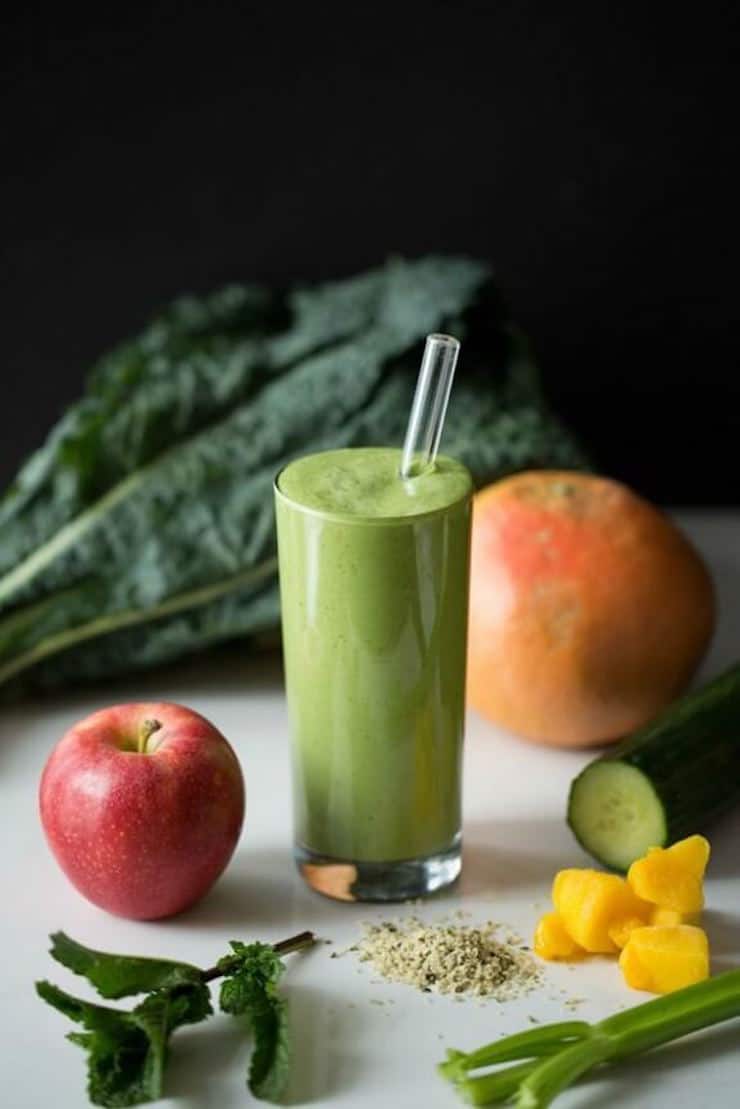 A great meal in a glass! Its so nutritious. It is vegan, gluten-free, grain-free, nut-free, refined sugar-free, and soy-free. Get the recipe.
Green Detox Smoothie (VEG & GF)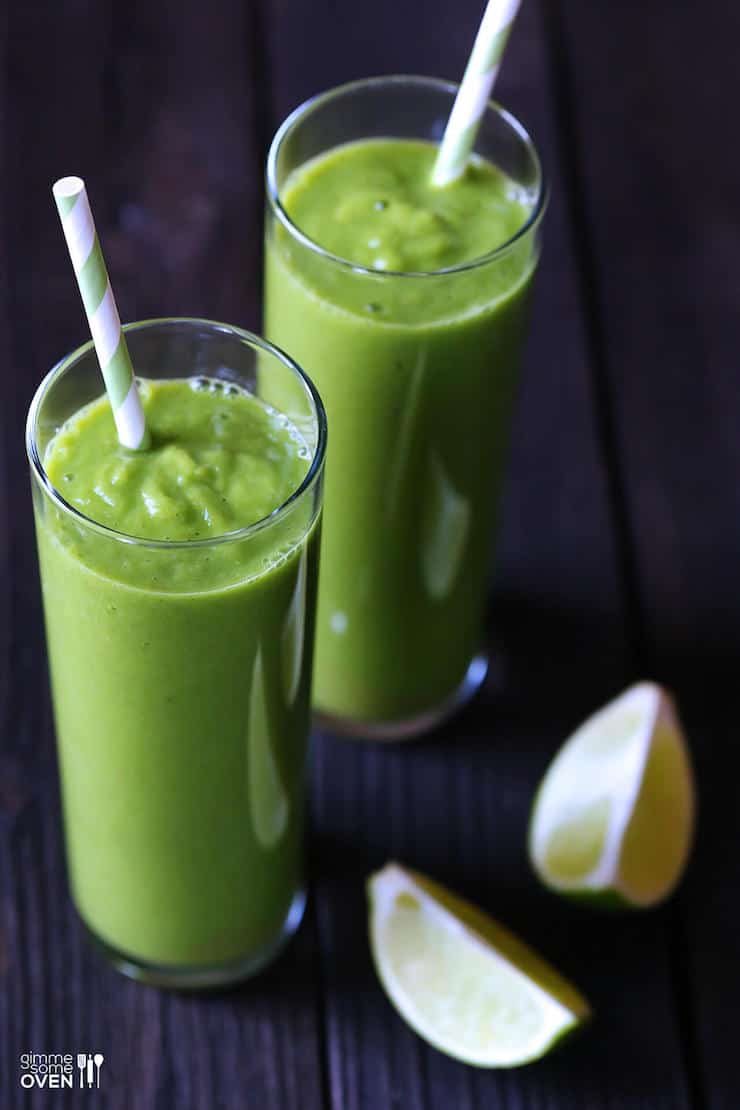 A delicious and healthy green "detox" smoothie. Get the recipe.
Green Apple Smoothie (VEG, GF & Paleo)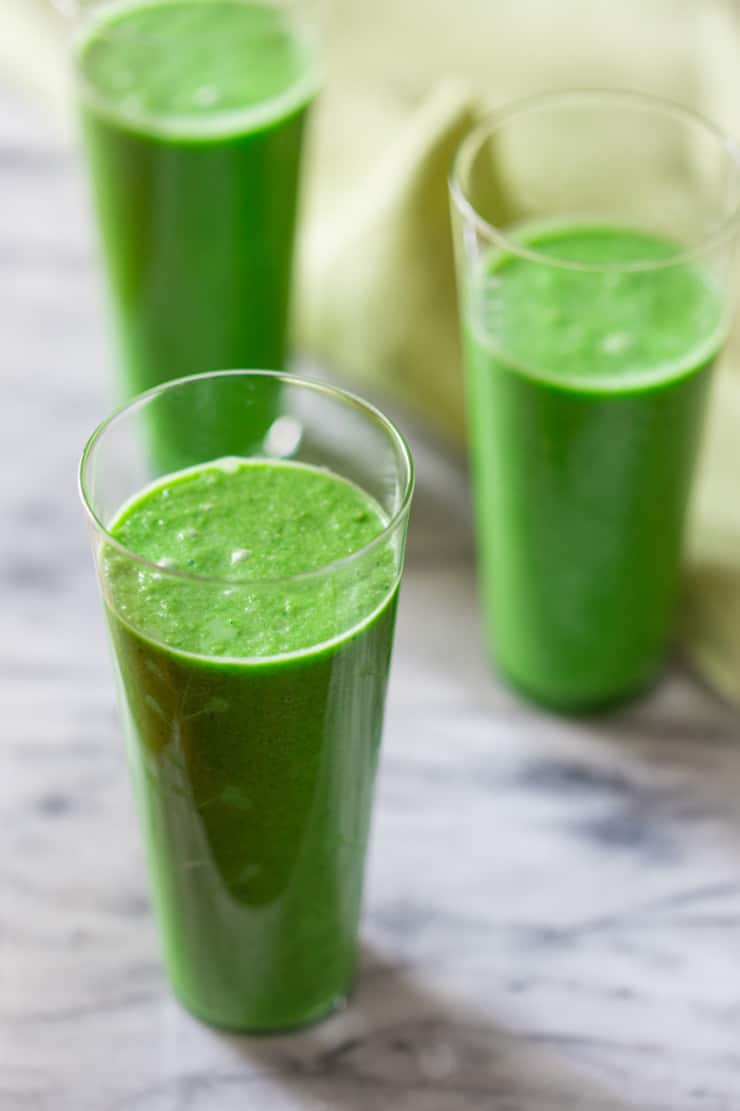 A simple, healthy, vegan green apple smoothie recipe with kale and coconut milk. Its a great recipe to start your day. Get the recipe.
Blackberry Green Smoothie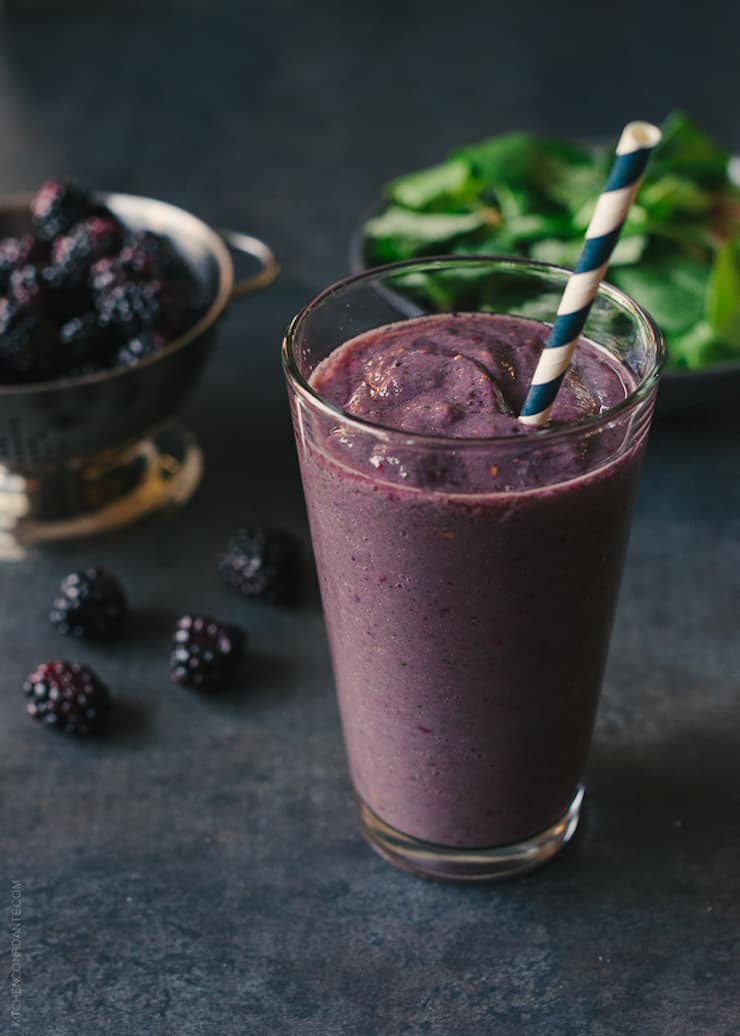 This recipe is sweet from plump blackberries, banana, and frozen pineapple, this smoothie is the perfect drink to help rehydrate and nourish your body. Get the recipe.
Chocolate Peanut Butter Banana Green Smoothie (VEG & GF)
This is one of my favourites! This smoothie is so delicious! Get the recipe.
Berry Protein Green Smoothie (VEG, GF, DF, Refined Sugar Free)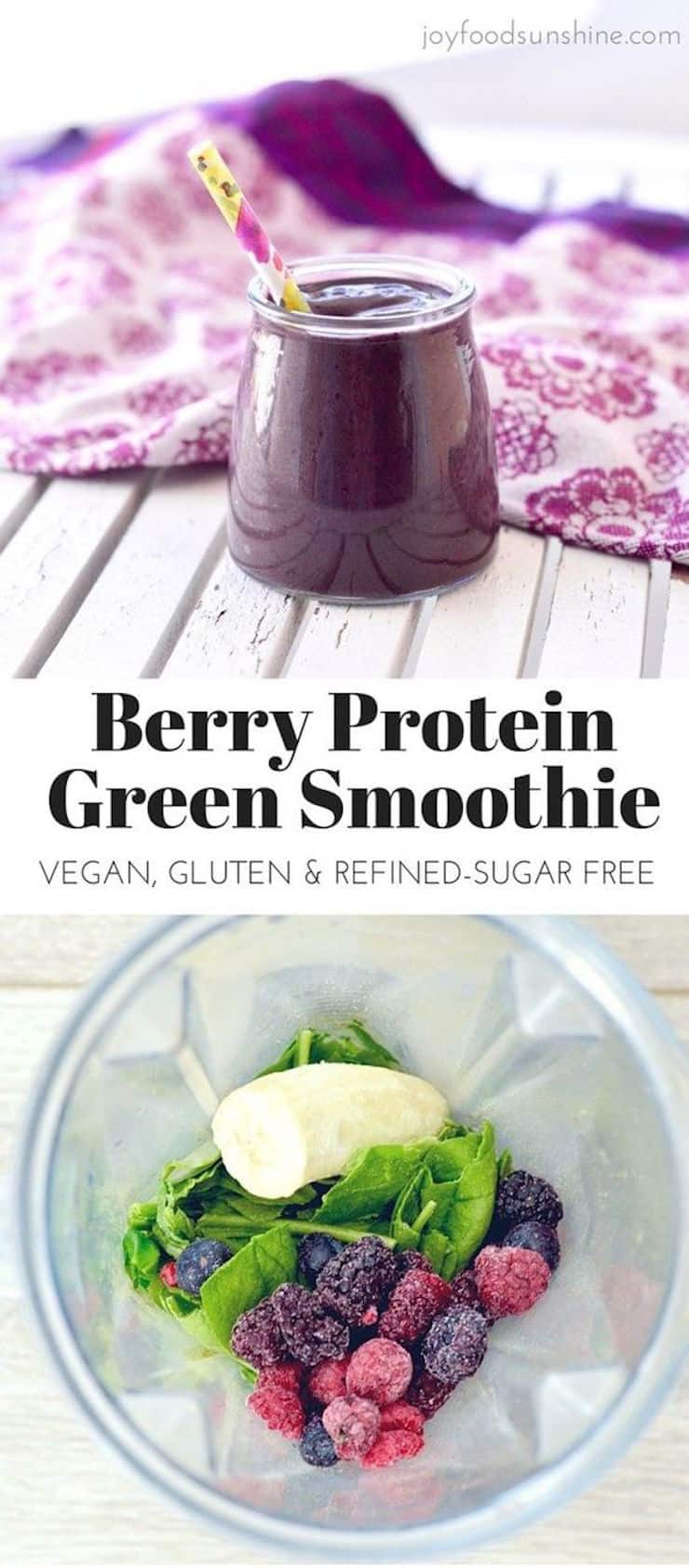 This Berry Protein Smoothie is made with 6 ingredients and in 5 minutes you will have a delicious & filling smoothie! It's perfect for breakfast or lunch! Paleo, Vegan, gluten-free, dairy-free and no added sweeteners!

Get the recipe.
Holiday Detox Green Apple Smoothie (VEG & GF)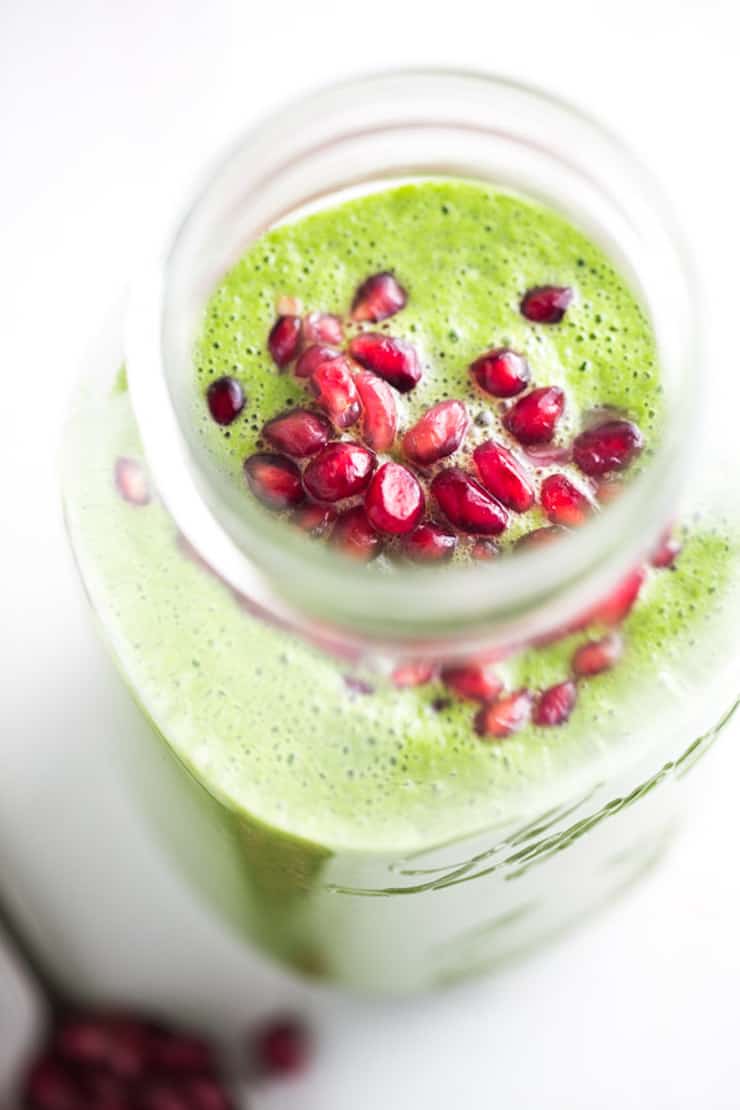 The Holiday Detox Green Apple Smoothie is nutritious, and perfect for consuming between decadent holiday meals. Get the recipe.
Best Green Smoothie Videos (10 Recipes In Total!)
We compiled 10 green smoothie diet video recipes with over 1 million views that signify how popular these smoothies are. We simply had to share these videos with our readers!
Glowing Green Smoothie for Glowing Clear Skin & Shiny Hair
5 Green Smoothie Detox Recipes
3 Healthy Green Smoothies
The Best Green Smoothie Recipe
Additional Smoothie Recipes
Other Breakfast Recipes
Want More Recipes?
Access our complete list of healthy recipes!