photo source: closetcooking.com
Crock Pot Roast Recipes
If you are looking for the most popular crock pot roast recipes we got you covered!
Tips & FAQs For Crock Pot Roast
See below.
Do You Need To Brown The Meat
No. However, if you sear it with a small amount of oil in a hot skillet, the meat develops more flavour.
What Kind Of Meat Is Best For A Crock Pot Roast
Boneless chuck roast
Chuck shoulder pot roast
Chuck roast
Shoulder steak
Chuck seven-bone pot roast
Beef chuck arm
Can You Cook Raw Meat In A Slow Cooker
Yes.
How Long Do You Cook Pot Roast In A Slow Cooker
6-8 hours on low heat or 3-4 hours on high heat.
Does The Meat Need To Be Submerged In The Slow Cooker
No. The slow cooker will be warm enough to cook the meat.
Is It Safe To Leave A Slow Cooker On All Day
Yes.
Can I Put Frozen Meat In A Slow Cooker
No.
Do You Add Water When Cooking A Roast In A Crock Pot
Many recipes add water to the crock pot, however it is is not necessary.
The crock pot traps steam generated while cooking, which helps to keep the roast moist.
How Much Water Do You Put In A Crock Pot When Cooking A Roast
At least 1 cup of water, however you may add extra cups of water if you prefer extra gravy.
Does A Slow Cooker Need Water In The Base
It is not necessary to add water to the crock pot, only to the recipe if required.
Why Is My Crock Pot Roast Tough
Test your roast with a fork before you remove it from the pot, to ensure its not undercooked.
How Do You Soften A Tough Roast
Use a meat mallet
Use a marinade
Cook it low-and-slow
Slice against the grain
What Kind Of Roast Falls Apart
Choose a 2-3 pound piece of chuck roast. Although this type of meat is quite tough it becomes very juicy and tender if cooked the right way.
At What Temperature Does Beef Fall Apart
Choose chuck roast, it you want it to to be similar to pulled pork. The perfect temperature is around 190-195.
Do You Put Vegetables On Top Or Bottom Of Pot Roast
It depends on your preference.
For mushy vegetables: place at the bottom or sides.
For firm vegetables: add vegetables at the last few hours of cooking.
A suggestion may be to layer the bottom with hard vegetables such as carrots and potatoes.
Place celery and onion on top.
Do You Leave String On Beef In Crockpot
If the beef roast is tied with butcher string, leave the string in place.
Crock Pot Roast Recipes
Enjoy below the best list of 14 crock pot roast recipes!
1. Classic Slow Cooker Pot Roast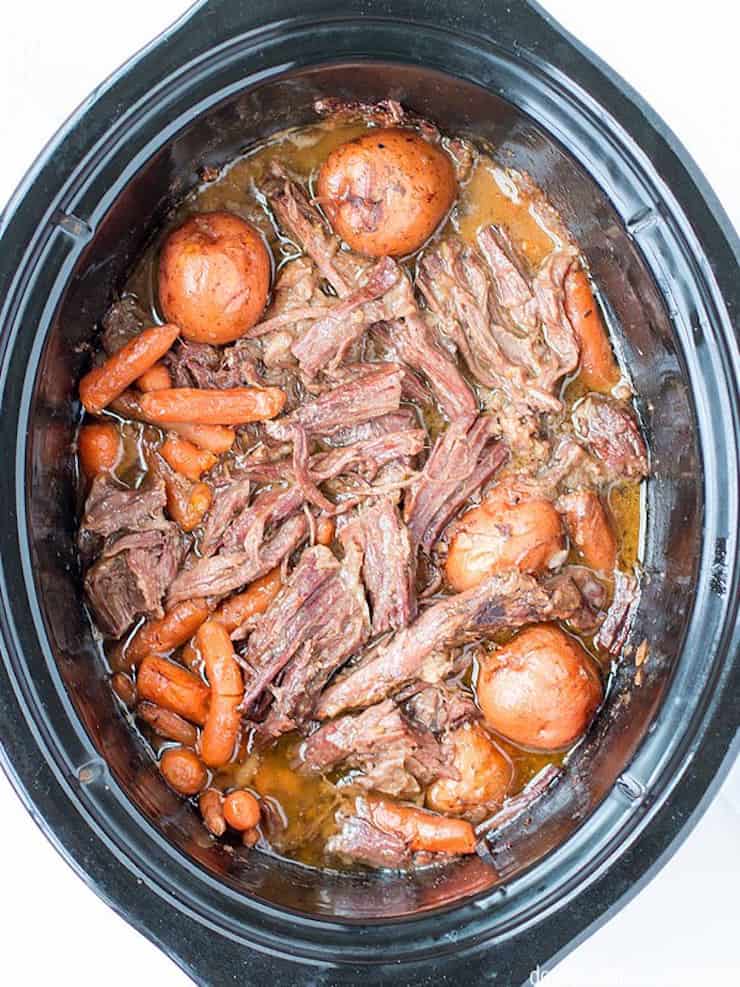 This pot roast is a healthy meal that comes together very quickly. Get the recipe.
2. Slow Cooker Balsamic Pot Roast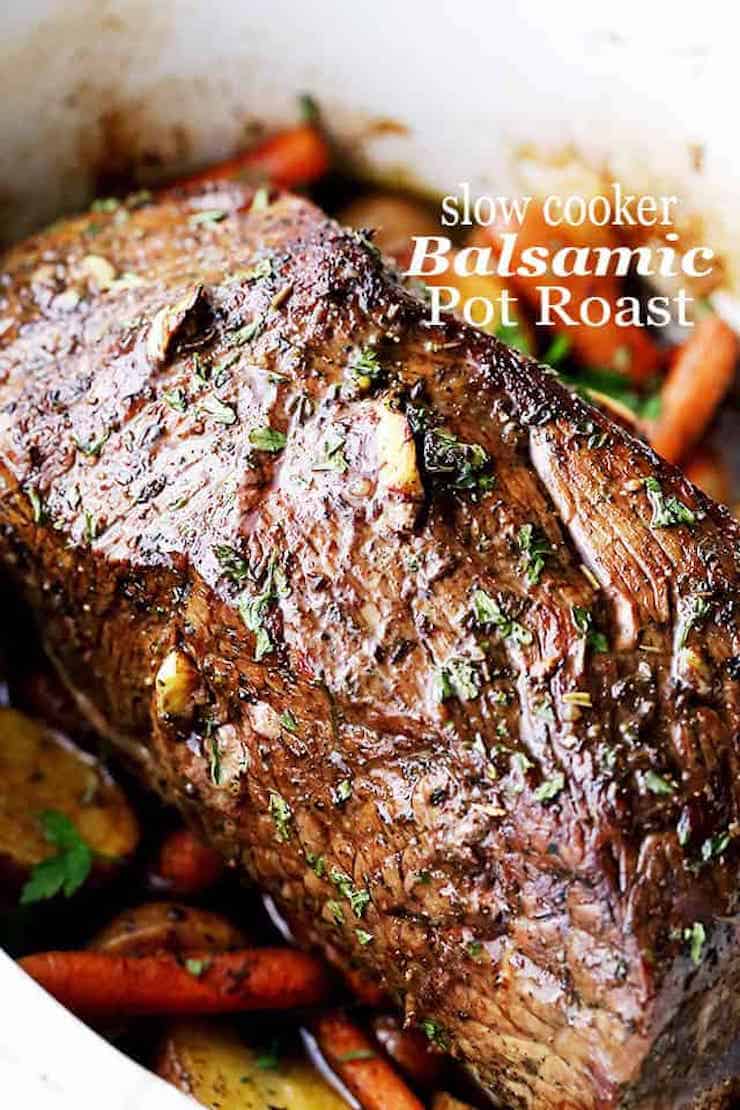 You will love the balsamic pot roast! It will literally melt in your mouth! Get the recipe.