Best Ab Workouts At Home On Tiktok & Instagram
I have compiled a list of 11 of the best video ab workouts at home on Tiktok & Instagram by Suzzie Linn, Sofia, Bethy Red, Kelsey's Workouts, Vienna Derubiss, Krissy Cela, Talia Harte and Aubrey Formica.
Crunches, sit ups, bridges and planks are a few of the most popular exercises that can help strengthen your abdominal muscles for tight toned abs.
If you are looking for fitness workouts online social media can be a great place for fitness content.
Some of the influencers and experts provide actual workout tips and exercises, while others post entertaining content.
At the end of the article you will be able to access Change In Seconds fitness workouts and healthy eating resource.

It includes a list of our complete library of printable workouts and how to eat healthy for optimal results!
Scroll below and enjoy.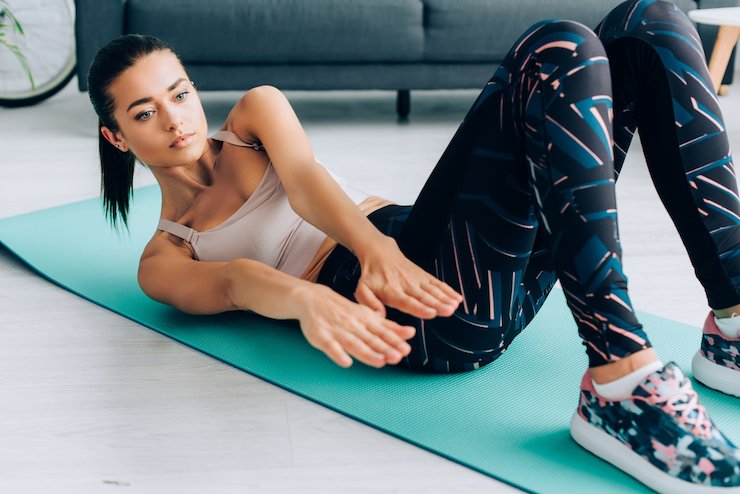 Core Workout
Created by Suzie Linn.
20 single leg raise
20 double leg raise
30 heel touch crunches
15 plank twist
20 in & outs
20 flutter kicks
10 side plank pulses (both sides)
Core Workout 2
Created by Suzie Linn.
25 scoops
20 reverse crunches
15 v-ups
20 russian twist (each side)
2 minute plank
3 sets.
Abs Workout Get Abs In 3 Weeks Workout
Created by Sofia
planks 1 minute each 3 sets
heel taps 10 each side 3 sets
leg raises 10 each 3 sets
side planks 30 seconds each side 3 sets
intense crunches 10 each 3 sets
side to side plank 10 each 3 sets
bicycles 10 each 3 sets
sit ups 25 each 3 sets
Abs
Created by Bethy Red. Watch all 6 videos by using your mouse!
leg scissors with flutter kicks (10 reps for 3 sets)
leg raise with single leg fall (10 reps  for 3 sets)
bicycle crunches (30 seconds for 3 sets)
plank jacks to jumps (20 reps for 3 sets)
plank elbow to knee taps (10 reps for 3 sets)
sit ups (12 reps for 3 sets)
4 Minute Oblique Workout
Created by Aubrey Formica.
plank with lateral toe taps (1 minute)
plank to toe touch crunch (1 minute)
standing wood chops (30 seconds each side)
alternating oblique leans (1 minute)
10 Minute Ab Workout
Created by Kelsey's Workouts.
plank hip dip
cross body toe taps
leg raises
crunches
plank
star abs
toe taps
dish + tack
mountain climbers
plank
Try 1 minute each no break.
90 Second Ab Workout
Created by Vienna Derubiss
Featured in the Daily Mail, dancer revealed a quarantine workout that transformed her body in three weeks! Check out her before and after!
30-second forearm plank
30 seconds of forearm plank twists
30 seconds of russian twists
Repeat three times a day.
Ab Workouts For Beginners
Created by Aubrey Formica.
bicycle crunches (30 reps for 3 sets)
kneeling cross body crunches (15 each side for 3 sets)
reverse crunches (15 reps for 3 sets)
side to side heel taps (30 reps for 3 sets)
hallow body hold (20 seconds for 3 sets)
Core Strength Exercises
Created by Talia Harte
straight single leg lifts
double leg lifts
leg raises
Fab Ab Exercises
Created by Krissy Cela.
Ab Challenge
Created by Aubrey Formica.
Ab Workouts By Change In Seconds
Additional Printable Workout Routines
Access additional printable workouts to get you in your best shape ever!
30 Day Kettlebell Swing Workout
Exercises To Get Rid Of Love Handles Fast
Morning Yoga Routine For Beginners
10 Week No Gym At Home Workout Plan
30 Day Squat And Crunches Workout
Walking Challenge To Lose Weight
Circuit Training Workouts For Beginners
Circuit Training Total Body Workout
Complete List Of Home Based Workouts
Need Motivation?
28 Fitness Motivational Quotes
More Fitness Tips
50 Tips To Get Fit Without A Gym
How To Stick To Your Fitness Goals
How To Reach Your Fitness Goals
Learn How To Eat Healthy
Clean up your eating habits and drink tons of water, consume healthy fats, fruits, vegetables and lean proteins.